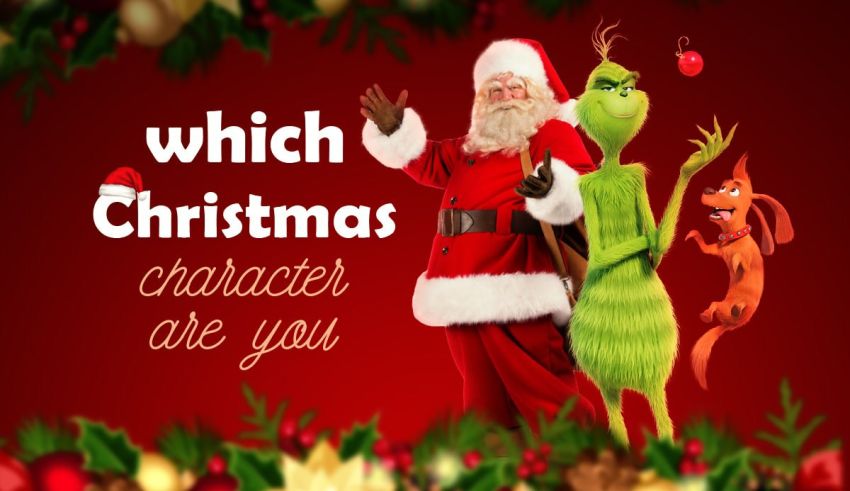 This Christmas Character quiz will help you find out which festive character best matches your personality. Are you Santa, Rudolph, Grinch, Scrooge, or else?
Christmas days are upon us, and you can already feel the smell of juicy turkey and a filled belly from miles away. Everybody is getting ready for the holiday season and is trying to buy their loved ones some gifts; of course, you are here to know which Christmas character you are.
Well, don't worry about it; this quiz will tell you the same classic Xmas character that most likely can be you. But first, let's talk about the main thing, Christmas.
Holiday Season
Ho! Ho! Ho! Merry Christmas, everybody. Yeah, it's that time of the year again when you have to get some rest and spend some quality time with your family and be thankful for what you achieved in the year that you've been through.
For those who don't know what Xmas is about, this holiday is the birth of Jesus Christ which people all around celebrate. Some people may get this wrong with the celebration of the new year. No, they are NOT the same.
It all starts with Thanksgiving on the 25th of November every year when people gather around with their loved ones, share a meal, usually a turkey, and give thanks for whatever they are thankful for.
That's when it all starts, then there is Xmas Eve which is the night before Christmas, and people gather around with their loved ones to do something that we like to call "giving."
It's all about giving.
Christmas is that time of the year when you forget about all the selfish things in the world. It's a season that you must be careful about other human beings and many people during Christmas do so.
People gather money for many charities to feed the poor and volunteer charity work to help needy people. This is like a gift given to them; poor people are always happy around Xmas because they know they will be gifted and well-fed. Based on the Bankrate 2021 research, each US person spends $648 on gifts for family, friends, and co-workers.
Family Time
It's not only about the poor people and the selfless stuff. It's about spending time with the family and being thankful to be around the people you love the most. During this time, you get to give another person some gifts or maybe get gifts yourself.
This one depends on your age. If you are not an adult yet, you are getting Christmas gifts, but if you are an adult, then maybe it's best to be a gift giver. For god sake, it's Christmas.
Famous Christmas characters
One of the oldest traditions of Xmas is the characters of this holiday. It's not just about the classic characters like Santa Claus and Rudulph; it's all the characters that, throughout time, find their way into the foundation of this holiday.
If you are looking for prominent examples, you can take Grinch, who steals Xmas, or even John McClaine from Die Hard movie that fights the bad guy on Christmas eve. These characters became more memorable in the time than any other Christmas Characters. Here is a list of these characters with their personalities:
Character
Personality
Santa

Claus

j

olly

,

generous

,

kind

–

hearted

Rudolph

the

Red

–

N

osed

Re

ind

eer

loyal

,

brave

,

determined

Frost

y

the

Snow

man

friendly

,

playful

,

mis

chie

vous

The

Gr

inch

cynical

,

gr

umpy

,

spite

ful

Sc

roo

ge

miser

ly

,

solitary

,

cur

mud

geon

ly

The

Ginger

bread

Man

adventurous

,

courageous

,

daring
These Characters have some of their personality and twists that make them one of a kind, and we are here to answer the million-dollar question: which Xmas character are you?
Christmas character quiz
Are you ready? In this quiz, we will ask you 20 questions, and after you answer all of them, we will tell you which of the classic Xmas characters are most likely to be you.
Good luck with the quiz, have fun, and Merry Christmas, everybody. Have a wonderful jolly holiday.
How to Play?
Playing personality quizzes is straightforward: Choose the option that's true about you—or you relate to—and select "Next." Unlike trivia quizzes, personality tests have no right or wrong answers. But the questions are in forced-choice format. The point is to push you to choose an option that makes the most sense, not the one that's 100% true. For the most accurate results, don't overthink your responses. Go with options that you "feel" are the best.
Questions of the quiz
1

Do you like the holidays?

Yes, Especially when it's Christmas

I do, but not all of them

I barely enjoy any holidays

I hate holidays

2

What color do you prefer more?

3

What is your favourite season?

4

In Christmas, You like to:

Get Rest and watch some TV

Eat Turkey and spend time with family

Do nothing until the holidays are over

Get and receive some gifts

5

What is your best quality?

I'm a kind person

I don't care about anything

I always try to help the people in need

No matter what happens, I'm always staying joyful

6

Do you need help in life?

Yes, I'm a very fragile person

Not always, But sometimes a little help would be nice

I don't usually need help in life

I don't need anybody to help me

7

In a project, you are:

A lone wolf

I stay in the team, I'm a team player baby!

I always end up as a leader

Projects? what are you talking about?

8

In the gift giving:

I like to get gifts

I like to give gifts

I like them both

I hate gift giving, it's a stupid tridition

9

Which one do you like more?

I like to sing a lot

Driving is always my thing

I get bored, so fast, so Playing is always prefred

I just play a song and dance to it

10

Do you lie often?

No, I never lie to anybody

I stay from at as far as I can

Not always, But sometimes I slip

Yes, I lie most of the time for my benefit

11

Do you believe in second chances?

No, I don't believe in second chances

I really don't know about it

I want to believe it

I have great faith in it

12

Do you travel often?

Yes, I really like traveling

It depends on the destination

I feel unsafe when I'm far from home

No, I hate travelling

13

Are you a lonely person?

Yes, I'm a lone wolf but that's okay

I may have one or two friends

I have many friends

I have many friends and a lovely family or partner

14

Do you go back to town in the holidays?

Yes, every year

Some years

Very barely

Not at all

15

You like:

Having a walking in the Daylight

Enjoying the silence of Late Night

Getting a cup of coffee at morning

Hanging out with friends in the afternoon

16

Do you skip social gatherings?

Yes, I'm an anti-social person

Sometimes I do, but being in groups is not really my thing

No, I'm with my friends or family most of the time

I always try to find someone to hang out with

17

Do you like being in groups?

Yes, I like to be with people

Yes, I kinda like them

No, I hate people

I don't like them that much

18

Do you have trust issues?

Yes, I have bad experience in trusting people

I can't trust anyone so easily

I like to trust anyone unless I'm proven wrong

I trust everybody

19

Do you have a lot of friends?

Yes, I become friends with anyone so easily

I have some friends but I don't want new people and friends anymore

My circle of close people are very few

No, I don't have, need, or want any friends

20

What is your favorite snack?