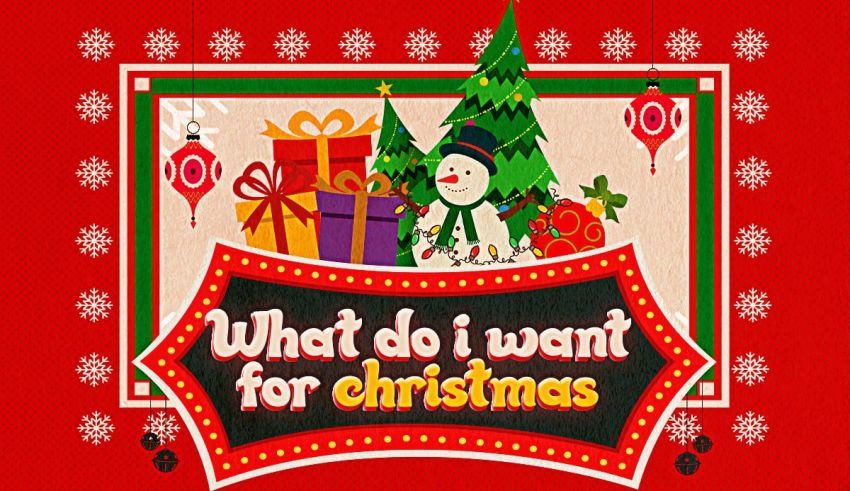 This quiz will help you find out what you want for a Christmas gift. Which one is best for you? Money, tech gifts, toys, or else? Let's find out.
After a long year, Christmas is upon us, and whether you are a fan of this holiday or not, you can't deny that it's an exciting time to be alive. Everyone celebrates and has fun and is thankful for what they have achieved and have in life.
It's the season for everybody to give presents to each other and rest for some days after working hard throughout the year. But the gift part ‌is why you are here, aren't you? You want to know what gift you will get at Christmas.
Gift Giving
It's really about the age and taste you have. Most people, at young ages, look forward to getting gifts from family, friends and love ones and it's totally ok. Some people care about what they want for Christmas and start to tell everybody about it.
But some people do not know what they want, and they just want to get surprised and settle for pretty much anything they can get. Although, waiting for the day to get the present is a little hard, and they want to know what they're getting sooner.
The gift you are getting depends on a lot of stuff. It depends on how your family, friends, and loved ones know you and the things that make you happy. Some people are too hard to get a gift for, and let's hope you are not one of them.
Maybe you are the kind of person that is into giving gifts, and you are asking yourself, What should I get myself for Christmas which is okay and totally fine, and there are a lot of good Christmas gifts that you can get.
Find out a list of common Christmas gifts.
You can always customize what you want to get for others. But if you don't have any clue what to get for people, you should look at their taste and the thing they're most passionate about, and choose the gift between the items.
Gaming Setup
there are a lot of things that people want and have that passion in common. If you look at it, nowadays, everyone wants a PS5 or a good PC or everything they don't have in their gaming setup.
Coffee Maker
even if they are not a gamer and they mostly do work all the time, you can buy them a good coffee maker to assist them in their daily life to get a morning coffee. Or even a briefcase that they can put their important stuff in there.
Makeup
There are tons of gifts specialized for women because you can make a girl/woman happy with a lot of stuff. You can get them a makeup case that is filled with a lot of makeup stuff, and believe me, it will do the job.
New Phone
Why not? It's one of those things that anyone can really enjoy getting as a gift. Nowadays, everyone is on their phone nonstop. You can get them a new good phone for a Christmas gift, and you can be sure that they will appreciate it.
Toys
If you want to buy a little boy or a girl a gift, a toy or even an action figure would be a cool gift to give one person. These days every kid loves superhero stuff, and they tend to play with their toys a lot. So give it a go.
Money
Yeah, why not? You can put some money in a pocket and give it to someone. It's like the ultimate gift. You can give them money to spend however they like, and they may even need money for emergencies. So they can count on the money that you'll give to them.
What's your Christmas gift?
If you are a Christmas person and you love to celebrate it, you know you're going to get a present soon enough. But what is your gift? In this Christmas quiz, we are going to give you 20 questions, and after answering them, you're going to know what's most likely could be your gift.
How to Play?
Playing personality quizzes is straightforward: Choose the option that's true about you—or you relate to—and select "Next." Unlike trivia quizzes, personality tests have no right or wrong answers. But the questions are in forced-choice format. The point is to push you to choose an option that makes the most sense, not the one that's 100% true. For the most accurate results, don't overthink your responses. Go with options that you "feel" are the best.
Questions of the quiz
1

Is your family adapted to modern life?

Yes, they are

I could say

Not that much

Not at all

2

Do you enjoy playing video games?

Yes, I do

I could say

Not that much

Not at all

3

Do you get gifts a lot?

Yes, I do

I could say

Not that much

Not at all

4

Do you buy others' gifts a lot?

Yes, I do

I could say

Not that much

Not at all

5

Do you have an old phone?

Yes, I do

I could say

Not that much

Not at all

6

Are you a hard-working person?

Yes, I am

I could say

Not that much

Not at all

7

Do you have a job?

Yes, I do

I could say

Not that much

Not at all

8

Do you have an active Instagram/TikTok account?

Yes, I do

I could say

Not that much

Not at all

9

Do you need money?

Yes, I do

I could say

Not that much

Not at all

10

Are you struggling with financial problems?

Yes, I do

I could say

Not that much

Not at all

11

Do you watch streams of content creators?

Yes, I do

I could say

Not that much

Not at all

12

Do you go to school?

13

Do you have a lot of hobbies?

Yes, I do

I could say

Not that much

Not at all

14

Do your friends come over a lot?

Yes, they do

I could say

Not that much

Not at all

15

Do you work out?

Yes, I do

I could say

Not that much

Not at all

16

Do you get good grades?

Yes, I do

I could say

Not that much

I don't go to school

17

Do you have a lot of friends?

Yes, I do

I could say

Not that much

Not at all

18

Do you drink alcohol?

Yes, I do

I could say

Not that much

Not at all

19

Do you have any pets?

20

Do you go to your hometown for holidays?

Yes, I do

Not always

Barely

Not at all