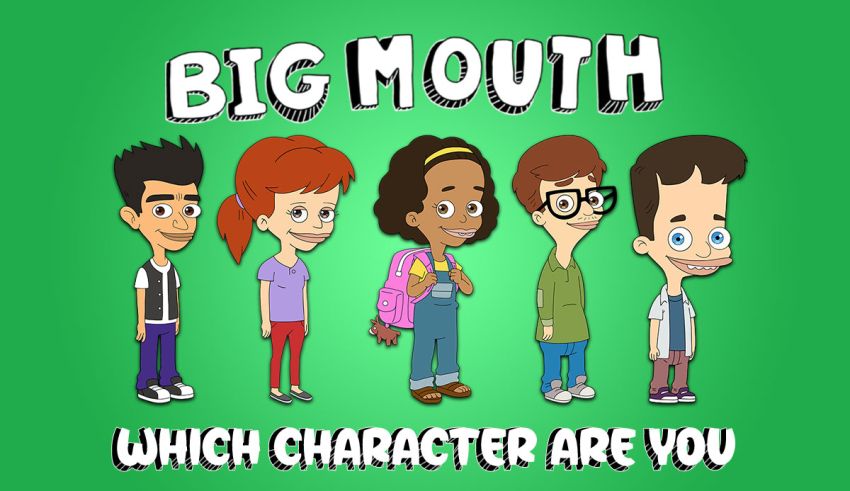 Do you wonder which Big Mouth character you are? Take this puberty-inspired funny quiz to find out if you are Nick, Andrew, Jessi, Jay, or else.
Big Mouth Quiz: Your Shame, Guilt, and Puberty
We created a set of twenty questions to take you back in time to your PUBERTY. The goal is to uncover your awkward, unwanted, and shameful feelings to discover your Big Mouth character.
Why so harsh, you might ask. Well, Big Mouth is about 13-year-old kids who're struggling with their adolescence. And the only accurate way to match one of them is by going through the same challenges. Don't worry, though. The test won't be, like, super-weird.
Now that you are here, though, we also recommend taking the South Park Character Quiz. It's the funniest thing if you're into teen life-oriented cartoons.
Discover which Big Mouth character you are.
The premise of the personality test here is to uncover which Big Mouth kid is similar to you. So, you'll find out if you're more like Nick, Andrew, Jessi, or else. We analyze your persona, matching it to our database to point out the similarities and find your perfect counterpart.
Meet your Hormone Monster.
Do you know those hairy creatures who encourage the kids to indulge in shameful, hormone-driven activities? By the end of the Big Mouth Character Quiz, you find out which one would assist you through your puberty. Would it be the naughty Maury, the badass Mona, or another monster?
Get a FREE personality analysis.
We believe that your adolescent memories can reveal so many things about your persona. That's why you receive a comprehensive character breakdown at the end of the test, exposing every detail about you. Are you ready to get uncomfortable like a middle school kid, again? If yes, press the button and start the quiz right away.
And, well, face your puberty again!
The thing about the Big Mouth Quiz is that it's as frank as possible. So, it would provide you with a detailed analysis of what type of teenager you probably were in your puberty. And you already know, the kind of things we're going to be talking about is not that comfortable. Take the test at your own risk.
How to Know Which Big Mouth Character You Are? (No Test Needed)
One reliable method to discover your matching character is taking an online quiz—like the one on this page. But you may be too shy to expose yourself to our bold questions. So, here's an alternative way of finding your counterpart as quickly and accurately as possible.
You need to read the following character descriptions for the main kids in the show. And you have to decide which one you probably represent in life. Yes, it doesn't look quite precise. But that's the only method left if you're not into personality tests.
#1. Nick Birch
He is a nice boy who does his best to be righteous and reliable. Nick is rational, sensitive, and sensible. But he's also the most responsible kid in the show. People who match Nich in the Big Mouth Character Quiz have had an awkward puberty life—and they most likely struggled with dating and romance.
Nick finds it quite challenging to talk to girls. And that leads to some super-uncomfortable and embarrassing moments. Despite being knowledgeable about "adult stuff," he feels insecure about his body, thinking he might not be able to experience physical intimacy anytime soon.
#2. Andrew Glouberman
Being a total nerd, Andrew is intelligent and smart. He knows about various topics and usually impresses others with his knowledge. However, he's also a freaky pervert who cannot stop getting off to weird stuff—like, even tomatoes. Participants who match Andrew's character in the Big Mouth Quiz definitely had complicated adolescence, especially when it comes to sexuality.
The adorable thing about Andrew is that he has a soft spot for love. And he manages to maintain a non-sexual relationship with Missy.
#3. Jessi Glaser
With her dry humor, Jessi might seem like a cold person. But she's a compassionate and caring girl who has a strong sense of right or wrong. As a feminist, Jessi tries her best never to look weak or needy. She hates it when people look down on her and proceeds to lie about her needs to avoid that. Those who match her in the Big Mouth Character Quiz have had tough puberty, and they probably struggled with depression and anxiety the whole time.
In the series, it's pointed out that Jessi starts therapy to care for her mental health. That emphasizes her emotional intelligence and the will to become a better person.
#4. Jay Bilzerian
Jay's alter-ego is a 40-year-old guy. He's sexually active and perverted. But Jay is constantly dealing with negative emotions like shame, guilt, and sadness. The series pointed out that he has ADHD and another weird mental illness that causes him to talk to inanimate objects and sleep with them.
When asked, "Which Big Moth character are you?" few fans would say I'm Jay. That's because he has a rather messed up personality and family.
| | |
| --- | --- |
| Character | Birthdate |
| Nick | 2005 |
| Jessi | 2004 |
| Andrew | 2005 |
| Jay | 2005 |
| Missy | 2005 |
Other characters
Big Mouth is full of fun and interesting personas. And you just read about four of them. We highly recommend taking the actual quiz to receive solid and reliable results. Our database includes most of the popular characters of the show, making the outcomes extremely amusing.
Disclaimers
Big Mouth is about 13-year-old kids. BUT it's an adult cartoon. So, be aware that the personality test on this page is designed for people who're at least 18 or older.
QuizExpo does not own any of the images used in the 'Which Big Mouth Character Are You Quiz.' Netflix owns all the said pictures.
Questions of the quiz
Question 1

What's the most challenging thing about puberty?

Dating

Finding true love

Becoming independent

Dealing with hormones

Finding a friend with benefits

Dealing with all the negative emotions

Question 2

How would you describe your school days?

Stressful

Lovely

Annoying

Challenging

Naughty

Lonely

Question 3

What type of student were you in high school?

Polite and shy

Nerdy and remarkable

Rebellious and unique

Lonely and perverted

Cool and popular

I don't even remember

Question 4

Which one describes your love life better?

It's pretty boring

I'm always looking for true love

I don't need love; I need independency

It's lonely and sad

It's pretty active and wild

I'd rather not say

Question 5

What was your main struggle as a teenager?

Socializing

Keeping everyone happy

Family issues

Controlling my emotions

Fixing my dangerous lifestyle

Dealing with guilt and shame

Question 6

On average, how many naughty fantasies you might have per day?

Question 7

How was your relationship like with your peers of the opposite sex?

Awkward

Complicated

Limited

Messed up

Pretty well

I used to avoid them

Question 8

Which one was your predominant emotion during puberty?

Anxiety

Happiness

Depression

Jealousy

Lust

Shame

Question 9

Were you an outgoing and friendly high school student?

Not at all

It depends on who I was with

I hated socializing

I used to try to be outgoing

Yes, I was pretty outgoing

No, I was lonely and depressed

Question 10

Which one describes you at a party?

Quiet and awkward

Talkative

Annoyed and lonely

Trying to hit on the hot ones

Sleeping with a hottie in a room

I don't like parties

Question 11

Do you regret your teenagerhood mistakes?

Most of the time

I'm not sure

Some of them, yes

I don't think so

No, never

Yes, I regret every second of my teenagerhood

Question 12

What's the funniest thing about adolescence?

Awkward memories

Cute romance stories

Breaking the rules with no fear

Getting turned on by anything

Doing naughty things and having fun

Nothing. Adolescence sucks

Question 13

How many boyfriends/girlfriends did you have in high school?

Question 14

How many crushes did you have during your high school years?

Question 15

What do you think about love?

It's crucial for happiness

I need it

I don't need it

I want to experience it

I don't trust it

Love is just a lie

Question 16

What are your insecurities like?

I'm insecure about my body

I'm insecure about my personality

I'm insecure about my job

I'm insecure about my sexuality

I'm not insecure about anything

I'm insecure about EVERYTHING

Question 17

Which one sounds like a mental health problem that you used to struggle with as a teen?

General anxiety disorder

Lack of concentration

Severe depression

Hypersexuality

ADHD

All of them

Question 18

Here's a weird question, what part of a person's body do you think is arousing?

Face

Shoulders

Torso

Legs

Butt

None

Question 19

How often do you feel turned on?

Rarely

Once in a while

Every couple of days

Everyday

I'm always turned on

Never

Question 20

Final question; how old is your soul?