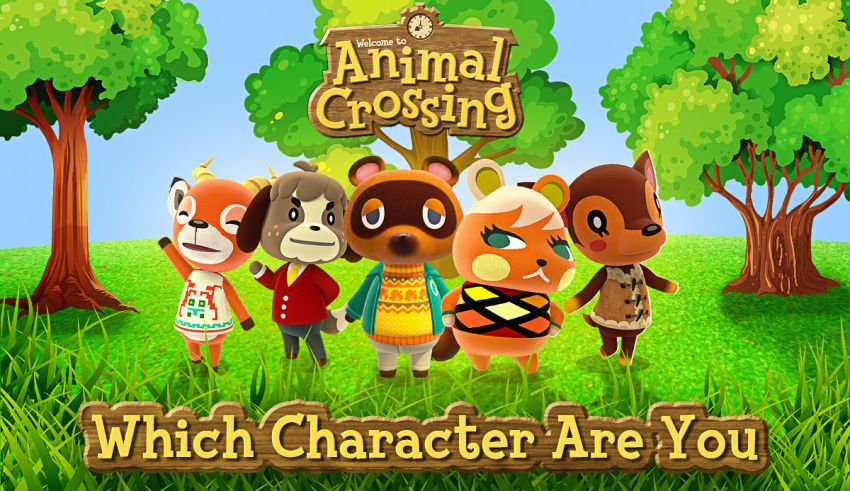 Don't you wonder which Animal Crossing character you are? This quiz matches your personality to that of the 397 characters to reveal the most similar one.
Explaining the Animal Crossing Character Quiz
It's a 20-question personality quiz to reveal which Animal Crossing character you look like. The test asks you about your preferences, habits, and even your appearance before deciding on your perfect match.
Like the Roblox Adopt Me! Quiz, the premise is to answer questions like, "Which character are you?" However, this particular questionnaire is based on the 8 personality types of the actual Animal Crossing villagers.
Find out which villager you are.
We have a database of the game's most popular (and somewhat unpopular) animals. Your responses enable us to create your accurate profile and compare it to that of the villagers. Therefore, you are guaranteed to meet your counterpart in no time—with ridiculously high accuracy.
Discover your rarity as an Animal Crossing character.
Not all villagers will show up on your island. In fact, some animals are so rare that the chances of meeting them are less than 1%.
But the cool thing about the Animal Crossing Quiz is that it exposes how rare YOU would be if you lived among other villagers. We have already created a rarity test for your human persona. But no one has ever done one for your villager persona—except for us.
| | |
| --- | --- |
| Character | Rarity |
| Squirrels and Frogs | 0.16% |
| Rabbits | 0.14% |
| Cats | 0.12% |
See if you are a special character.
We've all been waiting for that one special visitor to our islands—and have probably dreamed of having them as permanent residents. But what if you, yourself, were a special Animal Crossing character? The quiz identifies how likely it would be for you to be a rare animal had you lived in Nintendo's fictional cute world.
Learn more about your style as a villager.
Not all villagers are stylish. Think Jocks and Lazy ones. But what about you? Would you be a fashionista who wears iconic Animal Crossing clothing, or would you prefer a casual style? The good news is that the quiz can also assess your taste in fashion and reveal your aesthetics accordingly.
Based on the 8 Animal Crossing Personality Types
Unlike many other popular games such as Minecraft, Animal Crossing characters have actual personas. Your villager self might be a grumpy, bad-tempered character or maybe an energetic, fun-loving one. And that's what makes this game a unique experience.
We wanted to create a quiz that passes the same vibes and values the in-game personalities. So, we analyzed all eight personas, added them to our database, and made it possible for you to find your soulmate accordingly.
Here's a list of all Animal Crossing personalities and what they mean.
Normal:
Villagers are also known as sweets. They are friendly and levelheaded and often enjoy simple activities such as reading or cooking.
Jock:
Characters who love sports and are often athletic themselves.
Lazy:
Relaxed, laid-back, and easygoing villagers who have a chilled and slow lifestyle.
Smug:
Somewhat arrogant, egotistical, and sophisticated characters who can be gentlemanly or flirtatious.
Snooty:
As of New Horizons' latest updates, Snooty villagers are stereotypical housewives who can be self-centric every now and then.
Cranky:
Described as bitter, rude, and stubborn, cranky villagers are grumpy animals who often complain about the Island and make sarcastic comments.
Peppy:
They are overly excited but often super-energetic characters who are easy to befriend and hang out with.
Big Sister:
Some describe these animals as the female version of cranky characters. They are rude, easily offended, and stubborn tomboys with a protective side deep inside.
The Most Popular Animal Crossing Villager That You Might Match
Cats often dominate the lists of most popular Animal Crossing characters. But other villagers are equally beloved—and gamers would love to match them in personality tests.
So, these are some of the animals that would leave you smiling when in your results.
Cherry
As a big sister, Cherry seems to be rude. But as you talk to her, she opens up and shows her caring side as well. Like most other sisterly villagers, Cherry is tomboyish and tough. But you can rely on your friendship with her, thanks to her loyal nature.
Stitches
His cute appearance is enough to make every player go, "Awe." But Stitches' personality makes him even lovelier. As a lazy character, he enjoys his slow lifestyle and doesn't want to be bothered by life's stress. But fans go crazy when this little cub pops up on their Island—or in their personality test result.
Ankha
As a subtly rude cat, Ankha is a snooty villager who enjoys wearing heavy makeup and gossiping behind others' backs. However, as with most other cats, she has a warm and friendly side hidden behind her mean comments. But regardless, fans love her accent, unique appearance, and cute punchlines.
Raymond
Raymond is definitely a fan-favorite animal thanks to his adorable appearance and gentleman-ish nature.
And many gamers pick Raymond when they are asked, "Which Animal Crossing character are you?" Though, he might sometimes piss you off with his arrogant comments. So, you might want to be prepared.
Other Animals.
Hey, Animal Crossing has over 300 characters (397 to be exact). So, you would never know which one you'll match. But taking our genuine personality quiz is your best bet for finding your perfect match in no time.
Ready to Meet Your Dreamies? Take the Test Now
You are one step away from discovering your soulmate villager in the entire Animal Crossing universe. All you have to do is answer twenty entertaining questions to get accurate results. We'll be waiting for you on the other side of the Island. So, don't be late.
Disclaimer
QuizExpo does not own any of the Animal Crossing character quiz images. Nintendo EPD owns the rights to all the pictures, and no copyright infringement is intended.
How to Play?
Playing personality quizzes is straightforward: Choose the option that's true about you—or you relate to—and select "Next." Unlike trivia quizzes, personality tests have no right or wrong answers. But the questions are in forced-choice format. The point is to push you to choose an option that makes the most sense, not the one that's 100% true. For the most accurate results, don't overthink your responses. Go with options that you "feel" are the best.
Questions of the quiz
1

What role would you like to have if you lived on an Animal Crossing Island?

Cook

Journalist

Birdwatcher

Personal trainer

Fashion critic or designer

Musician or performer

Scientist

I don't like any of these jobs.

2

What is your priority when playing the game?

Developing my Island

Customizing my Island

Chilling and having a good time.

Gaining more XP and leveling up

Acquiring/buying new outfits and accessories.

Looking for new adventures and missions.

Improving my house's interior design.

None of them.

3

Imagine you could create your own Dreamie. What would be the first trait that you give it?

Friendliness

Empathy

Easygoingness

Determination or ambition

Classiness

Independence

Confidence

None of the above.

4

Mayor Tortimer wants to borrow some Bells from you to spend on the Islands development. What do you say?

I'd be happy to give them the money.

I would give them more than what they need.

I don't have any money to help them.

It's not my responsibility to build a better Island.

I'd never give my money to a politician. I don't trust them,

It depends on their offer. What's in it for me?

I'd sue them for fraud.

5

Which one is your favorite Animal Crossing item?

Automatic washer

Beach ball

Barbecue

Basketball hoop

Ancient statue

Fish trophy

Book or book stands

None of them,

6

How many Bells do you think a player should plant in a money tree?

10,000

20,000

5,000

15,000

50,000

2,500

About 1,000 or maybe even less

Nothing. You should not plant at all.

7

What is a reasonable price for a house in Animal Crossing?

90,000

200,000

20,000

50,000

500,000

70,000

125,000

10,000 or maybe even less

8

Your Happy Home Academy rating is pretty low. How do you feel about that?

I feel disappointed but not broken.

I feel horrible and broken.

I feel indifferent.

I feel insulted and betrayed.

I feel humiliated and ashamed.

I feel fine because I don't care.

I feel misjudged and mistreated.

I feel irritated and vengeful.

9

How do you feel about running over cockroaches in your house?

It's cruel and disgusting,

It's inhumane. I'd never kill a living creature.

It sounds like fun. But I've never tried it.

Sounds like a calory-burning activity. I'm in.

That's cheap and nasty.

It's not a big deal. I've done it, too.

Cockroaches deserve that.

It's one of my favorite activities in the game.

10

Your Island Evaluation star is 3.5. What do you do now?

I'd improve the buildings and facilities.

I'd improve my relationship with the villagers.

I'd let it be because it doesn't matter.

I'd work harder and do everything in my power to improve the ratings.

I'd restart the game and start all over again.

I'd review my strategies and try new approaches.

I'd delete the game and never come back.

11

What do you do with a Lost Item that you just found? (Assuming you can do whatever you want with it).

I look for the owner.

I show it to my friends and ask for help.

I leave it where it was and mind my own business.

I start a social media campaign to find the owner.

I call 911 and ask for help.

I claim it and take it home.

I don't know. It depends on the item.

I sell it for a good price.

12

You are now eligible to run a Community Project. What feature do you add to the Island?

Library

Night club

Parks

Gyms

Malls

Concert venues

Laboratories or universities

Nothing. I'd keep the money to myself.

13

What is your favorite Hobby in Animal Crossing?

Play

Music

Nature

Fitness

Fashion

Fossil collecting

Education

I don't like any of these hobbies

14

A lazy villager is asking you to go fish with them. What do you say?

Yes, sure! That'd be fun.

OMG, sounds adventurous. I'm in.

Nah, I'm too tired for that.

Fishing is too boring for me. So, no, thanks.

I'd never hang out with a lazy villager. I just can't.

It depends on my mood. IDK.

I don't have time for such cheap activities.

Only a stupid person goes fishing with a lazy villager.

15

Which one is your favorite crafting material?

Softwood

Glowing moss

Peach

Iron nuggets

Gold nuggets

Cherry or apple

Venus comb

None of them.

16

Pick a DIY Houseware recipe that you'd like to try.

Doghouse

Gift Pile

Bamboo Bench

Barbell

Big Festive Tree

Acoustic Guitar

Astronaut Suit

None of them. I hate DIY projects.

17

Which one sounds like wall-mounted furniture that you'd like to buy?

Air conditioner

Bulletin board

Intercom monitor

Mounted mountain bike

Art plaque

Cherry lamp or cherry-blossom clock

Formal paper

Exit sign

18

How much time do you spend playing Animal Crossing per day?

Less than an hour

2

3

4

5

6

7 or more

Who cares?

19

What would it be if you had to describe your best friend in one word?

Cute

Heavenly

Dumb

Inspiring

Classy

Loyal

Intelligent

I don't have any friends

20

Final question; how old are you?

14 or younger

15-17

18-22

23-25

26-30

31-40

41 or older

I'd rather not say.