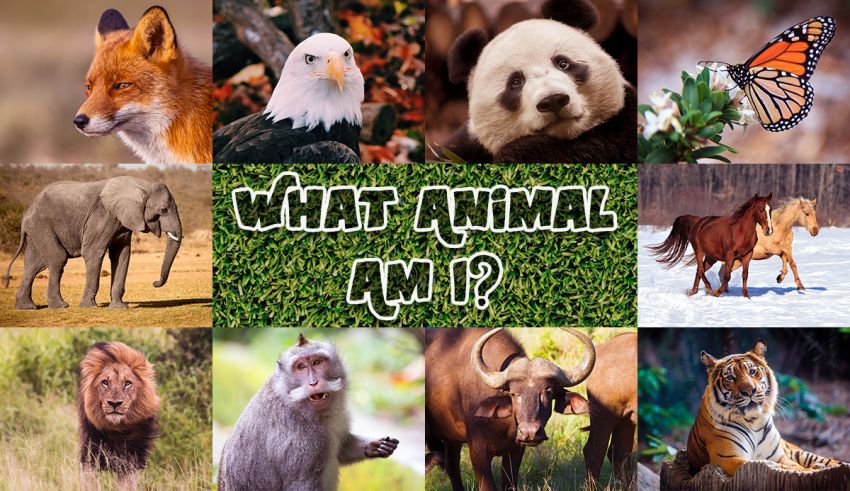 This accurate "What Animal Am I" quiz will reveal your inside personality by some simple questions. Find out how you react to problems at home or at work!
Have you ever wondered what animal am I? Well, no need to wonder more! Every person has an inner animal that can define his/her personality and behavior the best way it is. Today in this quiz, we are going to help you meet your own inside creature!
It can be examined from different angles. In one way, every year has a symbol of one animal, and Another way to determine by months. For example, the symbol of 2020 is the rat, which was started on January 25th, 2020, and ends on February 11th, 202. In this way, everyone can find their animal according to their year of birth. But other than all of these, there is a more realistic way to understand this. Just to do what animal am I quiz and it will reveal your inside creature based on your personality!
So What animal are you?
Have you ever thought that in a parallel world, if you are not a human, what creature are you? Do you know your personality can define this? Your inner animal reflects your personality, feelings, behavior towards other people, and different situations.
Fortunately, humans can control behaviors and emotions, and they have the ability to make decisions at any time. Still, it is useful to understand our feelings, given the insistence of these powerful animals. It is very exciting to know what personality you have in your inside, but it may not be easy for you to guess.
What animal am I quiz the easiest way to find your inside
As we said before, there are many different ways to find your animal, but the result of them may not be so real or, in some situations, may be different from each other. But a better way to understand this is to use a variety of characters to find animals. So if you want to discover your personality, all you need to do is taking the "what animal am I quiz".
And now, We will briefly discuss one of the characteristics and the inherent signs of some animals in the Psychology Test:
Cat: Independent
Bear: The bear represents a dreamy and cautious person
Monkey: Confident, cheerful
Dog: Loyal, humble and brave
Mouse: Humble
Rabbit: cunning
Elephant: Calm and protective character
Lion: A strong and conservative human being
Fox: Agile, thoughtful, and precise
Horse: Noble and loyal
Whale: Reliable
Owl: Mysterious, sober
Sheep: Sheep shows a friendly and hardworking personality
Panda: A loving, compassionate person
Penguin: A gentle and kind soul
Spirit quiz
Why do we need to take these tests anyway? If we keep two creatures with different spirit animals next to each other, or they communicate with each other, the effect of these relationships will be affected by other creatures as well, And this may upset the balance of nature.
Therefore, all animal characters should avoid contact with their natural predator species. In the other case, animal characters who live in entirely different environments tend to stay away from each other. For example, birds prefer to stay away from terrestrial mammalian characters. On the other hand, semi-aquatic animals can form relationships with both water-going and land-based personalities.
From all this, we conclude that if humans also have an inner creature personality, these relationships apply to them, too, so knowing it can be beneficial to life as well.
So if you want to know what kind of people you have to stay in touch with, and with what kind of people you have to keep your distance, make sure that you take the spirit animal quiz and answer it honestly.
Test for kids, both fun and game!
Kids have an excellent connection with animals, and this is one of the most important things which helps them for mental growth. On the other hand, knowing that what animal am I for a kid may be fun at first, but other than that can also be useful for his/her future life.
Are you ready to find your Personality? The following quiz will give you all your answers but don't forget to answer the questions honestly and share it with your friends.
Questions of the quiz
Question 1

What is your favorite movie genre?

Question 2

What is your emotional relationship status?

I have a lot of friends, but I love one person.

I have a very romantic emotional relationship

I'm alone because I can not trust anyone

I am happily married

Question 3

What will your reaction be when your friend is upset about something?

I would like to make him/her happy with the positive energy that I have

I cry for him/her

If she/he helps me later, I will try to make her/him happy

Her/his problem doesn't concern me

Question 4

How often do you go to a party?

Twice a week

Depends on the situation

Once a month

I don't like party

Question 5

What do you usually do after dinner?

I spend time with my friends

I lie in front of the TV and relax

I usually work

I do backlogs

Question 6

How do your friends describe you?

Charming and energetic

Kind and respectful

Clever and handsome

Independent and fearless

Question 7

How many times have you traveled in the last year?

Several Times

I did not travel

Three times

I just worked and did not travel

Question 8

What do you do if someone reminds your bad habits?

I can easily give up my bad habits

I thank her/him and I change my bad habits over time

I tell her/him okay, but I will not change my behavior

I do not have bad habits

Question 9

What is your favorite Job?

Social Worker

Food Taster

Accountant

Software Developer

None of them

Question 10

How many hours do you usually work during the day?

About 8 hours

Less than 5 hours

Usually at night for about 5 hours

More than 8 hours

Question 11

How do you look at life?

Life is colorful and beautiful

Life is love

life is full of dreams

Life is power

Question 12

What are your weaknesses?

Impulsiveness

laziness

Deception

Egotistical

Opportunist

Unsympathetic

Question 13

Choose your favorite landscape..

Question 14

What personality would you like to see in your colleague?

Self-expression

Gentleness

Increased awareness

Strength

Creativity

Question 15

What is your biggest fear in life?

Losing my friends

Losing my comfort

To be frumpy

Being used by others

Question 16

Do people enjoy being with you?

Yes, they say I can amuse them

Yes, they say I bring good luck to their life

I do not know

No, because I do not entertain them

Question 17

I am motivated by...

Helping people

Love

Interference in people's affairs

Challenging tasks

None of them

Question 18

What is your favorite color?

All colors

Black and white

Reddish

Brownish

None of them