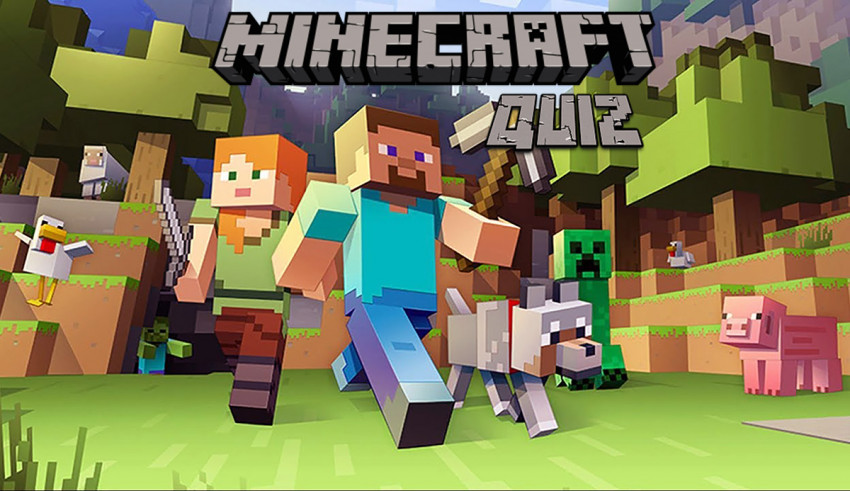 In this amazing Minecraft quiz, you will answer different easy, hard, and impossible questions about mobs, crafting, materials, and worlds of Minecraft.
Minecraft is a simple-looking sandbox game, but it has a deep and complex backend. This game was developed for computers in 2011. If you look for bestseller games, you will find out that Minecraft is on the top list of bestseller game of all time. More than 200 million copies are sold, and more than 100 million users are currently playing this fantastic game.
In this game, users explore a blocky 3D world to extract and discover raw materials, build structures, and craft tools and items.
All of the games are designed for one purpose only, and that is to kill time while having fun. Minecraft is the bestseller game because of its fun way to pass the time. The effort they put into making the game was so huge, which resulted in a rich game in detail.
Most fam of this game claim to know every detail about it, but they have to prove it. Minecraft quiz is one of the best ways to challenge yourself and test your knowledge.
Minecraft Quiz
This amazing game has a big world which you can wander in. Many mobs, many players, and a lot of materials. Minecraft Trivia Quiz challenges your knowledge of the whole world. You heard it right, the entire world! It does not matter how long you have been playing it; in these quizzes, you will find questions that will make you log in back to the game and check the details!
Like the game, Minecraft Quiz is also very rich in detail. It has different styles and parts. Easy Minecraft Quiz is for newcomers, while Impossible Minecraft Quiz is for those who have played the game for longer times.
Mobs Names
Mobs are entities that live in this world and spawn in the overworld. They have different categories, styles, and shapes. Usually, it is tough to remember the name of all of them. In the Name All The Mobs Quiz, you will face questions about the mobs. Don't think of this as easy because it's a big world with a wide variety of mobs. Even real mine craft fans fail this Minecraft Quiz.
As you may know, this game is a group game and has an open world where you can find other players mining or crafting. Challenging other players in the Name All The Mobs Quiz would undoubtedly be great. Results show that more than 70% of Minecraft players fail this Quiz.
Easy Minecraft Questions
You may be new to the game world, and you don't know your way around this world very well (hang in there, you will get better); what then? In that case, we have an Easy Minecraft quiz. Questions are easy to answer, yet many new players find it very difficult. In this quiz type, questions are about some apparent facts such as famous mobs like Skeleton, Drowned, Witch, and Slime.
Hard Minecraft Questions
Say you have been playing this game for a long time, and you consider yourself an expert. In that case, you may want to participate in an Impossible or ultra-hard Minecraft Quiz, where questions are about the most minor details. This part of the Minecraft Quiz is for hardcore players, so don't quit it if you fail!
The leading Quiz is explicitly made to challenge all kinds of knowledge real players may have about the game. Usually, the questions are about tiny details that players do not even notice. For example, you may be asked about the eye color of the mobs or about the ticking time of Redstone!
Let's Start

If you feel confident that you know everything about this amazing world, take the Ultra-hard Quiz but beware that many players who had crafted big castles and played the game for a long time failed to get a perfect score in this Quiz. About 70% of the players will fail to get a decent score on Minecraft Quiz. Pick up your tools and check your stacks because things will get extreme.
How to Play?
A trivia quiz comes with right and wrong answers. You receive one point for each correct response—but no negatives for the incorrect ones. Take your time and read the questions carefully because some might be trick questions. Choose an option and lock it in by tapping "Next." Lucky for you, the trivia quizzes have instant results. You see if your response was correct immediately. (Green is good, red is bad.) Even better, you can learn more about the topics with the "answer reveals," the fun-fact snippets that appear after each question.
Questions of the quiz
Question 1

What did Notch call EnderDragons at first?

Ooga Booga

EnderDragon

Raqreqentba

Quilly

Question 2

What did Creepers use to do in the 2009 version?

Saying "Hello"!

Exploding near you!

Jump to you then explode!

Explode when they die!

Question 3

Which one is the second added mob to Minecraft?

Skeleton

Husk

Slime

Illusioner

Question 4

What is the difference of old and new Steve?

New beard

Narrower face

New haircut

Wider face

Question 5

How many blocks can you jump in Minecraft?

Question 6

How can you make Glazed Terracotta?

Cook terracotta!

Pour water on terracotta!

Put terracotta on fire!

Pour lava on terracotta!

Question 7

How many levels does a Beehive have?

Question 8

Which one isn't breakable by Ender Dragon?

End Stone

Bedrock

Obsidian

All of them

Question 9

Which mob doesn't take fall damage?

Witch

Ghast

Magma Cube

Snowman

Question 10

What do we need for making a Lead?

Bamboo & string

Bamboo & leather

String & slimeball

String & leather

Question 11

How can you get a Crying Obsidian?

In Nether Fortress chest

Just like normal Obsidian

Trading with Piglins

Mining on low level in Nether

Question 12

Which armor is better? Gold or Leather?

Gold

Leather

Same

None of them

Question 13

When was Minecraft officially released?

Question 14

Which one is the rarest Ore in Minecraft?

Diamond

Gold

Emerald

Red stone

Question 15

What do you wear to look at Enderman without provoking an attack?

Potion

Pumpkin

Zombie's head

Ender Dragon's Head

Question 16

What is the new Enchantment in Minecraft Nether update?

Soul Speed

Depth Strider

Soul Fast

Feather Falling

Question 17

who is herobrine?

Steve with white eyes

Notch's brother

Bad Notch

Notch's son

Question 18

What year did Minecraft 1.15 come out?

Question 19

What does "a stack" mean?

16 of items

64 of items

8 of items

Just a group of the items

Question 20

Which version of Minecraft is the oldest?

Question 21

What does this code do? [/give @a minecraft:Hug 64]

Nothing

Give hugs to all of players?

Give hugs to a player?

Give hugs to 64 players?

Question 22

Creeper is a wrong creation of ...?

Question 23

What is the most durable and powerful material in Minecraft?

Question 24

Which version has the most mods?

Question 25

What is the F2 key usage?

Radar

Screenshots

Allow cheats

Nothing

Question 26

How many days was Minecraft created in?

Question 27

In which night does the slimes spawn the most?

Full moon nights

New moon nights

First quarter nights

Waning gibbous nights

Question 28

How much XP does the Ender Dragon drop for the first time?

Question 29

What is the height limit for building in Minecraft?

278 Blocks

256 Blocks

564 Blocks

265 Blocks

Question 30

Which is the faster pickaxe? (Without Enchantment)