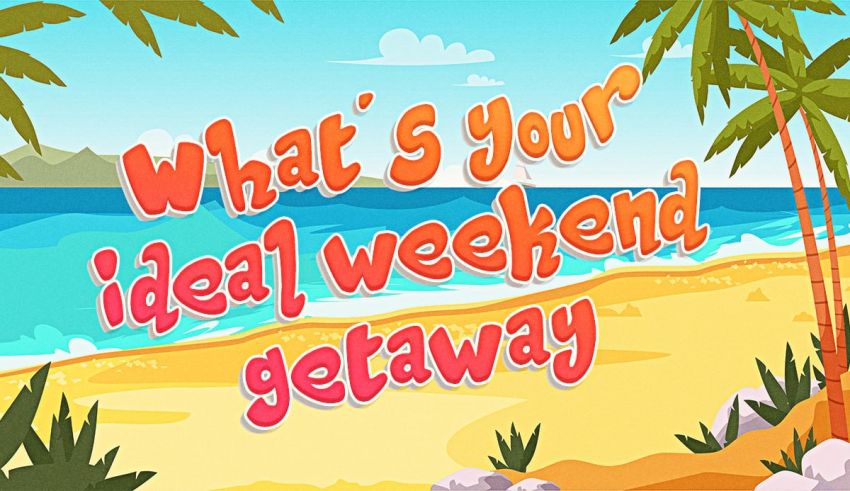 The weekend getaway quiz plans the perfect trip to a nearby destination based on your budget, time, and purpose. Let's find our 2023 ideas.
The Weekend Getaway Quiz Plans Your Perfect Trip
With its 20 tourism questions, the weekend getaway quiz determines which destination is perfect for your short trip.
Domestic travel has been increasing in the past couple of years. And more Americans want to exploit their weekends with a nice, little trip. But they have yet to learn what their ideal getaway is.
This quiz analyzes your budget, time, current location, and purpose to plan your next vacation.
What's Your Ideal Weekend Getaway?
Ideally, the perfect weekend getaway has three features: it's a short drive, has reserved accommodation, and costs less than a foreign trip.
For some budget travelers, a foreign trip for a weekend makes more sense. A 2-day trip to Paris, for example, could cost as low as $160 per person. But not every getaway-seeker would be able to pull that off.
What to Consider Before Planning a Getaway?
Usually, you must consider so many factors before a trip. But for a weekend getaway, you should focus on three primary aspects: time, budget, and place. In other words, consider how much time and money you have and where you'll be staying.
·       Time
On average, people in the US spend 5-12 hours driving for their weekend trip. So, choose your destination accordingly. If you want to save some time, go to a nearby city or use faster means of transportation.
·       Budget
In the US, the average price of a weekend trip is about $448 per person. But you can lower that to $150 with some planning.
·       Accommodation
Your weekend getaway will not be perfect if you don't have a place to stay. Whether it's a tent, a motel, or a luxurious hotel, your accommodation must be booked/decided ahead.
Ready to Find the Perfect Destination? Take the Test Now!
Okay, the big question remains: What is your ideal weekend getaway? Take this domestic travel quiz to find the perfect destination for your next trip.
The following questions help you decide where to go for a 2-day vacation in the US—and they do so by analyzing your time, budget, and goal.
How to Play?
Playing personality quizzes is straightforward: Choose the option that's true about you—or you relate to—and select "Next." Unlike trivia quizzes, personality tests have no right or wrong answers. But the questions are in forced-choice format. The point is to push you to choose an option that makes the most sense, not the one that's 100% true. For the most accurate results, don't overthink your responses. Go with options that you "feel" are the best.
Questions of the quiz
Question 1

How are you planning to get to the destination?

Driving.

Train, ferryboat, etc.

Biking, cycling, etc.

Flight.

Question 2

How much driving sounds okay for a weekend getaway?

8-10 hours

6-7 hours

3-5 hours

Less than 2 hours

Question 3

What's the budget? How much are you willing to spend?

About $300 (per person)

About $500 (per person)

About $700 (per person)

$1,000 or more (per person)

Question 4

What are you looking for in your getaway destination?

A nice view

Fun activities

New experiences

Great shopping malls

Question 5

What kind of accommodation would satisfy you?

A cozy motel

My own tent would do

A camping site

A well-known hotel

Question 6

Do you have any plans for your meals during the trip?

I'll try the local foods

I'll save money by eating fast food

I'll cook

I'll eat at the best restaurants in the city

Question 7

Do you have to go back to work as soon as the getaway ends?

Yes, I'll go back to work the next day.

It depends. I can take a few more days off.

No, I have the whole week to myself.

No, I'm my own boss. So…

Question 8

How often do you have weekend getaways?

Rarely

Once a year or so

Once every other month or so

Quite often (every month or so)

Question 9

What kind of activities are you looking for in your destination?

Sight-seeing

Partying

Hiking or camping

Shopping or going to concerts

Question 10

How many people will accompany you?

Just one

3 or more

None

It's not clear yet

Question 11

Are you a day or night person?

I'm a day person

I'm a night person

I like both

It depends on my work schedule

Question 12

Which one makes a weekend getaway great?

The view

The randomness

The adventure

The luxury

Question 13

Why do you want to plan a getaway?

I'm struggling with job burnout

I want to make the most of my weekend

I need something new

I want to treat myself

Question 14

Fill in the blank. I'm looking for a place with great ________.

Landscapes

Bars

Campsites

Hotels, restaurants, and malls.

Question 15

Choose the activity that sounds like your jam.

Swimming

Skiing

Rock-climbing

Bowling

Question 16

Do you have to take work-related calls during your getaway?

Yes, I might have to.

Yes, but I won't.

Hopefully not.

No, I'm my own boss.

Question 17

What kind of job do you have?

9-to-5

Part-time

Freelance

I own a business (or I'm a manager)

Question 18

Which one could be your favorite city's motto?

The city of the sun

The city that never sleeps

The city of mystery and unknown

The city of billionaires

Question 19

Which one would it be if you could travel to one of these countries?

France

Brazil

Mexico

Switzerland

Question 20

Final question: which one best describes your personality?

Introverted

Extroverted

Bold

Self-assured