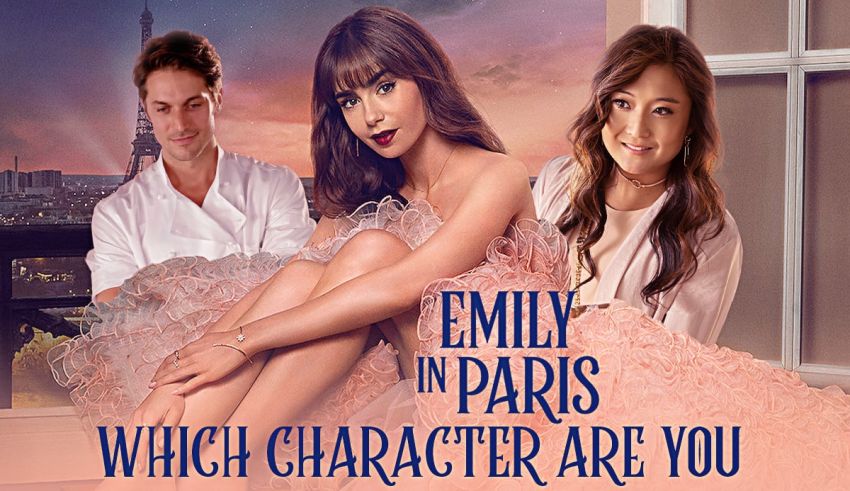 This fun Netflix quiz will match you to one of the Emily in Paris characters. All of the season 3 characters are included; Find your character with 20 questions.
Yes! You guessed it right! Once again, we come to one of the popular Netflix series to clarify something for you. First, you need to know which of the characters you are, and then Netflix is even more contagious.
But this time, we will talk about Emily in Paris, one of the most popular series in recent times. Of course, it is familiar and has been airing since September 2018. In July 2020, Netflix brought this series to its platform, and since then, more attention has been directed toward it.
Before we tell you which of the Emily In Paris characters you are, we are going to talk a little more about it.
The main story and how it was stared
The story of this series is about the character of Emily Cooper, who has a not-so-exciting life, and like all young Chicago girls, she is involved in everyday life. But he suddenly finds a new job position in France and soon decides to travel to Paris and take this position more seriously.
You have probably realized by now what the challenge of the main character of this series is. She works in a marketing agency where she tries to inject American culture into the work environment and, of course, for the marketing programs of this agency. Emily must try to cope with this new life and be able to find new friends and at the same time be able to succeed in her job.
Although the series received excellent ratings in the United States, some French critics did not enjoy watching the series. Of course, they were satisfied with the overall production of the series. Still, they believed that some dialogues and story elements of this series were against the people of Paris and the country of France and caused people to have wrong perceptions of this country.
A few months ago, Netflix confirmed that this series's fourth season is officially under construction. Of course, we expected this. Because in May 2021, Netflix officially confirmed that 58 million people watched the third season of its episodes, and probably the fourth season will have more viewers.
Main Characters
Now, we will go to the main point and talk about this series's characters.
Emily: First, the main

character

of this series is Emily, as you would expect, and it is mentioned in the title of this series. Emily has a bit of a dumb personality, and when faced with a challenge, she quickly loses herself.
Sylvie: She plays the role of Emily's boss in a French company. This

character

is a bit harsh and strict and always gives Emily a hard time so that Emily can do her job correctly. Of course, he is one of the best actors in this series.
Mindy: She has an Asian streak and is Emily's first friend in France. He is a singer but has yet to achieve much success and fame. Mindy helps Emily get used to the situation.
Gabriel: He is a charming and handsome guy who lives downstairs in Emily's house. Emily likes this guy and has a crush on him. Of course, this attractive boy has a girlfriend, and this causes strange things to happen between him and Emily during the series.
It's time for Emily in Paris
character

quiz.

Which Emily In Paris character are you? If you like to take a similar quiz, you can check out the Wednesday character quiz. Are you ready? Let's go
How to Play?
Playing personality quizzes is straightforward: Choose the option that's true about you—or you relate to—and select "Next." Unlike trivia quizzes, personality tests have no right or wrong answers. But the questions are in forced-choice format. The point is to push you to choose an option that makes the most sense, not the one that's 100% true. For the most accurate results, don't overthink your responses. Go with options that you "feel" are the best.
Questions of the quiz
1

Did you ever think about getting divorce?

I'm not even married

Well, I got a divorce so I could say I though about it before

Yes, a divorce from my own family would be perfect

No, I don't think that I need a divorce

2

If you had the chance, would you cheat on your partner?

No, I would break up with them first, and then I bed another person

No, I would never do that to anybody

Me cheating? I'm the person that always get cheated on

If my heart is not in the right place, I might do it

3

If you fight, what state do your arguments have?

It's a lot of shouting and swearing

It's just a simple argue

We don't fight

Sometimes it's get physical

4

How is your sex life?

It's good, I regularly do it

It's not bad

It's complicated for me

It's awesome!

5

What type of a person are you at the parties?

I usually am quite

I dance and chat with everybody

I just drink a lot and go home

I don't go to parties

6

You're on a trip, but you prefer:

Enjoy the road

Never left the home

Get to the destination ASAP

Took the plane to arrive faster

7

When your favorite music comes up, what do you do?

Try to enjoy listening to it

I don't feel anything. I heard it 100 times

I sing along and feel the rhythm

I don't have a favorite song!

8

In the COVID Lockdown, you spend most of your time:

Learning a new skill

Reading books and watching movies

Sleeping

Fantasizing about post-lockdown

9

How do you describe a good movie?

Just anything that entertains me

A movie that helps me pass the time

A movie to make me thinking in the end

A movie that makes me laugh

10

If you start a business and it fails, what will you do?

I get back to being an employee

I would be sad, but I learn the lesson for my next business

I Would be depressed for my whole life

That would never happen

11

Do you think Self-Care is Selfish?

Yeah, there are more critical things in the world

No, it's everyone's right to take care of themselves

If there's too much of it, then yes

It's OK, but it should be in every aspect of it, not just looks

12

Do you enjoy your life?

Yes, I live in the moments

No, I'm always so grumpy

There's always a challenge, but I'm happy overall

For me? yeah, life is awesome for me

13

Did you use your body to get away with challenges?

No, but I don't mind

No, my body is not for this kind of thing

I did it once or twice, but I regret

Yes, I do it all the time

14

Do you read books?

If I find the free time, I'd read a book

Yes, reading is important to me and my mental health

I only read books that is related to my work and passion

Me? Books? are you kidding me mate?

15

Do you exercise?

No, I don't have the energy

I do it daily. exercise is so important in life

I go on and off with it

Yes, I want to stay in shape for the girls

16

Do you think women should have more rights than men?

I think both genders should have equal rights

I believe women are more robust than men and should have more rights

I don't really care

I think women are weaker than men and should have fewer rights

17

Are you okay with lying to your friends?

No, I never Lie to anyone

It's not okay, but you can't avoid it

Sometimes you should do it

I think it's okay

18

Do you talk behind somebody's back?

Sometimes I do, but I count it as gossiping

No, I'm bigger than all of this and too old for this stuff

Yes, I want to talk about my other friends with my best friend

Nah man, I don't care about these stuff

19

Your friend bought a shoe, but you don't like them. You:

I respect everyone's choice

I don't say anything, but my impression may give it away

I say I don't like it

I make fun of that shoe to make them regretful

20

Are you there for your friends?

Yes, I always want to be a good friend

I don't have time for this

I'll be there as much as I'm able

I'm mostly not