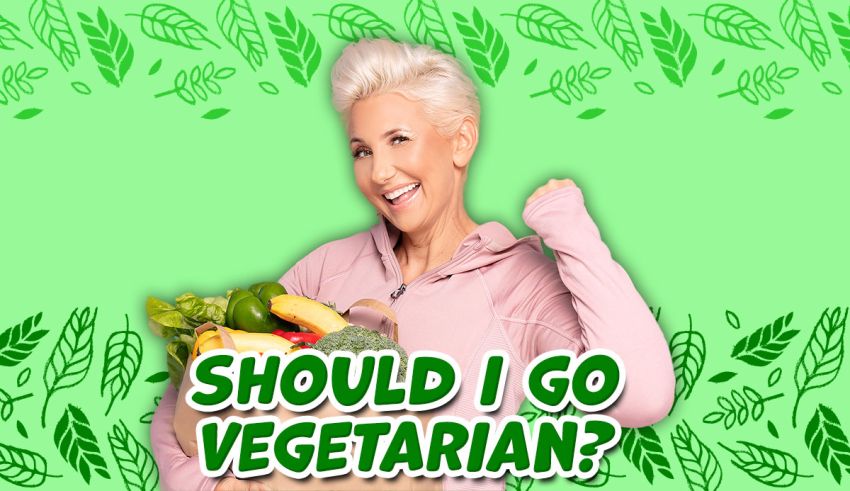 Do you ask yourself, "Should I go vegetarian?" This plant-based diet quiz reveals if vegetarianism is your best option.
Should I Go Vegetarian?
You should go vegetarian if you've consulted with a doctor or nutritionist, have a basic knowledge of meat-free diets, and are okay with removing poultry, red meat, and seafood from your meals.
Vegetarianism might not be the best diet for you if you have medical conditions or allergies. Moreover, it might not be an accessible or affordable option depending on where you live.
What Type of Vegetarian Should You Become?
It's best to research different types of vegetarian diets before choosing one.
You should familiarize yourself with subcategories like lactose, ovo, lacto-ovo, partial, and flexitarian, which come with unique principles.
Vegetarianism is a spectrum. On one end of the spectrum, you consume animal products; on the other, you eat nothing but plant-based meals.
| | |
| --- | --- |
| Diet Type | Description |
| Lacto-Vegetarian | Excludes eggs but keeps dairy |
| Ovo-Vegetarian | Excludes dairy but keeps eggs |
| Lacto-Ovo | Includes both dairy and eggs |
| Partial Vegetarian | Excludes most meats but not all |
| Flexitarian | Allows small amounts of meat |
Find Out the Answer with a Plant-Based Diet Quiz
The questionnaire on this page consists of 20 factors you must consider before going vegetarian. And it makes it easier to decide whether you should remove poultry and meat from your diet or not.
Weigh Your Reasons to Become a Vegetarian
Why do you think you should become a vegetarian? Is it only because you don't want to support animal cruelty, or are there other reasons?
The plant-based diet quiz helps you figure that out. It narrows down your thoughts, exposing your actual intentions.
Saving animals' lives is an admirable reason to go vegetarian or vegan. But the best decisions are the ones that consider your health condition and nutrition needs as well.
See If You Have any Conditions that Might Affect Your Diet
Specific health problems like allergies, intolerances, anemia, IBS, IBD, kidney failure and even migraines could complicate adapting to a vegetarian diet.
A health checkup is necessary before going vegetarian. You must know what vitamins you should take and what food to include in your diet to minimize the risks.
While the quiz cannot replace a clinical checkup, it helps to rule out general concerns.
3 Things to Consider Before Going Vegetarian
Adopting a plant-based, meat-free diet is not easy. You must ensure it's accessible, affordable, and authentic.
Here's what to consider before freeing your meals from poultry and meat.
Accessibility.
How easy is it to prepare or order plant-based meals where you live? That's a critical question.
According to Happy Cow, a Yelp-like website for vegetarians, there are over 24,000 vegetarian-friendly eateries in the US. But that doesn't make vegetarianism an accessible option, especially if you compare the numbers to fast food restaurants.
There are currently 194,395 fast food restaurants in the US. Yet, thousands of Americans don't have access to it.
So, before going vegetarian, chew over its convenience.
Affordability.
A non-vegetarian diet is %33 cheaper.
On average, it costs about $17 per person a day to have a vegetarian diet in the US. That is, $510 per month, which is reasonable.
However, according to BalancingEverything.com, "In the United States, the monthly cost of feeding one person is about $342.11."
So, budgeting is a prerequisite to changing to a plant-based diet.
Authenticity.
Your vegetarian diet should be healthy and provide you with vital nutrition. Otherwise, it might lead to an eating disorder or other health issues.
Despite its benefits, vegetarianism comes with its risks. A non-nourishing diet could increase the probability of stroke, harm to the brain, hair loss, and depression.
Take the Quiz, Pick the Best Diet
Are you still wondering if you should go vegetarian? Don't hesitate to start the quiz then.
The following questions evaluate your budget, intention, and health condition to determine if you could become a vegetarian.
Disclaimer
We do not encourage anyone to adopt a specific diet, and the current evaluation is not clinical. Please, consult your doctor or nutritionist before going vegetarian or making any diet-related decisions.
How to Play?
Playing personality quizzes is straightforward: Choose the option that's true about you—or you relate to—and select "Next." Unlike trivia quizzes, personality tests have no right or wrong answers. But the questions are in forced-choice format. The point is to push you to choose an option that makes the most sense, not the one that's 100% true. For the most accurate results, don't overthink your responses. Go with options that you "feel" are the best.
Questions of the quiz
1

Do you have any specific allergies or food intolerances?

Yes, I do.

I'm not sure.

No, I don't.

2

How much are you willing to spend on vegetarian food per month?

$300 or less

About $500

$600 or more

3

What is the average cost of your current diet per day?

$10 to $12

$13 to $17

$18 or higher

4

Which sounds like the main reason for you to go vegetarian?

Gain or lose weight

Health concerns

Protecting animals

5

Have you consulted a doctor or nutritionist about your decision?

No, I haven't done that.

No, but I will.

Yes, I've already consulted a professional.

6

How many times do you eat red meat per week?

3 times or more

1-2 times

Not at all

7

Are you knowledgeable about plant-based diets?

No, I know nothing about that.

Not really. But I'm learning.

Yes, I'm knowledgeable.

8

How often do you work out?

Rarely or never

1-3 days per week

4+ days per week

9

What kind of workout do you do?

Weightlifting (or no workout at all)

Cardio, walking, or jogging

Meditation, yoga, or dance

10

What is your favorite type of meat?

Red meat

Poultry or seafood

None

11

Which one do you consume more often?

Protein

Diary or fat

Fruits or vegetables

12

How often do you eat fast food?

Every week

Every month

Rarely or never

13

How many meals do you usually have per day?

14

Would you like to lose or gain weight?

Gain weight

Maintain my weight

Lose weight

15

Does your BMI indicate that you're overweight or underweight?

Underweight

Overweight

I have a healthy weight

16

What is your body type?

Ectomorph (Not much body fat and muscle)

Endomorph (lots of fat and muscle)

Mesomorph (Athletic and lean)

17

Are you okay with taking supplements along with your diet?

No, I don't want to take supplements.

I could deal with it.

Yes, I already take supplements.

18

Which one describes your job better?

9-to-5

Freelance (remote)

I own a business (or other)

19

Are there vegan- or vegetarian-friendly restaurants where you live?

No, my options are limited

Yes, there are lots of them

No, but I'll cook my own meals.

20

Final question; how old are you?

35 or older

20-34

19 or younger