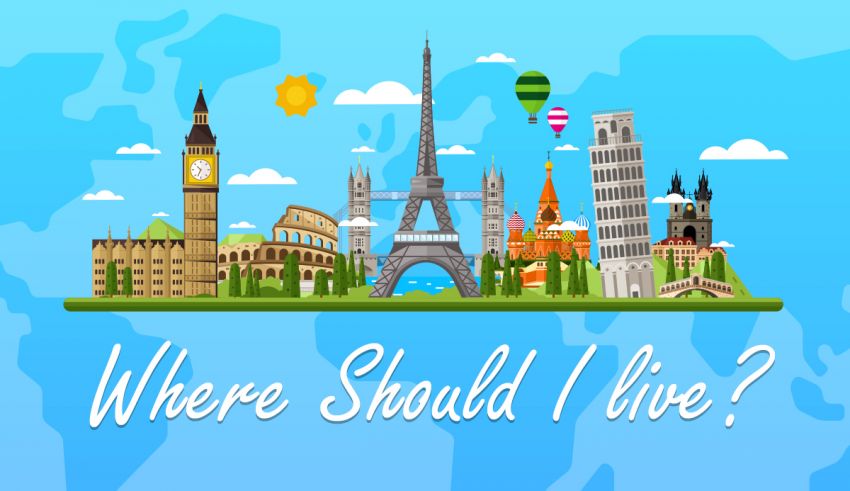 You might ask yourself, "Where should I Live" based on your personality? This accurate quiz will reveal your future city by analyzing different factors.
When you enter a city for the first time, you may feel a sense of belonging to that city or vice versa; you may feel disgusted with that city. Choosing the right city to live in depends on different factors. For example, your spirit and mind, in which environment it is calm? Do you want a quiet environment full of greenery, trees, and forests? Or a big city with amenities and a lot of traffic. It is not easy to answer these questions, and you need to think more carefully.
By measuring all aspects of your life, work, and family, you can find the proper answer. The other way to answer the question "Where should I Live" is planning according to your goals and wishes. Then you can choose your destination with a lot of passion and energy. Do not forget that your personality's place may be different from your real home.
A home is a place of happiness, but what if you do not know where your home should be? There are several aspects to choosing the best places to live in. Living in a busy city could be an ideal option for your next home if you're single. On the other hand, if you have a family, a small town provides amenities that your family would love. Here are some factors that can help you to decide quickly.
Employment Opportunities
Real Estate Value
Affordability
Crime Rates and Statistics
Healthcare Facilities
Commute Time and Public Transportation Options
Proximity to Family and Friends
Education System
Town or City Size
Proximity to an Airport
Food Options
What city am I in?
Many areas of America can feel like a whole separate country from where you live. You can use two critical factors to answer the question, "What city am I in?" are climate and culture. Weather plays an essential role in our lives because it impacts our interests, habits, and even our work. If you have a favorite pastime or leisure activity, make sure that you can continue to follow those interests in your new home. It is recommended to select a city that is most compatible with you and your family.
Suppose we want to say some towns in America are worth living in. In that case, we can point out these cities:
Indianapolis, Indiana (Quality of life: 6.1)
Fort Myers, Florida (Quality of life: 6.5)
Reno, Nevada (Quality of life: 7.4)
Lexington-Fayette, Kentucky (Quality of life: 6.9)
Albany, New York(Quality of life: 7.2)
These are the samples of great cities to live.
Where should I Live Quiz
You may have problems while looking for the right place to live or some discouragement and worries; all of these are normal. The fact of finding a new place to stay requires a massive range of variables. And you have to put these reasons together to make the best decision. To be successful in your search, you must decide what is most important to you and your family.
"Where should I Live Quiz" is a kind of test that helps you to answer questions like this; What style of the city do you like to live in, and where does your soul call home. By doing the "Where should I Live Quiz," you can find the best place to live according to your personality. To choose a city that is good for you, trust the quiz and answer the questions honestly. Here are some examples of these quiz questions:
What is your favorite weather?
How do you prefer to go to work?
What is your favorite environment?
You may see one of the following results at the end of the quiz:
London, UK
As the capital of Britain, London is famous for its magnificent ancient buildings. London is one of the busiest cities in the world. Its population is 9,304,000. It has a temperate oceanic climate with cold winters and mild summers. London is one of the world's most visited, most powerful, most investment-friendly cities. The transport system of London includes the metro and the buses.
Helsinki, Finland
As the capital of Finland, Helsinki is best known for its sea-facing landscape and world-famous design. Helsinki is one of the quietest cities in the world, with a population of about one million. It is compact enough to explore the whole town on foot and enjoy its beauty. Helsinki has a continental climate with freezing winters( -30 °C ) and pleasantly warm summers( 28/30 °C).
Miami, United States
Miami is well-known for its gorgeous white-sand beaches. This city is one of the most popular tourist destinations in the world. Miami is a small city with a population of 482,100. It has a tropical monsoon climate with short, warm winters and hot summers.
Paris, France
As France's capital, Paris is well-known for its cafe culture and is seen as a boldly romantic city. Paris is a global center for fashion and gastronomy. With a population of about two million, Paris is not a crowded city, and you can easily enjoy its beauty. It has a mostly temperate climate with mild winters and hot summers.
How to Play?
Playing personality quizzes is straightforward: Choose the option that's true about you—or you relate to—and select "Next." Unlike trivia quizzes, personality tests have no right or wrong answers. But the questions are in forced-choice format. The point is to push you to choose an option that makes the most sense, not the one that's 100% true. For the most accurate results, don't overthink your responses. Go with options that you "feel" are the best.
Questions of the quiz
1

Which of the following weather condition is most appealing to you?

Chilly winters and mild summers

Freezing winters and pleasantly warm summers

Warm winters and hot summers

Mild winters and hot summers

2

What is your favorite dish?

Fish & Chips

Pea Soup

Fish Sandwich

Baguette Sandwich

3

choose a style..

4

You need to relax. Which one of these items most attracts you?

I want to visit historical places and see a classic theater at night

Going to the beach and going clubbing

Walking in the city and going to the sauna to relax

shopping, drinking a traditional coffee, going to a club

5

Which of the following traditional events are you interested in?

6

How do you prefer to go to work?

By metro

Walk

By Metrobus

By Tram

7

What is your Favorite Brand?

Burberry

Marimekko

Nike

Chanel

8

What sort of place would you like the most?

A small flat

Cozy cottage

luxury houses

classic homes

9

Which of the following options gives you peace of mind?

Bright lights and skyline

Wide-open spaces

Sandy beaches

Beautiful boutiques with bright lights

10

What are you most passionate about?

Culture

Tradition

Adventure

Art and love

11

Which of the following drinks do you usually order the most?

Champagne

Vodka

Cocktail

Wine

12

What is your favorite dessert?

13

Which sport do you prefer?

Cricket

Ice hockey

American Football

Soccer

14

Right now, what are your priorities?

I want to work in a crowded city and make money and invest

I want to live in a quiet place and spend time with my friends and family

I want to lie down on the beach and enjoy the sun

I want to sit in a beautiful place with my love and relax with a coffee

15

Choose an activity...

16

Which of the characteristics of people can you cope with

Irritable and quarrelsome

Talkative

Useless

Misunderstood and inflexible

17

I like people who are….

Creative

open and sincere

Beautiful and handsome

Cultured and gallant

18

Which of these pets is your favorite?

French bulldog

Horses

Cats

None of them

19

What is your favorite tourist attraction?

Famous landmarks

sea-facing landscape

Nightclubs

Art galleries and museums

20

What kind of music do you listen to most of the time?

Pop music

Jazz

rap, and rock

Opera