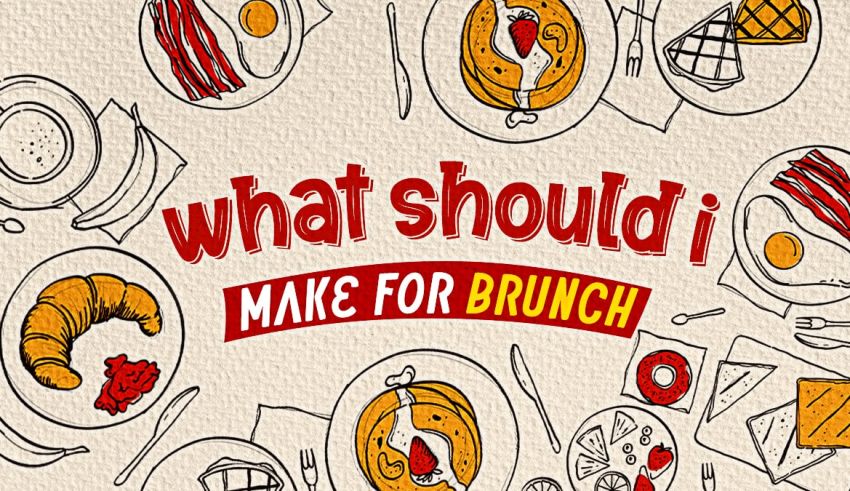 Looking for brunch ideas? This food quiz suggests what you should make with more than 100 brunch options based on the theme, ingredients, and diet.
The Brunch Idea Quiz, Explained
As a recipe finder, the Brunch Idea Quiz reveals what you should prepare for this meal. It analyzes your ingredients, intentions, and even skills to offer a series of ideas.
We tried this formula with our other quiz, "What Pie Should I Make?" And our readers seem to love it. So, this time, we want to try our hands at a riskier meal: The BRUNCH!
Answer the basic cooking questions on this page to get a list of fun—and super-delicious—brunches you can make.
How to Know What to Make for Brunch
Unlike the three fundamental meals (breakfast, lunch, and dinner), brunch is often occasional and thematic. Therefore, external factors such as the theme, timing, and attendees' diets might influence the menu.
Theme
Before making anything for the brunch, think about the overall premise: Is there a tangible idea behind this meal that could inspire you? For instance, are you planning on having outdoor food? If yes, why not turn it into a barbecue or tropical food?
Occasion and Timing
The date and timing matter when picking a brunch to make. For example, Sundays are excellent for cocktails. However, weekday foods with no specific occasion go well with buffet ones—with different choices to cover most tastes.
Recipes and Diets
Brunches help with socializing. But for that, they must first be inclusive. It's crucial to know if the guests have a specific diet or are allergic to certain foods before making any plans.
What Are Some Easy Ideas
Although brunch resembles a fancier variety of breakfast, it's still more enjoyable with easy recipes. So, to help multiply the fun, the following are three quick ideas for your next banquet.
·Mini Bagel Sandwich
If you don't have enough time to prepare an extravagant brunch, fill some slices of bagel with cream cheese, smoked salmon, sliced cucumbers, and red onions. And boom! You have some mini bagel sandwiches that are excellent for menus.
·Pancakes or Waffles
A couple of pancakes or waffles with pre-made mixes served with syrup, fresh fruits, or whipped cream could be a go-to brunch.
· Fruit Salad
If all plans fail, put a bunch of matching fruits in a bowl, add some extra lemon juice or honey for heavenly flavor, and serve it as a refreshing fruit salad.
By the way, it may seem irrelevant, but we have a fun quiz that determines which fruit you are. Make sure to give it a try if you're a fruity person.
Ready to Find Your Dream Recipe?
Do you still want to know what you should make for the bunch? Well, the good news is that we have the answer. The brunch quiz on this page identifies the best theme, recipe, and items for your next breakfast-lunch hybrid meal! ☕🍰🥓
How to Play?
Playing personality quizzes is straightforward: Choose the option that's true about you—or you relate to—and select "Next." Unlike trivia quizzes, personality tests have no right or wrong answers. But the questions are in forced-choice format. The point is to push you to choose an option that makes the most sense, not the one that's 100% true. For the most accurate results, don't overthink your responses. Go with options that you "feel" are the best.
Questions of the quiz
1

Let's start with a bang. What kind of foods do you like?

Fruits and vegetables

Sweets and snacks

Homecooked and traditional

Modern and professionally made

I like all types of foods

2

Mood-wise, how do you feel in the morning?

Energized

Tired

Peaceful

Creative

It depends

3

What makes a brunch perfect?

Calories and fat level

Its taste and recipe

The person who makes it

The occasion and the theme

Pretty much all of them

4

How many people will accompany you for the brunch?

5

What's the occasion for this brunch that you're planning?

Just a friendly gathering

A celebration

Something like a reunion

Some sort of weekend or vacation activity

A huge party with lots of guests

6

Which cuisine is closer to what you call "good food?"

Italian

French

Mexican

Japanese

American

7

What would it be if you had to pick a theme for your brunch?

Wilderness

Tea party

Bal masque

Sci-Fi

Western

8

Figuratively speaking, what should a brunch make you feel?

Energized (but not full)

Happy and bubbly

Calm and nostalgic

Inspired and moved

Drunk and full

9

When is the best time to have a brunch?

10:00 AM

10:30 AM

11:00 AM

11:30 AM

Around 12:00 is fine too

10

If you had to pick by the name, which brunch recipe would you choose?

Avocado Toast

Fluffy Pancakes

Eggs Benedict

Breakfast Tacos

Mini Quiches

11

Pick the dominant taste for your brunch.

Savory

Sweet

Salty

Refreshing

Festival of Taste (all of them)

12

Pick a day for your brunch plan.

Monday

Friday

Sunday

Wednesday

Saturday

13

Pick one item that must be on your brunch menu.

Yogurt

Cinnamon Rolls

Bloody Mary (cocktail)

Breakfast Sushi

Cheese and ham

14

How difficult or complex should your brunch be?

0 (as basic as possible)

1-2

3

4

5 (as complex and detailed as it gets)

15

How much time do you want to spend on making the brunch?

1 hour

2 hours

3 hours

4 hours

5 hours or more

16

What type of lunch do you have on days that you make brunch?

No lunch at all

Something sweet and quick

My usual lunch

It depends

Brunch leftovers

17

Let's tie your brunch preference with your personality. Which word better describes you?

Outgoing

Empathetic

Trustworthy

Artistic

Old-school

18

How'd you describe your current diet?

Mostly fruits and vegetables

Mostly fast foods or quick meals

A casual homemade diet

Mostly based on high-quality restaurant food

It changes all the time

19

How big is your appetite? (5 means you really eat a lot.)

20

Final question: What's your budget for this brunch that you're preparing?

$50 or less

About $100

About $250

About $400

$500 or more