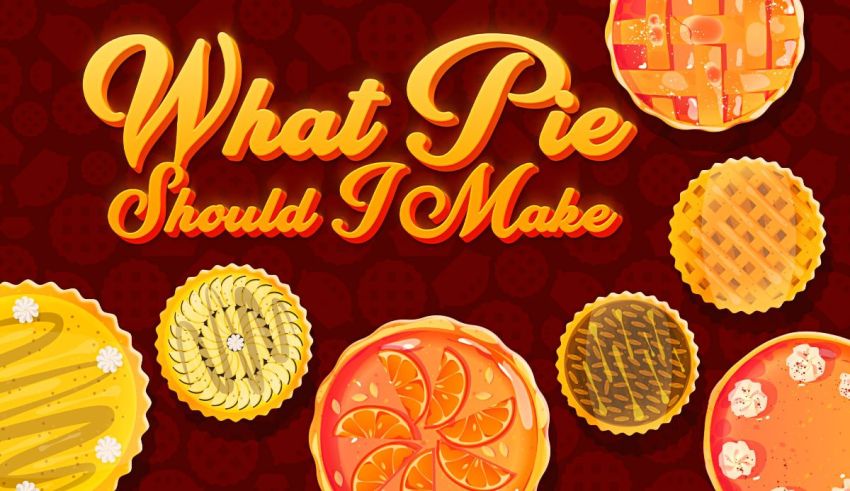 This quiz will help you find out what pie you should make in the new year. Take this baking quiz to find your dream pie.
What Pie Should You Make?
You should make the pie that you have the ingredients for. The four essentials are flour, fat, salt, and hydrator. But the filling and topping can determine what you should make.
Here are five ideas for choosing a pie to make.
·       Make a Celebrity Pie.
If you don't know what to bake, look up celebrity pie recipes.
Martha Stewart, Michelle Obama, Michael Simon, and Gordan Ramsey—along with a ton of other celebrities—have their own pie recipes. And they taste Hollywoodly good.
·       Make a USA-Popular Pie.
The most popular pies in the US are cherry pie, pumpkin pie, apple pie, pecan pie, and blueberry pie. Make one if you're looking for a risk-free recipe.
·       Make a No-Bake Pie.
A no-bake pie is prepared in 30 minutes or less. Make one if you don't have enough time for baking.
·       Make a Themed Pie.
Try goblin pie for Halloween, turkey pie for Thanksgiving, and carrot pie for Easter. Choose the pie you should make based on the theme or occasion.
·       Make a Vegan Pie.
Have you gone vegetarian or vegan? Great! Make a vegan pie with all-organic no-animal-product ingredients.
The most popular vegan ingredients for pies are as follows:
| | |
| --- | --- |
| Vegan Pie Ingredient | US Popularity |
| Apple | 14.37% |
| Squash | 12.15% |
| Pumpkin | 11.05% |
| Berries | 10.82% |
Decide the Next Pie to Bake with a Fun Quiz
Still wondering, "What pie should I make?" Take this baking quiz to find out.
The "Pie Picker Quiz" is a set of 20 questions that determine what pastry you should bake. It works based on your likings, time, and ingredients at hand.
If you're more into devouring delicious pies, though, try "What Should I Eat?" It's another fun foody test you'll love.
Here's how the Pie Quiz works:
Tell Us What Ingredients You Have.
You cannot decide what pie or tart to make without reviewing the ingredients. What pastry stuff do you already have at home? Are you okay with shopping for more or not? These questions help the Pie Quiz discover the pastry you should bake.
Let Us Know What Your Dream Pie Looks Like.
What should your favorite pie taste and look like? Sweet, sour, meaty, or creamy? The answer helps to choose the pie to make.
Choose the Types of Recipes You're Happy with.
Some pies take only 30 minutes to make, some take much longer. Which one is your thing? A fancy or no-bake one? The Pie Quiz uses that info to come up with better pie suggestions.
See Which Pie You Should Make.
Once you answer all the 20 questions, the quiz suggests a list of pies you should make—and it gives you the recipes.
Moreover, the results include the following:
Award-winning pie recipes.
Pie-filling ideas.
And a bunch of unique recipes.
Sounds tasty? Hit the start button and discover the pastry to bake now. 🥧
How to Play?
Playing personality quizzes is straightforward: Choose the option that's true about you—or you relate to—and select "Next." Unlike trivia quizzes, personality tests have no right or wrong answers. But the questions are in forced-choice format. The point is to push you to choose an option that makes the most sense, not the one that's 100% true. For the most accurate results, don't overthink your responses. Go with options that you "feel" are the best.
Questions of the quiz
1

How many pie-suiting ingredients do you have?

2

How much are you willing to spend on pie ingredients?

$5 or less

$6-$10

$50 or more

$15-$22

3

How much time do you have to make a pie?

4 hours or more

2 hours

3 hours

Less than an hour

4

What should your dream pie taste like?

5

Do you know how to make a pie crust?

Yes, I'm an expert.

Yes, but I'm a newbie.

No, but I'd love to learn.

No, and I don't want to learn.

6

What's your favorite pie filling like?

A homemade mixture

A quick canned pie filling.

A creative filling with exotic ingredients.

A classic risk-free filling

7

How much time would you like to spend on pie decoration?

30 minutes

15 minutes

1 hour or more

5 minutes or less

8

Which one makes the best pie or tart?

Strawberry

Pumpkin

Avocado

Apple

9

How often do you bake a pie?

Once or twice per month

Once every two or three months

A couple of times per week

Rarely. Once a year or something like that.

10

Which one sounds like a delicious pie crust wash?

Cream wash

Egg wash

Mixed wash

None. I don't have time for making washes.

11

What's the occasion? Why do you want to make a pie?

Christmas

Thanksgiving

A family gathering or a party.

None.

12

Which one's your favorite crust?

Pâte Sucrée - Sweet pie crust.

Pâte Brisée – Regular pie crust.

Pâte sablée - Rich shortcrust (cookie crust).

I don't have a preference.

13

Which one's closer to your ideal pie type?

Spongy and soft

Crispy

Elastic or stretchy.

I don't have a preference.

14

What kind of drink would you like to serve with your pie?

Homemade juice

Tea or coffee

A creative mixture of fruit juices

None. I don't have enough time for that.

15

Which of these classic pies is your favorite?

Blueberry

Cherry

Pecan

Apple

16

Pies aside, how often do you bake in general?

Once or twice a month.

Occasionally (it's random)

Almost every week.

Rarely or never.

17

On a scale of 0 to 5, how willing are you to try a new pie recipe?

3-4

1-2

5

0 (Not willing at all)

18

Let's get a bit philosophical. What's the hidden ingredient of any delicious pie?

Patience

Love

Creativity

Quality ingredients.

19

Final question: How many people are you baking a pie for?