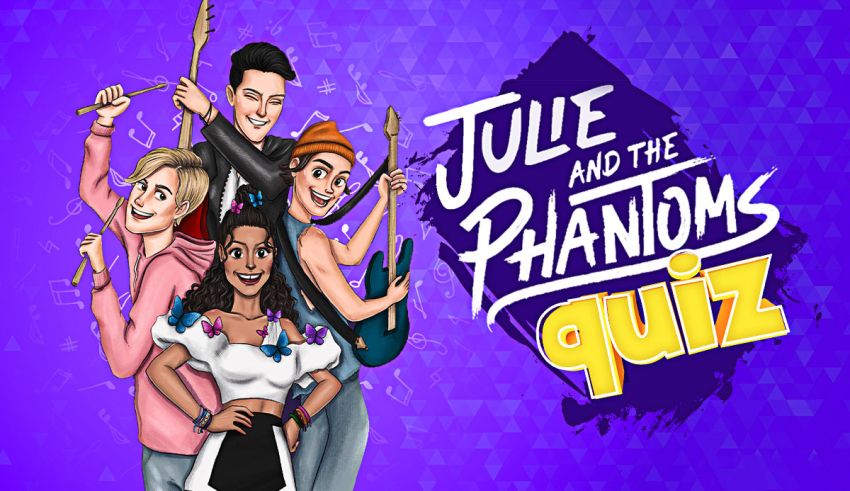 The Julie and the Phantoms quiz reveals which character you are based on your personality, appearance, and music taste. Are you Julie, Luke, Alex, Reggie, or else?
A Musical-Themed Julie and the Phantoms Quiz
The following are twenty questions inspired by Netflix's musical Julie and the Phantoms to identify your counterpart character.
Kenny Ortega, the show's director, is the same guy who created High School Musical 1, 2, and 3. So, you should expect to meet familiar personalities.
However, the plot is a lovely blend of the 90s' nostalgic music and 2020's favorite songs. And the characters are much more relatable this time around.
Which character is similar to you?
The test's premise is to answer your big question: "Which Julie and the Phantoms character am I?" It analyzes your behavior, style, and maybe even Spotify playlist to determine your perfect match.
What kind of musician lives in you?
Julie and the boys have colorful personalities. By taking the quiz, you can find out which one you represent in real life and what kind of musician you would be if you lived in their fictional world.
Based on your responses, we can also tell what instrument you should play.
Is your soul dead yet?
The Phantoms are three members of a 90s boyband who are somehow summoned to the world. And Julie is the girl who joins their ghost band to play music again.
But the question is, which one are you? Did you leave your soul behind in the 90s, or are you a lively modern music enthusiast? Take the test to find out the answer.
How to Know Which Julie and the Phantoms Character You Are
Finding your perfect match out of all the interesting characters on the show is a bit of a challenge. But it's definitely possible. One way to do so is by reading the personality description of each character and comparing them to yours.
Here are brief explanations to help with that.
#1. Julie Molina
Despite being a bit shy, Julie is a willful and reliable girl. She values her family and friends above everything else and is incredibly loyal. Her passion for music is unmatched, and she's determined to become a great musician despite all the challenges.
Most fans would pick her as their soulmate when asked, "Which Julie and the Phantoms character are you?" It's because she's intelligent, lovely, and caring.
#2. Luke Patterson
Luke might not be a good student, but he's an excellent musician. His upbeat and easygoing personality turns him into one of the show's beloved characters. And his boyband friends always rely on his energy to recharge when things go wrong.
At times, Luke might seem to be carefree or ignorant towards others. But that's not true. He's actually a giving friend who's there for you.
#3. Alex Mercer
As a true overthinker, Alex is usually anxious. His modest nature turns him into the humblest boy in the band. But he's also struggling with imposter syndrome, ignoring his talent.
Many fans have thirsted over Alex, thanks to his good looks. But few would imagine matching him in the Julie and the Phantoms quiz.
#4. Reggie Peters
A total flirt, Reggie is a ladies' man who seems to be overly airheaded and careless. But he's also a loyal friend who'd do anything to ensure his boys are doing fine.
Young fans are likely to pick Reggie when asked, "Which Julie and the Phantoms boy are you?" That's because he's cute, confident, and cool.
| | |
| --- | --- |
| Character | MBTI Type |
| Julie | ISFP |
| Luke | ENFJ |
| Alex | INFP |
| Reggie | ENFP |
| Flynn | ESFP |
| Nick | ESFJ |
| Carrie | ESTJ |
Other personalities.
Although the show's plot revolves around Julie and her ghost friends, other notable characters are involved. For example, Nick, a total sweetheart, is one of the fan-favorite students. On the other hand, Flynn plays a significant role in Julie's life as her best friend.
So, take the quiz for a more accurate result and increase your chance of finding your perfect match out of all the minor and major characters.
You Might Match the Antagonists, too.
The Julie and the Phantoms quiz covers all the main characters, including the antagonists like Carrie Wilson. So, you might end up matching a not-so-lovely Los Feliz High student after all. It all depends on your responses and the type of person you are.
Meet Your Julie and the Phantoms Self in no time
Okay, the question is still unanswered, "Which Julie and the Phantoms character are you?" Take this fun and unique questionnaire to discover your counterpart in a few minutes.
Disclaimer
QuizExpo does not own any of the Julie and the Phantoms quiz images. Netflix owns all the said pictures, and no copyright infringement is intended.
How to Play?
Playing personality quizzes is straightforward: Choose the option that's true about you—or you relate to—and select "Next." Unlike trivia quizzes, personality tests have no right or wrong answers. But the questions are in forced-choice format. The point is to push you to choose an option that makes the most sense, not the one that's 100% true. For the most accurate results, don't overthink your responses. Go with options that you "feel" are the best.
How many questions does this quiz have?
20 questions
How long does it take to complete this quiz?
8 minutes
Questions of the quiz
Question 1

Okay, let's start simple. How'd you react if you saw a ghost?

I'd scream for the next 24 hours.

I'd stay still and do nothing.

I'd ask for help.

I'd try to communicate with them.

I'd pass out.

I'd scare them away.

I'd record them and post the video on TikTok.

Question 2

What would you call your high school music band if you had one?

The Dawn of the Dead Musicians

WeHeartYou

The Saviors

Rock Stars in the House

The Extroverted Art of Introversion

Hot Ones

Backstreet murderers

Question 3

Fill in the blank. Music is _____________.

An escape from reality

A tool to express emotions.

A chillaxing tool.

A recharging tool.

The only true friend of yours.

A confidence booster.

An irritating combination of random noises.

Question 4

What is something about Julie and the Phantoms that you can't get enough of?

Songs

Romance

Friendships

Adventures

Plot twists

Hot boys/girls

None of the above

Question 5

What is the loveliest thing about the three ghost boys of the show?

Their voices

Their personalities

Their friendship

Their energy

Their backstory

Their looks

None of the above

Question 6

What would you do if you died in 2020 and came back to life in 2060?

I'd pursue my dreams as if nothing happened

I'd want to know what happened to my family.

I'd ask for help and try to recover from the mental shock.

I'd be eager to know what has changed in the world.

I'd feel broken and probably do nothing but overthink the situation.

I'd look for new friends and probably try to find a new partner.

That's a stupid question.

Question 7

What was your biggest struggle during the high school era?

Family problems

Relationship problems

Mental struggles

Friendship problems

Social awkwardness

Nothing, I had no problem

Everything was a problem back then

Question 8

How do you feel (or used to feel) about going to school?

I liked it

I LOVED it

I wasn't super-excited about it.

I didn't like the classes. But I loved seeing my friends.

I was usually nervous about going to school.

I was usually super-excited about going to school.

I hated it so much that I'd like to drop out.

Question 9

What would you do for a school talent show?

I'd sing

I'd write or direct a play

I'd read a poem

I'd dance

I'd be too shy to do anything

I'd do stand-up comedy

I'd catwalk and showcase my style

Question 10

Your friend is more popular than you in the school. How do you feel about that?

I'm happy for them

I'm proud of my friend

I'm their biggest fan

I can't believe it

I wouldn't like all the uncalled-for attention

I would love all the uncalled-for attention

I'd feel jealous because I deserve to be more popular

Question 11

Which one sounds like a dressing style that you'd pick for your high school prom?

Vintage

Formal

Traditional

Casual

Something modest

Sexy

Luxurious

Question 12

Your friend just broke up with their partner. What do you do to console them?

I tell them about my failed relationships

I just be there and listen to them.

I help them see the bigger picture and move on.

I throw a party and help them forget about it.

I hug them and let them cry it out.

I introduce them to some hot single people.

It's none of my business.

Question 13

What type of music would you play if you had a band?

Pop

Classic

Punk

Rock

Blues

Metal

I don't like any of them

Question 14

Pick a word that describes your persona.

Strong

Respectful

Kindhearted

Enthusiastic

Introverted

Extroverted

Baddie

Question 15

Pick an instrument you love.

Piano

Violon

Cello

Electric guitar

Drums

Acoustic guitar

I don't like any of them

Question 16

What would it be if you had to describe Julie and the Phantoms in one word?

Inspiring

Lovely

Relatable

Interesting

Depressing

Energizing

Boring

Question 17

How would you feel if you had to perform a song in front of thousands of people?

Inspired

Proud

Ready

Excited

Anxious

Confident

Numb or indifferent

Question 18

Which one sounds like your priority in life?

Career

Love

Family

Friends

Education

Having fun

Money

Question 19

When do you often listen to music?

When I feel lonely

When I feel happy

When I have free time

When I experience a rush of emotions

When I'm nervous

When I'm partying

When I'm bored

Question 20

Final question; how old are you?

14 or younger

15-17

18-20

21-24

25-29

30 or older

I'd rather not say