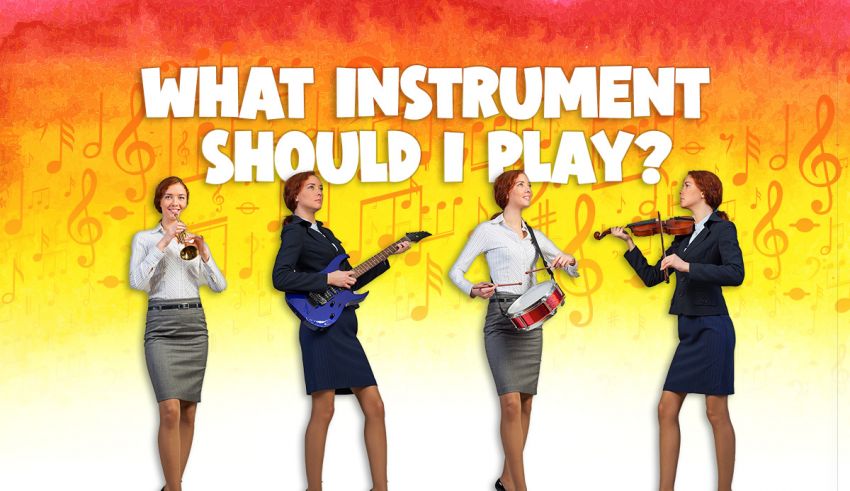 "What instrument should I play?" That is a question we answer on this page through a short, fun quiz! Find out your dream musical tool in less than 5 minutes.
A Guide to Choosing the Instrument You Should Play
Starting a career in music or even doing it for fun always comes with lots of questions. "What instrument should I play?" "How do I start playing?" "What courses should I take?" And it is completely understandable.
Here is a simple 4-step guide on making up your mind and choosing what to play. However, the following factors allow making the best decision according to your skill, interest, time, and money.
Choose the Type
Do you want a string, woodwind, percussion, or brass one? That is one of the first things to consider when getting a new musical tool. Each of the said types has its unique playstyle, cost, and challenges.
Consider the Costs.
Buying an instrument is not the only expense. Tunning, buying new strings, taking courses and classes will cost you money as well. According to the My Music Workshop website, "learning guitar, piano, drums, ukulele, violin, and others can cost between $120 and $240 per month."
Think About the Noise Level.
"What instrument should I play?" sounds like an innocent question. But you have to consider others around you—especially if you are living with your family or partner. Some tools like Trumpet are extremely loud. So, you should have a plan to practice it without bothering others.
Decide on Portability
Do you want to travel with your instrument? If yes, you need a portable one such as Ukulele or Recorder. If portability is not a concern, you can go with a piano, harp, and other big musical tools.
Take a Quiz to Find Out What Instrument You Should Play
We have a 20-question test that reveals the best tool to become an instrumentalist. Questions like, "What instrument should I play?" might be hard to answer for the beginners. Most people tell you to follow your dreams, which is true. But it is not always an easy task to discover your favorite music genre or instrument to get started. The test on this page lends a hand to the process of choosing the right instrument for yourself.
Things the Instrument Quiz Considers
Our test has four parts. First, we analyze your personality. Then, we explore your interests. Next, we help you reveal your talents. And finally, you let us know how much money and time you have to play a new instrument. More on this below.
Your Personality
Your music taste, mood, and traits help us identify the best instrument for you. The first couple of questions on the test expose the way you approach the music industry and the art of playing an instrument.
Your Interests
Everyone has a favorite musical tool—even if that is your beloved singer's voice. Our test reminds you of such interests to answer the big question, "What instrument should I play?"
Your Skills
Not many of the participants are musicians. And that is okay. The instrument quiz is designed for beginner, amateur, and advanced or professional music enthusiasts. It has questions and choices that expose the skill set you have to suggest the best option.
Your Time and Budget
You wonder, "What instrument should I play?" But that is not the only issue here. How much time do you have to practice? How much money are you willing to spend on your education? Taking our quiz allows you to take all the said factors into account.
Dos & Don'ts of Choosing What to Play
Selecting the musical instrument might affect your future music career. So, you want to be careful with that. Here are some expert tips on how to make the best decision—without regretting it later on.
Do Not Worry About Your Age
April Keez, a music teacher, says, "Learning an instrument is like learning a language. There will always be more to learn on the tool you pick. But once you have learned one, you can translate that knowledge to other instruments." So, it is never too late to change your instrument or learn a new one.
Do Not Start with a Complex Musical Tool
When someone asks, "What instrument should I play?" you might want to think twice before offering Harp, Bagpipe, Pipe Organ, French Horn, or Violin. These are some of the hardest-to-master types of tools in the industry. So, what about starting off with something simple as Ukulele, Lap Harp, or Kalimbas?
Consider Your Voice
You should not focus on choosing a musical tool to become a musician. Your voice is also an instrument you can play. So, maybe YOU are the answer to, "What should I play?"
Look for a Rental Program Instead of Buying Expensive ones
Buying a new guitar, piano, or else would not be cheap. So, you can look for a rental shop to lease the instrument you like or use it under a contract. That would be the most budget-friendly way to learn playing something new.
Now, Find the Ultimate Answer by Taking the Quiz
Surely, some of you still wonder, "What instrument should I play?" (With some angry noises in the background). So, why don't you start the quiz to discover the real answer? We can tell you what tool works best for a person like you after analyzing your personality. All you have to do is answer a couple of simple questions.
Questions of the quiz
Question 1

I like the type of music that is __________.

Question 2

I am a/an ______ person (in general).

Question 3

Sometimes I feel like I cannot control my __________.

Question 4

I love listening to ________ music.

Question 5

I have ________ time to learn a new instrument.

No time

A reasonable amount of time

Plenty of time

Question 6

I am worried about my ________ when it comes to learning a new instrument.

Question 7

I am willing to pay ________ dollars per month to learn a new instrument.

100-150

200-500

Anything it takes

Question 8

I am willing to pay _______ dollars to BUY a new instrument.

Around 1000

2000-3000

5000 or more

Question 9

I prefer ___________ type of music classes.

Question 10

I know how to tune my instrument.

Question 11

I am living ___________.

With my family

With my partner/friend

Alone

Question 12

I am not worried about the noises I might make during my practices.

Question 13

I want my instrument to be portable.

Question 14

I don't want to spend much on maintaining my instrument.

Question 15

I already know how to play another instrument.

Question 16

Which definition of music do you relate to the most?

Music is the sound of your soul

Music is a gate to the world of unknown

Music is the purest form of art

Question 17

Do you want to earn money by playing music, or is it just for fun?

Maybe

No

Music is my career

Question 18

A random question, which part of your body do you feel the most energy around?

Question 19

Another random question. Which of the following words makes you feel better about yourself?

Question 20

AND final question; which of the following people do you know?

Led Zeppelin

Louis Armstrong

Dave Grohl