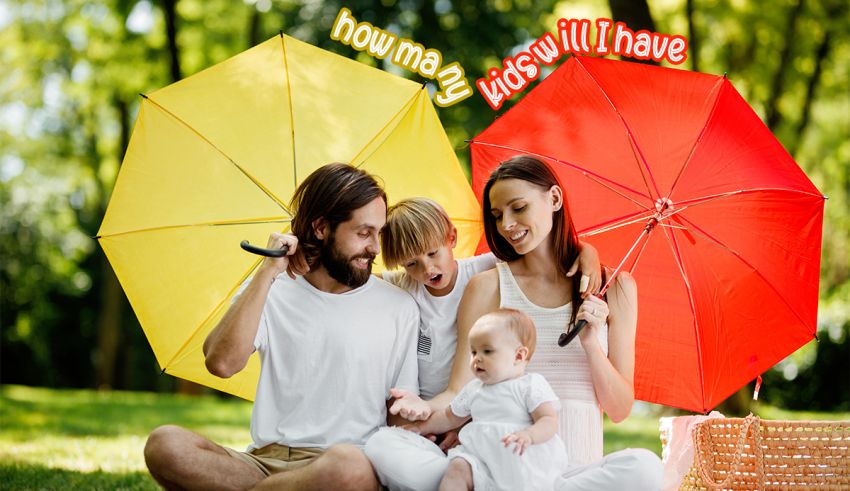 This quiz will help you find the answer to your question "How many kids will I have?". Are you ready for kids? Go on and find out by answering basic questions.
How many kids will I have?
One of the most beautiful and enjoyable things that can happen in any couple's life is a child's birth. But it cannot be easy to accept responsibility for a baby because it takes a lot of time and energy. This makes it even more complicated when parents do not have the necessary facilities. Nevertheless, both married and single people hope to have a baby. And an interesting question that might once come to mind is: How many kids will I have?
So the answer depends entirely on your health, economic and parental status. Sometimes you can be very curious and ask online: How many kids will I have? Well, in this case, you might find the answer to your question in the most interesting way. In your search results, you'll find quizzes that will quench your curiosity.
Are You Ready for the Kids?
Before we consider the number of children, we need to see if we are ready to have children in any way. For example, your relationship may not be in a hopeful state, in which case having a child is wrong. Or you may not be mentally or financially prepared to have a baby. It's essential to look at all aspects well before attempting to have a baby.
Having a baby is a crucial step in your life, and you have to be very careful about it. So how do you find the answer to the question, "Are you ready for the kids?" There are many ways to answer this question; you can connect to family counselors or also find and participate in various psychological tests and kid quizzes from the Internet. Some quizzes can ask you all of these factors in the form of questions. That way, you can make the best decision and move on with full confidence. Just answer a few questions based on the needs of everyone's life. Here are some examples of questions from this quiz:
What do you do if your friend's children mess your home?
What happens if you can't rest a full night?
What would you do if your friend gave you her child for a few hours?
What's the status of your relationship?
With these methods and more thinking, you can find out if you have matured enough to cope with these new conditions. Maturity here does not mean the body's physical condition, but it means emotional, intellectual, and spiritual maturity.
Should you have a baby?
There is no requirement to have children when you know you are not ready and cannot meet basic needs. Having children is not just a matter of satisfying your needs; it is a great responsibility. Ask yourself and your partner if you really want a baby. Ask each other if this decision is actually due to family pressure? Would you both want to have a baby, or do you want to have a baby because everybody has a baby?
Are you still confused? We have an excellent suggestion for you; The "Should I have kid quiz" is one of the exciting and practical ways to assess your circumstances and tell you whether you will have a baby. These quizzes are very exciting and make you feel good when answering questions. But sometimes the answers can upset you but don't worry, this is just a fun quiz, and at the same time, it will influence your thoughts.
Your living conditions and the number of children
You will be ready to have children when you explore all aspects of your life and conclude that you can handle the responsibilities of a new member who needs you. Economic stability is another significant factor affecting the decision. As a parent, you must be reasonably financially stable in your family. Is your job permanent or temporary? Did you estimate the cost of having a baby?
If you conclude that you have no economic problems, you only have one factor for having children, and you should consider other things. Before deciding to bring a child into your life, answer the question, Are your feelings and emotions stable? Can you calmly control the situation in times of crisis? Can you and your spouse manage your feelings? These are the questions that will help you make the right decision. After reaching an understanding and a logical conclusion, now it is time to see how many children you want to have.
Some people like to have a large family and always want to be crowded around them, so it is best to have three or more children. On the other hand, some people are not very patient, and time alone is important to them, so if you are such a person, consider having one child. So, as stated earlier, "How many kids will I have?" quiz can help you with this. We've brought you a couple of questions about this exam to get you to know better:
Does your job require long trips?
What is the current state of your emotional relationship?
How would you feel if your home was messy and dirty?
What happens if you can't rest a full night?
What would you do if your friend gave you their child for a few hours?
How to Play?
Playing personality quizzes is straightforward: Choose the option that's true about you—or you relate to—and select "Next." Unlike trivia quizzes, personality tests have no right or wrong answers. But the questions are in forced-choice format. The point is to push you to choose an option that makes the most sense, not the one that's 100% true. For the most accurate results, don't overthink your responses. Go with options that you "feel" are the best.
Questions of the quiz
Question 1

Do you need to be alone sometimes?

Yes, I need it several times a week

Yes, it is necessary for me at least once a week

Not much, but sometimes I need it

No, I do not like loneliness

Question 2

What is your reaction to a crying baby?

I get nervous

Just panic

I try to calm her/him down

I hug her/him and try to figure out what's wrong with her/him

Question 3

What is your ideal weekend?

Mountaineering with friends

Dancing at a big concert

Staying home and resting

Going out with friends and playing with their kids

Going on a picnic with family

None of them

Question 4

What would you do if your friend gave you their child for a few hours?

O my God, I don't know

I call the neighbor to look after him/her

I take care of him/her

I play with him/her

Question 5

How many siblings do you have?

Question 6

Are you a multi-tasking person?

Not at all

Not so much

Yes, somewhat

I can manage everything at the same time

Question 7

Do alarms wake you up easily in the morning?

No, I sleep like a rock

It depends on the situations

Yes, I am a light sleeper.

Yes, I am completely sleepless

Question 8

What is your favorite vacation?

Camping in the mountains and plains

Traveling by car to unknown places

Rest in a resort hotel

Sunbathing on the beach

Question 9

What happens if you can't rest a full night?

I sleep all-day

I get nervous

I can work but without concentrating

I try to balance the next day by drinking coffee

I have no problem with insomnia

Question 10

Can you save your money well?

Unfortunately no

I try, but it's hard

Yes Somewhat

Yes, I have good savings

Question 11

How would you feel if your home was messy and dirty?

Oh my Goodness, I can never stand

I might get nervous

I try to tidy the house calmly

No matter

Question 12

How do you see life in the next five years?

Living a loving life

A quite life with a good job

A big house with a good job

A life full of events

Question 13

Can you share your bed?

I do not know, I should always sleep comfortably

Maybe I can

Yes I can

I buy a bigger bed and share

Question 14

Where would you like to live in the future?

In a small flat

In a big city and an apartment

In a big house in a small town

in a large house in the countryside

Question 15

What is the current state of your emotional relationship?

Confusing

A calm relationship

Normal and warm relationship

Good and intimate relationship

I don't know

Question 16

Does your job require long trips?

I am unemployed

Occasionally

Not maybe once a year

Not at all

Yes, I am always traveling

Question 17

Are you a patient person?

Not at all

I do not know; Not so much

Yes, somewhat

Yes, a lot

Question 18

Do you enjoy children's parties?

No, it's boring

Not much, but I participate

Yes it is very exciting

Yes, I have fun with the kids, too

Question 19

What do you think if you see a family with six children?

They are crazy

I think they have unbearable conditions

I think they are a happy family

It is very exciting

Question 20

When was the last time you attended a party?

Last week

last month

Three or four months ago

Last year

I do not remember