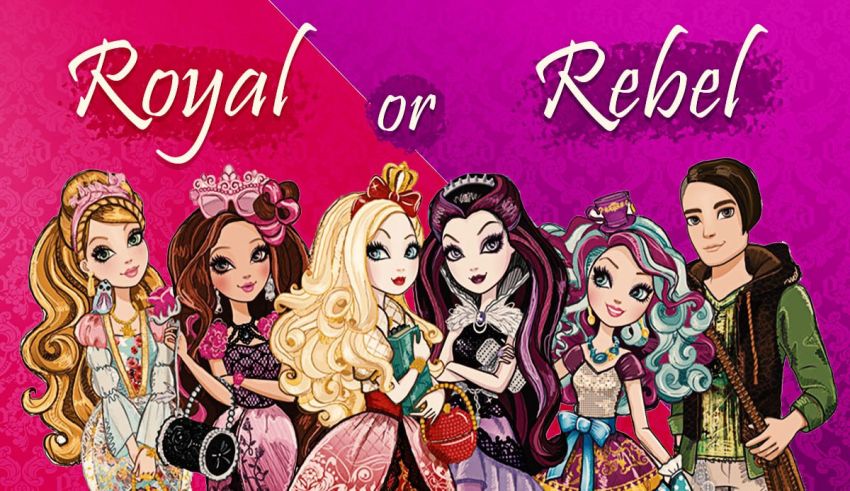 This fun quiz will help you find out if you are a Royal or a Rebel or a Neutral in Ever After High. Just answer 20 simple questions to find out.
TV series in the past did not have the ability to create a huge fandom. Still, these days it seems that it has become a routine that with the release of each series, we get used to the characters and groups of these series and want to put ourselves in the shoes of one of them. You only have to look at one of the recent prime-time series, like Wednesday, to see what I'm talking about.
Animations are taking over
Of course, it is not only high-quality, and high-budget series that know this ability; some animations also do this well. For example, take a look at Rick and Morty or The Family Guys, which have managed to find their place in the hearts of the audience, and each character in these animated series has its own charm.
One of the series that has been able to have a special place among the audience is the animated series Ever After High. If you want to know more about this series and take quizzes about it, I recommend that you go to the Ever After High quiz.
In this quiz, we are going to go into this animated series in a little more detail and tell you which of the Factions you are.
Are you a Rebel or a Royal? Maybe you are a Roybal! What does anyone know Stay tuned for the continuation of this quiz.
Who are the Rebels?
In the world of Ever After High, there is a group of students known as Rebels. There are examples of these students in the real world, and maybe you yourself are one of the Rebels. This issue is completely related to your lifestyle and, of course, the decisions you make for yourself and your future.
The Rebel group are students who decide to make their own future and decide their own destiny. The leader of the Rebel group is Queen Raven. He believes that these students should not go through the destiny that has been written for them, and they should write a new destiny for themselves in any way they like.
One of the most important supporters of this group is Giles Grimm, who, of course, is imprisoned in the prison of the Royals group. The Rebels have a purple heart symbol that symbolizes following your heart's desires.
Who are the Royals?
I think it's easier to guess what the Royal Front students are like now. The students of Ever After High who are not interested in changing their fate and believe that the predetermined destiny should be followed are known as the Royals.
The interesting thing is that some Royals students have a very bad fate in their future, but still, they have decided to follow this fate forever, and there is no change in it. A subject that we may have faced many times in the real world.
The leader of this group is called Apple White, who strangely has a very close friendship with Raven Queen. Of course, some of the Royals students sometimes decide to leave the group and join the Rebels, which makes for an interesting storyline throughout the animated series.
Who are the Roybels?
There is another group of students who are a combination of the two parties we talked about earlier. This group of students has generally accepted their fate, but they have decided to change some of the events in their lives so that the Legacy they leave behind will be different.
The head of this group is Poppy O'Hair, who, for the first time, was the one who came to the conclusion that although one should surrender to fate, it is not necessary to leave all parts of life to fate.
Which one are you, a Royal or a Rebel?
Now it's time to answer the main question. Are you a member of the Royals or the Rebels? Maybe you are a combination of both and fall into the Roybels group. By answering 20 questions in this quiz, you can reach the final answer. Stick around for Ever After High quiz.
How to Play?
Playing personality quizzes is straightforward: Choose the option that's true about you—or you relate to—and select "Next." Unlike trivia quizzes, personality tests have no right or wrong answers. But the questions are in forced-choice format. The point is to push you to choose an option that makes the most sense, not the one that's 100% true. For the most accurate results, don't overthink your responses. Go with options that you "feel" are the best.
Questions of the quiz
Question 1

Are you a patient person?

I am not a patient person and sometimes I lose control of my behavior

I am a very patient person and I can control my behavior very well

Sometimes I am a patient person, but sometimes I lose control of my behavior

Question 2

Are you a leader or a follower?

I am more of a leader and I don't like to be like everyone else

I don't think I can be a good leader and I'm more of a good follower

Sometimes I am a good leader and sometimes I am a good follower

Question 3

Are you breaking the law?

If a law is against my logic, I will not follow it

I always follow the rules and never break the law

I try not to break the law but sometimes I do it out of compulsion

Question 4

What is your Favourite Colour?

Question 5

If you put an item on your desk, what would it be?

Question 6

Choose a weapon to hunt:

Question 7

Do you run away from problems?

I don't run away from problems, I always face them

I always try to run away from problems

Some problems are undeniable but I will try to solve some of them

Question 8

Which job do you prefer the most?

Question 9

If you had a million dollars in money:

With it, I was trying to influence many lives for the better

I was trying to buy myself a lot of luxury items

I do not know. Maybe I would invest them

Question 10

Which one is more like you?

A heavy wind that goes in any direction

A stout tree that does not move

A flowing river that eventually reaches the ocean

Question 11

Are you an honest person?

I am always honest and never lie

Sometimes I am honest but sometimes I lie

I lie most of the time and I am rarely honest

Question 12

Can you easily escape from your past?

I can easily escape from my past. I think it is the future that matters

I can't run away from my past because I think it is very important

I can escape some things in the past but not everything

Question 13

Do you like to predict the future?

No, I do not at all like to know what will happen in the future

Yes, I like to know what will happen to me in the future

I may not like to know everything, but I like to predict some things

Question 14

What do you look like at parties?

I am the person who is always at the center of the party and tries to entertain others

I am a person who always sits quietly in a corner and does not interact much with people

I shine in some parts of the party, but sometimes I'm quiet

Question 15

If you want to make a movie based on your life story, which title would you choose?

flowing in the wind

Roaring river

Confused

Question 16

Which band do you like the most?

Question 17

Do you do anything for your family?

To be honest, I care about myself and my future first

Yes, I care a lot about my family and they are precious to me

In some cases, my family is important, but in many cases, I am the first priority

Question 18

How do you save your money?

I try not to save any money and spend it on myself

I try to keep money in the bank

I try to spend them on various accessories that act as capital

Question 19

Are you a refugee?

Most of the time I try not to be in the crowd

I never run away from the crowd

It depends on the mood. Sometimes I run away and sometimes I don't

Question 20

In the end, what is love in your opinion?

Love means building a good life with a partner

Love means entrusting a relationship to fate

To be honest, I still don't know the exact meaning of love