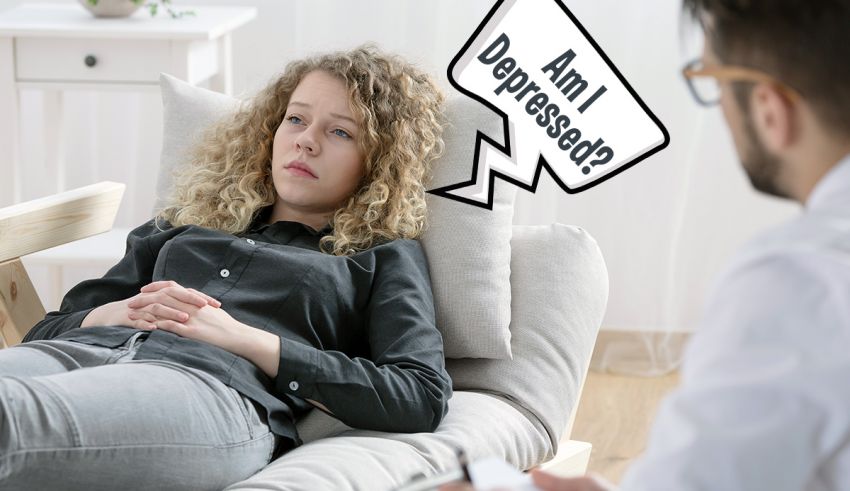 Do you always ask, "Am I Depressed"? This accurate test can help you find out your depression grade, and it will tell you if you are lazy, sad, or anxious.
Today, "Am I Depressed?" is one of the most sought-after questions. We all have experienced worse situations in our lives. Our emotions are also shifting day by day due to different factors. Whether we have difficulty in our job, falling with friends, or just being tired mentally, most of us feel sad or sluggish once in a while.
Therefore, some people need to know that their emotions are daily and situational normal emotions or suffer from a particular type of depression. And that's why sometimes they may ask, "Am I depressed? Well, the answer to this question may be complicated for ordinary people. So, it would be best to meet a psychologist to get the right answer. On the other hand, various psychologically-based online exams help you know what your situation is.
Why am I depressed?
Do you know the true meaning of depression? As mentioned, we may not feel well some days and want to be alone, which disappears after a few days. Maybe you don't know the reason for this fatigue, and you keep asking why I'm depressed. This condition can have various causes, such as fatigue, negative thoughts, and menstruation in women.
Sometimes my friends ask me, "Am I depressed or lazy?" This is an interesting question because many people don't know the difference between them and typically want to say that I'm unhappy. But there is a big difference between these two.
Laziness is a disgusting morality that usually people are not able to do anything and would like someone else to do it for them. But depression is a mental disorder that, in any way, affects a person's life.
Types of Depression Disorder
There are many types of depression, Mild, Medium, and Major. Such disorders have similar symptoms, but there are different symptoms related to each kind of depression.
General symptoms are:
Sentiments of worthlessness or misery
Difficulty in your usual activities
Death concern or self-harm thinking
Lack of interest in things you'd like,
Dark moods
Feelings restless or very tormented and physically or mentally slowed down
Weight loss or gain
Appetite and sleep changes
Concentration or decision-making issues
You may be diagnosed with major depression if you have five or more of those symptoms for two weeks or longer on most days. In this case, you should talk to a mental specialist and use antidepressants. Different types of online quizzes will help you determine if you have any crucial signs of a mental health condition.
Am I depressed quiz
Am I depressed test is the best way for people who are concerned about suffering from dumps symptoms. In the "Am I depressed quiz," you will be asked different psychological questions about your mood and temperament.
By answering these questions, at the end of the quiz, you will figure out if you are depressed or not. For example, you can see these questions in the test. To get the exact result, you have to choose one of these options: not at all, just a little, often (once a week or more), and every day. For instance:
My life has gone away from pleasure and joy.
I lost interest in aspects of life that were important to me earlier.
I feel like I'm a terrible person who deserves retribution.
I'm spending time wondering how I could kill myself.
Even when good things happen to me, I feel depressed.
According to your answer, you can see these results at the end of the test:
No Depression
Your answers show that you're not likely suffering from a depressive disorder at the moment. Nevertheless, it would be best if you did not consider this to be a diagnosis or treatment.
Mild Depression
Your answers probably suggest that you have a mild depressive disorder. Mild depression symptoms include hopelessness, a lack of motivation, reckless behaviors, negative thoughts, feeling unmotivated, aggressive behaviors, work concentration problems, loss of interest in your once-loved hobbies, appetite, and sleep changes. Your symptoms can last for days and will be enough to interfere with your usual activities.
Moderate Depression
Your answers probably suggest that you have a moderate depressive disorder. Moderate depression is the next stage of mild instances when it comes to symptomatic severity. Moderate depression is more straightforward to diagnose than mild one because its symptoms affect your daily life. Moderate depression symptoms are feelings of insignificance, Self-esteem issues, Excessive Anxiety, and Shrinking efficiency. Some signs are similar to mild symptoms.
Severe (major) Depression
Your answers show that you're not likely suffering from major depressive disorders. Severe depression has all the symptoms of mild to moderate depression, but its symptoms are very sharp and can disrupt your whole life. Major depression symptoms are Stupor thoughts, suicidal thoughts, hallucinations, and delusions. This requires immediate medical treatment.
How to Play?
Playing personality quizzes is straightforward: Choose the option that's true about you—or you relate to—and select "Next." Unlike trivia quizzes, personality tests have no right or wrong answers. But the questions are in forced-choice format. The point is to push you to choose an option that makes the most sense, not the one that's 100% true. For the most accurate results, don't overthink your responses. Go with options that you "feel" are the best.
Questions of the quiz
1

I don't like to attend any party, is that right?

No, I like parties

Twice a month is good

It is good every few months

Yes, I do not want to attend

2

Do you find yourself avoiding friends?

Never

No, I like my close friends

Yes, I want to have just 1-2 friends

Yes, I want to be alone

3

Do you always want to listen to sad music?

Not at all

Sometimes, If I like the song

Yes, I like most of the sad songs

Every day

4

Do you do your works slowly?

Not at All

Yes, just hard works

Yes, most of the works

Yes, every work

5

Are you having trouble making a decision?

Yes, just for hard decisions

Yes, for every simple decision

Yes, for most decisions

Not at All

6

My desire for sex has decreased?

Not at All

Yes, But still I enjoy it

Yes, But I do it if I am asked

Yes, And I hate it

7

Do you like to sit in a dark room for several hours?

Not at All

Somethimes, if I am sad

Somethimes, even if I am not sad

Every day

8

Do you like talking to people?

I speak so much

Yes, but I have to like the subject

No, but I try to listen to them

I want to be alone

9

Are you feeling a lack of pleasure and joy in your life?

Not at All

Often

Just a little

Every day

10

Do you feel like you are a terrible person who deserves retribution?

Not at All

Yes, if I fail

Yes, Sometimes

Yes, Every day

11

I can't sleep or sleep too much?

Not at All

A few days

More than half of the week

Every day

12

Are you Feeling fatigued or lacking energy?

Every day

A few days

Not at All

More than half of the week

13

Even when things go well, I'm still upset?

Yes, always

Most times

It is rare

Never

14

Do you have overeating or weak appetite?

Not at All

Just for some foods

Most times

Yes, Every day

15

Doing simple jobs requires a lot of effort for you?

Not at All

No, if I like the job

Yes, for every simple job

No, if it makes money

16

Do you see your future hopeless?

Not at All

Yes, just a little

Yes, moderately

Yes, very much