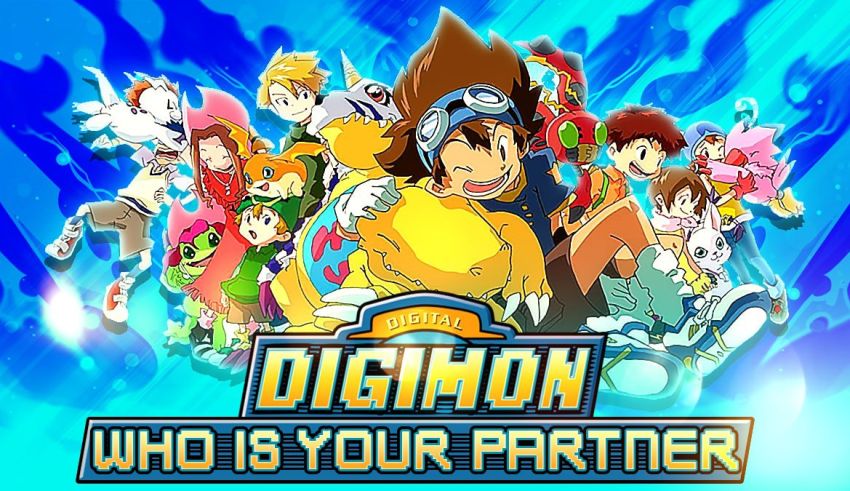 This Digimon Partner Quiz reveals which Digital Monster could be your companion based on your personality! Just answer 20 simple questions to find out.
What Is the Digimon Partner Quiz?
The Digimon Partner Quiz is a Digital Monster companion generator. It works based on the Tamer's personality, suggesting the closest match for them among Digimon characters.
Digimon is a Japanese franchise about a group of unique monsters that pair with human tamers to evolve.
The test on this page analyzes participants to decide which of the franchise's video game, manga, or anime characters is similar to them.
Who Is Your Digimon Partner?
Your Digimon Partner is a Digital Monster that has chosen you or has been tamed by you. In the world of Digimon anime, a Partner accompanies the tamer, assisting them in possible battles. What a Partner Digimon gains in return is a quicker evolution skill.
The way the Digimon Partnership works is that a Digital Monster often picks a child—a DigiDestined—to become their ally. And the two link through a Digidevice, with the purpose of protecting the Digital World.
Suggested Quiz: Who Is Your Pokemon Partner?
How to Know Which Digimon Is Your Partner?
Your Partner in Digimon is a monster with a complementing or contrasting personality to yours. In other words, it's either a creature who looks just like you or one who's actually the exact opposite of you. That's why identifying a tamer's Digimon is challenging.
One way to find your Digimon Partner, however, is by MBTI comparison. Basically, you analyze all Digital Monsters' personalities, comparing them with that of yours to decide which one is your counterpart—or soulmate.
Tamers who already know their MBTI can use the following table to discover their partners.
| | |
| --- | --- |
| Digimon | MBTI |
| Piedmon | ENTP |
| Myotismon | INTJ |
| Omegamon | ISTJ |
| Gabumon | ISFJ |
| SkullGreymon | ISTP |
| Agumon | ENFP |
| Patamon | INFP |
| Metal Seadramon | ESTJ |
| Talimon | INFJ |
| Koromon | ENFP |
Take This MBTI Test to Find Your Partner Digimon
Do you want to know who your genuine Digimon Partner is? If yes, participate in this fun and entertaining quiz to generate your companion with high accuracy.
The following questions identify which Digital Monster (among all archetypes and attributes) would choose you or let you tame them.
Okay, tamer: Digi-armor energizes! It's fighting time. Let's discover your Digimon bestie.
Disclaimer
QuizExpo does not own the images on the Digimon Partner Quiz and intends no copyright infringement. Bandai and WiZ own the said pictures.
How to Play?
Playing personality quizzes is straightforward: Choose the option that's true about you—or you relate to—and select "Next." Unlike trivia quizzes, personality tests have no right or wrong answers. But the questions are in forced-choice format. The point is to push you to choose an option that makes the most sense, not the one that's 100% true. For the most accurate results, don't overthink your responses. Go with options that you "feel" are the best.
Questions of the quiz
1

What kind of Signature Move should your Digimon have?

Quick

Weird

Practical

Strong

Customizable

Scary (lethal)

2

What type of relationship would you like to have with your Partner Digimon?

Love-orientated

Fun-orientated

Professional (Match-focused)

Discipline-orientated (Training-focused)

Casual (Nothing too serious)

Boss-Employee relationship

3

What are the most important criteria when picking a Digimon?

Look

Personality

Skill

Tamability

Meh, it depends

Power and lethalness

4

How would you react if your Digimon disobeyed you?

I'd never push my Digimon to obey me

I'd laugh it off

I'd look for the reason

I'd put my Digimon into harder training

IDK. It'd depend on my mood and situation.

I'd punish my Digimon.

5

What's your personality like?

Introverted

Extroverted

Considerate

Determined

Unpredictable

Cold

6

How would you describe your best friend?

Supportive

Funny

Reliable

Inspiring

Crazy

I don't have one

7

What kind of Tamer could you be if you lived in the Digimon universe?

Kind

Weirdo-ish

Strategic

Hardworking

Lazy

Strict

8

Which one is a better strategy for winning Digimon battles?

Slow-paced, steady attacks

Fast-paced, unpredictable attacks

Strong defense and counterattack

Non-stop attack

I'm not sure. It depends on lots of factors

Being deceiving and stealthy is the best strategy

9

What do you like about the Digimon franchise?

The anime shows

The manga

The video games

The card games

The toys

Meh, none of them

10

Which one could be your favorite Digivolution?

Spirit Evolution

DNA Digivolution

Biomerge Digivolutions

Warp Digivolution

Mode Change

Dark Digivolution

11

Which one better describes your anger?

Passive and unnoticeable

Short and manageable

Situational and controlled

Sudden but mild

Unpredictable and unstable

Long-lasting and rageful

12

What's your mood like right after waking up?

Happy

Tired

Calm

Energetic

Depressed

Irritable

13

What kind of Digimon Tamers annoy you?

Selfish

Serious

Childish

Cowardly

Talkative

All of them

14

How do you feel about the Pokemon franchise?

I love it

I can't say I dislike it

It's a respectable franchise

It's not as fun as Digimon

Meh, whatever

It's overrated

15

Final question: How old are you?

16 or younger

17-18

19-22

23-25

26 or older

I'd rather not say