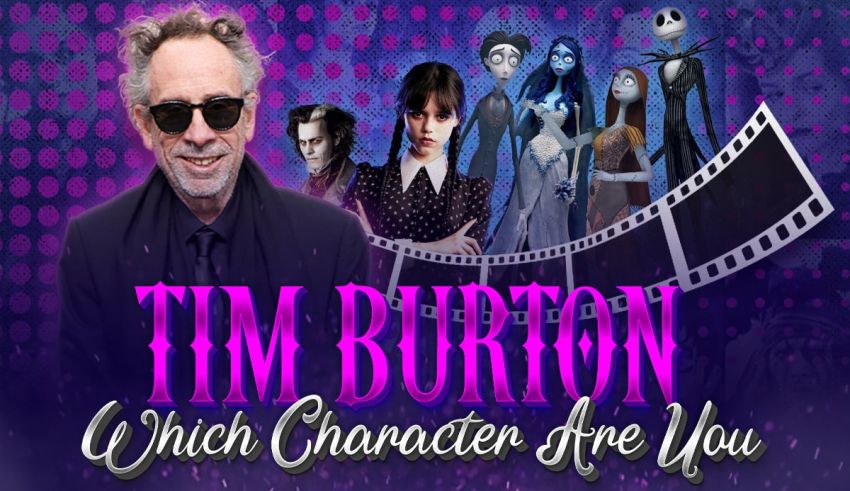 If you are a real fan of Tim Burton's Movies, this quiz is eight for you. It will reveal your true character. Are you Wednesday, Edward, Beetlejuice, or else?
About Tim Burton's Movies & Characters
With a knack for the eerie and peculiar, Burton has carved a niche for himself in Hollywood as an innovative storyteller. His extraordinary ability to blend horror, comedy, and fairy tales into his films has given us a new dimension to explore.
Tim Burton's characters, oh boy, are as zany as they are loveable. Imagine walking into a party where every guest is a uniquely fashioned individual, each with their quirks and eccentricities – that's what it feels like to watch a Burton movie. His creations span from the melancholy Edward Scissorhands to the spirited Lydia Deetz and the timid Victor Van Dort to the boisterous Beetlejuice. Suppose you've ever yearned for a journey through a topsy-turvy landscape brimming with fantasy and creativity. In that case, Burton's filmography is your ticket.
The Famous Characters and Their Personalities
Jack Skellington
Ah, who could forget the "Pumpkin King" of Halloween Town? Jack Skellington from 'The Nightmare Before Christmas' is a charismatic leader, yearning for something beyond his usual routine. His adventurous spirit and desire for change highlight his ENTP personality type.
Edward Scissorhands
Edward, the protagonist of 'Edward Scissorhands,' is heart-touching. Although his outwardly frightful appearance may be off-putting, he's a gentle, artistic, and misunderstood soul – a classic INFJ personality type.
Beetlejuice
This mischievous 'bio-exorcist' from the self-titled 'Beetlejuice' movie is about fun, chaos, and unpredictability. Beetlejuice's outrageousness, energy, and humor align him with the ESTP personality type.
Lydia Deetz
The gothic teenager from 'Beetlejuice' is more than meets the eye. Lydia Deetz's fascination with the supernatural and her empathetic and introspective nature make her a clear INFP.
Victor Van Dort
Victor, from 'Corpse Bride,' is a shy, sensitive, and talented pianist. His kind-hearted and introverted characteristics make him an ISFJ personality type.
Wednesday Addams
Last but not least, we have the darkly delightful Wednesday Addams, portrayed by Jenna Ortega in the 2022 series. As a textbook INTJ, she's a fiercely independent thinker with a no-nonsense view of the world. Known for her quick wit and rationality, Wednesday easily sees through deception. Although she may seem like a lone wolf, she values deep, meaningful connections, forming strong bonds with fellow outsiders. If you are a real fan of this series, we suggest this Wednseday character quiz, to find your match!
Some Amazing Facts About Tim
Tim Burton was Heavily Inspired by His Childhood
Did you know Burton's eccentric movie themes are heavily inspired by his childhood experiences? Being raised in Burbank, California, he found solace in watching horror movies and drawing cartoons, leading him to the distinctive style we know and love today.
The Character of Edward Scissorhands was a Reflection of Tim Burton's Loneliness
This one might tug at your heartstrings. The character of Edward Scissorhands was conceived as a reflection of Burton's feelings of isolation and being misunderstood while growing up. It truly is art imitating life.
Lydia Deetz was Almost Played by a Different Actress
Here's a fun fact for ya! Winona Ryder wasn't the first choice for Lydia Deetz in 'Beetlejuice.' The part was initially offered to Juliette Lewis, but she turned it down.
Many of Burton's Characters are Based on Classic Horror Movies
Burton's love for classic horror movies is reflected in his characters. For instance, Beetlejuice's character design was inspired by the classic Universal monsters, while Edward Scissorhands' design drew influences from 'Frankenstein.'
Let's Find Out Which Tim Burton Character You Are
Now that we've delved into the whimsical world of Burton and his unforgettable characters, wouldn't you like to find out which one matches your personality? Are you more like the adventure-seeking Jack, the misunderstood Edward, the chaotic Beetlejuice, the introspective Lydia, or the kind-hearted Victor? Well, there's only one way to find out!
Please hop on over to our quiz and discover your Burtonian alter ego. And hey, while you're at it, why not check out our celebrity crush and celebrity look-alike quizzes too? You never know what you might discover!
Disclaimer
Just a quick heads-up! All images used in the quiz are owned by their respective copyright owners, not by QuizExpo. So, enjoy finding your inner Tim Burton character without any worries!
How to Play?
Playing personality quizzes is straightforward: Choose the option that's true about you—or you relate to—and select "Next." Unlike trivia quizzes, personality tests have no right or wrong answers. But the questions are in forced-choice format. The point is to push you to choose an option that makes the most sense, not the one that's 100% true. For the most accurate results, don't overthink your responses. Go with options that you "feel" are the best.
Questions of the quiz
1

Choose Your Weapon:

A Scissor or Knife

A Shovel

Pistol

I don't want to use a weapon

I can't show you my weapon

My "HAND"

A Blade

2

What's your favorite type of weather?

Sunny and warm

Rainy and gloomy

Stormy and chaotic

Snowy and cold

I don't care about the weather

Any type of weather that make the sunlight go away

My favorite is when there is sunlight but there is also raining

3

How do you feel about socializing?

I enjoy it, but can find it overwhelming at times

I love it and thrive in social situations

I don't care about it and prefer to do my own thing

I'm curious about people and enjoy learning about them

I try to be creative and find unique ways to socialize

I tend to keep to myself and prefer alone time

I seek out social situations to further my own agenda

4

What's your favorite type of art?

Classical or traditional

Pop art or street art

Indie or avant-garde

Abstract or surreal

Whimsical or cartoonish

Dark or gothic art

Edgy or provocative

5

How do you feel about authority figures?

I respect them and try to please them

I try to push their buttons and test their limits

I don't care about them and do what I want

I'm curious about them and want to learn more

I try to be creative and find unique ways to please them

I tend to keep my distance and observe from afar

I seek to challenge or overthrow them if they're unjust

6

What's your favorite type of book?

Romance or drama

Comedy or satire

Horror or thriller

Adventure or fantasy

Self-help or inspirational

Indie or art house

Mystery or crime

7

How do you handle criticism?

I take it to heart and it affects me deeply

I brush it off and try to find humor in the situation

I lash out and become defensive

I take it as an opportunity to learn and grow

I try to find a unique or creative solution to the issue

I take time to reflect on the criticism and improve myself

I seek revenge or justice if the criticism is unjust

8

What's your favorite type of pet?

Cat

Rat

Snake

Dog

Fish

Raven

I don't like pets

9

What's your ideal vacation spot?

A peaceful cabin in the woods

A bustling city with lots of activities

A haunted castle or spooky location

An exotic location with lots of culture and history

A whimsical theme park or fantasy land

A quiet beach or secluded location

I would like to not leave my workplace

10

What's your favorite type of movie?

Romantic or drama

Comedy or satire

Horror or thriller

Adventure or fantasy

Musical or comedy

Indie or art house

Action or revenge

11

What's your favorite season?

Spring

Summer

Fall

Winter

Any season where I can be creative and have fun

Any season where I can spend time alone and reflect

Any season is fine for me

12

What's your favorite hobby?

Drawing or painting

Playing pranks or causing mischief

Extreme sports or thrill-seeking activities

Learning new things or exploring new places

Baking or cooking

Writing my own novel

Reading or watching movies

13

How would you describe your fashion sense?

Simple and understated

Bold and quirky

Comfortable and casual

Playful and colorful

Whimsical and eccentric

Dark and gothic

Edgy and rebellious

14

What's your favorite food?

Something elegant and refined

Something spicy or exotic

Something chaotic or unpredictable

Something sweet or indulgent

Something creative or unique

Something comforting or nostalgic

Something hearty or meaty

15

What's your favorite type of music?

Classical or instrumental

Rock or punk

Heavy metal or hard rock

Alternative

Pop or show tunes

Dark or brooding music

Indie or alternative

16

What's your favorite color?

Silver or gray

Black and white stripes

Purple or green

Orange or black

Purple or pink

Dark or muted colors

Red or black

17

What's your ideal way to spend a day off?

Exploring nature or doing something creative

Playing pranks or causing mischief

Doing something spontaneous or unpredictable

Learning something new or trying a new activity

Hosting a party or indulging in something luxurious

Spending time alone with a good book or movie

Plotting revenge or seeking justice

18

What's your biggest fear?

Being rejected or misunderstood

Losing control or being trapped

Order and conformity

Order and conformity

Being uninspired or uncreative

Feeling disconnected or alone

Being betrayed or mistreated

19

How do you handle difficult situations?

I try to stay calm and composed

I use my wit and humor to diffuse the tension

I embrace the chaos and go with the flow

I approach the situation with curiosity and open-mindedness

I try to find a creative and unique solution

I tend to retreat and reflect on the situation before taking action

I seek revenge and justice at all costs

20

Which word best describes your personality?

Sensitive

Mischievous

Chaotic

Curious

Whimsical

Introspective

Brooding