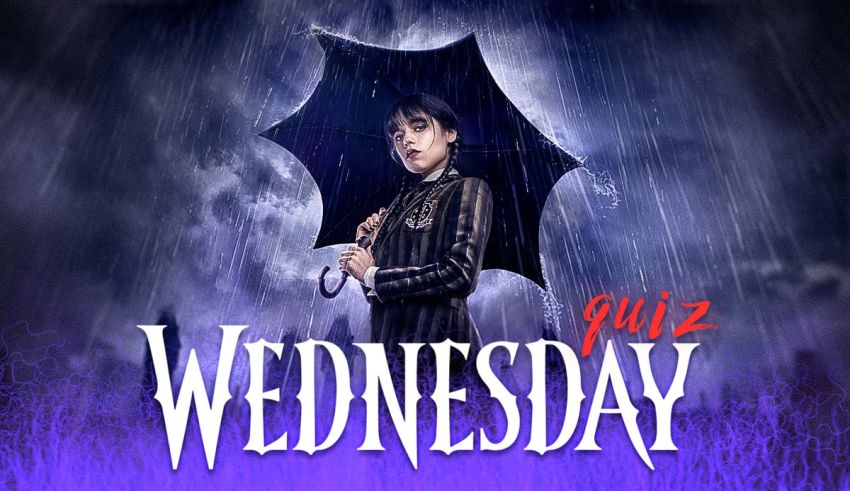 Wednesday Quiz shows how well you know Netflix's Addams Family hit. Only true fans beat this challenging Wednesday trivia test.
How Well Do You Know Netflix's Wednesday?
With 20 trivia questions, the Wednesday Quiz measures your fandom knowledge. It determines if you're a Nevermore candid or a normie.
Wednesday is a 2022 Netflix comedy horror about the title character, Wednesday, the teenage daughter of the Addams Family.
The current test asks twenty questions about the show's characters, plots, and facts, ranking you based on your correct answers.
For another fun experience, try "Which Wednesday Character Are You?" It finds your perfect match in the show.
The Hardest Trivia Questions for True Wednesday Fans
One thing about the Wednesday Quiz is that it gets harder as you progress. And the last few questions are almost impossible to get right—unless you're a diehard fan.
The following are three examples of what you might face.
| | |
| --- | --- |
| Wednesday Trivia Question | Difficulty |
| Who plays Enid Sinclair in Wednesday? | Easy |
| How old was Xavier when he first met Wednesday? | Normal |
| When was Nevermore Academy established? | Hard |
Your Score Determines Your Clique—But There's a Catch!
Each correct answer in the Wednesday Quiz grants you a point. So, to beat the test, you need 20 points.
But your total score can also sort you into a clique. (And no, it's not going to be one of the four Nevermore cliques.)
Here's how to interpret your test results.
0-5 Pints: Neophyte Clique.
Five points or less is a red flag. It means you have no supernatural powers and are a Wednesday newbie. In other words, your chances of entering Nevermore Academy are thin.
6-10 Points: Prosaic Clique.
Finishing the Wednesday Quiz with six to ten points is not that bad. But it's not enough to get you sorted into elite groups.
11-15 Points: Maestro Clique.
Having eleven to fifteen correct answers means you're a hardcore Wednesday fan. (Less than 40% of the participants get the same score.)
16-20 Points: Demiurge Clique.
The most prestigious title goes to Wednesday fans with 16 or more points. They know so much about the show that the Nightshade Society would like to recruit them.
We Dare You to Beat This Wednesday Quiz
You are now ready for the challenge.
The Wednesday Quiz is a trivia quest only a few can beat. And we dare you to give it a try.
Let's see how many questions you can answer correctly. (Don't get your hopes high, though. It's a tough quiz.)
Disclaimer
Netflix owns the images in Wednesday Trivia Quiz, and QuizExpo intends no copyright infringement.
How to Play?
A trivia quiz comes with right and wrong answers. You receive one point for each correct response—but no negatives for the incorrect ones. Take your time and read the questions carefully because some might be trick questions. Choose an option and lock it in by tapping "Next." Lucky for you, the trivia quizzes have instant results. You see if your response was correct immediately. (Green is good, red is bad.) Even better, you can learn more about the topics with the "answer reveals," the fun-fact snippets that appear after each question.
Questions of the quiz
Question 1

Let's start with an easy one; in what year was Nevermore Academy established?

Question 2

Whose line is this? "Emotion isn't exactly your strong suit."

Ajax

Xavier

Tyler

None of them

Question 3

What's the name of the town near Nevermore Academy?

Question 4

How many Nightshade Society members are in Nevermore?

Question 5

Who killed Marylin Thornhill's brother?

Morticia Addams

Gomez Addams

Goody Addams

None of them

Question 6

Who founded Nevermore Academy?

Larissa Weems

Ansel Gates

Nathaniel Faulkner

None of them

Question 7

Where was Joseph Crackstone's tomb located?

Jericho

Vermont

Raven Island

Evermore Island

None of them

Question 8

Which one is a language that Wednesday doesn't speak?

Spanish

German

French

All of them

Question 9

Which one is NOT a language that Wednesday can read.

Latin

Italian

Hebrew

All of them.

Question 10

Who did Enid move in with after leaving Wednesday?

Ajax

Yoko

Divina

She never moved in with anyone else.

Question 11

Who brough Enid back to the group after she turned into a werewolf?

Tyler

Xavier

Ajax

Deputy Santiago

None of them

Question 12

Where does Enid live?

Jericho

New York

San Francisco

Vermont

Question 13

How old is Nevermore Academy when Wednesday attends it?

About 400 years old

About 300 years old

About 200 years old

Less than 100 years old

Question 14

Fact or fiction? Larissa and Morticia used to be roommates.

Question 15

Fact or fiction? Larissa had a crush on Gomez, Wednesday's dad.

Question 16

What was the name of the poison that killed Larissa?

Nightshade Poison

Crackstone Poison

Gates Poison

None of them

Question 17

Why did Wednesday help Tyler fix the coffee machine?

He couldn't read the manual.

He couldn't find the manual.

He was pretending that he can't fix it.

None of the above.

Question 18

Which team did Xavier lead in the Poe Cup?

The Amonti Llado

The Black Cat

The Golden Fox

None of them

Question 19

Fact or fiction. Xavier met Wednesday at Nevermore Academy.

Question 20

How many times did Wednesday saved Xavier's life?