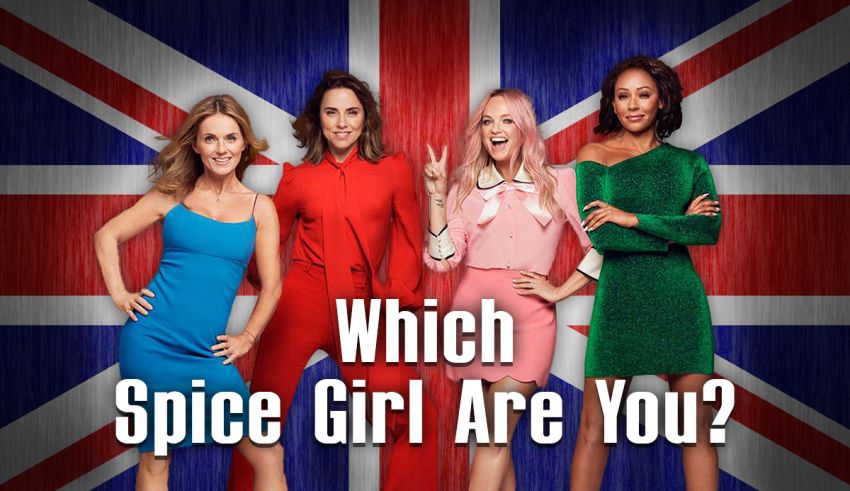 If you wonder which Spice Girl are you, this 90s-inspired quiz reveals if you are Victoria, Mel B, Melanie C, Emma, or Geri. Plus, it exposes your SPICE type!
The Spice Girls Quiz to Expose Your Character
The test is a set of twenty personality questions. And the goal is to find out which Spice Girls member you resemble in real life.
The premise is similar to that of the Black Pink Character Quiz. We created detailed profiles of all the singers in the band. The questions allow us to accurately match you with one of them, revealing your perfect counterpart.
Here's everything you learn by taking the test.
Discover which Spice Girl you are.
The girl band was created in 1994 with five members. The Spice Girl Quiz promises to find the most similar member to you in real life. It's designed to answer questions like, "Which Spice Girl am I?"
Find out what Spice girl you are.
The girls in the band had nicknames to show their spice type. For example, Victoria is Posh—you can tell that by her current career in fashion. Our personality test analyzes your traits and behaviors to reveal your type as well as your perfect match. Here are the possibilities:
Melanie Brown is also known as the Scary Spice. The nickname comes from the fact that she's determined and ambitious.
Melanie Chisholm is called Sporty Spice due to her active lifestyle. She still has the body of a 20-year-old in her 40s. So, the moniker really suites her.
Emma Bunton was the Baby Spice of the band. She got the name due to being sweet, cute, and childlike. (Her personality and role in the group were similar to that of a Maknae is a K-pop band).
Geri Halliwell got Ginger Spice's nickname because of her fiery-red hair and confident personality.
Victoria Beckham has always been a fashionista. No surprise that she was the Posh Spice of the band.
Get a free Spice Girl personality analysis.
The goal of the quiz is to reveal which Spice Girl you are. However, we included a detailed character breakdown to help you understand why you matched a particular member.
How to Know Which Spice Girl You Are? (No Test Needed)
What if you don't like to take a Spice Girls personality quiz? It's totally fine. You can read the following descriptions of each member to decide which one you resemble on your own.
#1. Victoria Beckham
She's a fashion diva who's also pretty practical and visionary. As the Posh Spice, Victoria cares about her style no matter what. But that doesn't make her a sassy, arrogant woman. Contrarily, she's down-to-earth, kind, and motherly. Victoria is also one of the most feminine members of the band.
Those who match her in the Spice Girl Quiz have fighter personas. Such people don't like to give up. And they somehow manage to be a warrior while staying clear of conflicts.
#2. Mel B
Despite her nickname, Melanie Brown is a loyal friend. She's a natural entrepreneur. The fact that she's a goal-oriented and disciplined person might make her look like a scary lady. But that's not true at all. Those who know her closely are blessed with her kindness and generosity.
If you ask black girls, "Which Spice Girl are you?" they'd most likely say, "I'm Mel B." That's because the Scary Spice has been an icon in the black community since the 90s.
#3. Melanie C
Chisholm was the sporty girl in the band. But she didn't like to be known as an aggressive person. Despite her Spice Girl persona, Mel C is a calm person. Yes, she loves sports, but that's not what her personality is all about. Her close ones know how sweet, humble, and peaceful she is.
#4. Geri Halliwell
She's a natural leader. Geri's confidence and wisdom helped all other girls keep up with their sudden fame and added responsibilities. As the Ginger Spice, she's also highly energetic (almost hyperactive) and one the go.
If you ask an assertive person, "Which Spice Girl are you?" they'd most likely pick Geri. She gives off a vibe of confidence and optimism.
#5. Emma Bunton
The Baby Spice was one of the most beloved girls in the band. She had a sweet, loveable, and cute persona that fans enjoyed. But Emma carries most of the same characteristics in real life, too. So, if you take the Spice Girl personality test and match her, you're most likely a lively, adorable person.
| | |
| --- | --- |
| Spice Girl | Birthdate |
| Geri Halliwell | 1972 |
| Victoria Beckham | 1974 |
| Melanie C | 1974 |
| Mel B | 1975 |
| Emma Bunton | 1976 |
Still in Doubt? Take the Quiz for Accurate Results
Do you still wonder which Spice Girl you are? If yes, taking the test is your best bet. Our editors worked hard to finetune all the results to deliver 100% reliable results. You'll be surprised by the preciseness of the matches and learn more about your personality along the way. It's worth it.
Disclaimer
QuizExpo does not own any of the images used in the 'Which Spice Girl Are You Quiz.' Please, contact us if you own any and want them to be removed.
How to Play?
Playing personality quizzes is straightforward: Choose the option that's true about you—or you relate to—and select "Next." Unlike trivia quizzes, personality tests have no right or wrong answers. But the questions are in forced-choice format. The point is to push you to choose an option that makes the most sense, not the one that's 100% true. For the most accurate results, don't overthink your responses. Go with options that you "feel" are the best.
Questions of the quiz
1

What's your style like?

Cute

Casual

Formal

Classic

Gothic (or none)

2

What's your favorite activity?

Binge-watching Netflix

Sports or working out

Reading books or newspaper

Shopping

Learning something new

3

What type of music do you prefer?

Pop

Dance

Rock

Classical

Hip-hop

4

Of the following options, which role sounds interesting to you?

Nurse

Coach

Teacher

Designer

Manager

5

What personality type usually attracts you?

Funny

Determined

Confident

Responsible

Eager

6

What's the most important goal in your life?

Finding true love

Thriving in my career/education

Becoming the best version of me

Fighting for things I want

Prove my enemies wrong

7

What do you like about Spice Girls?

Their style/look

Their dance moves

Their girl power-ish attitude

Their personal lives

Their determination and hard work

8

Choose a description that is similar to you at a party.

Talkative and hyped

Dancing like a crazy

Trying to meet new people

Calm and observant

I don't like parties that much

9

What's a perfect marriage?

One that's filled with love/affection.

One that helps you thrive in life

One that makes you feel safe

One that survives all the ups and downs

I don't really know

10

What do you think about becoming parents?

I'd love to become one!

I'm not sure about it.

I might become one soon.

I am a parent. It's challenging.

I don't want to become a parent.

11

How easy to anger are you?

I rarely get mad

It's challenging to irritate me

You don't want to cross my red lines

I lose it once in a while

Anything can irritate me easily

12

What's one thing people assume about you, but they're totally wrong?

That I'm timid

That I'm aggressive

That I'm bossy

That I'm cold

That I'm friendly

13

What do you think about sociable people?

I love them

I get along with them

I think they're fine

I don't vibe with them

I don't like them

14

Describe your dream house.

Cozy and cute

Practical and spacy

Traditional

Fancy and luxurious

I'm not sure

15

Which of the Spice Girls do you like the least? (You have to pick one).

Mel B

Victoria Beckham

Melanie C

Geri Halliwell

Emma Bunton

16

Would you like to see a reunion album of Spice Girls?

YES!

Not sure

It depends

Only if it's a good one

No

17

Of the following options, what's your favorite color?

18

Which one is the biggest turn-off?

Dry sense of humor

Laziness

Moodiness

Irresponsibility

Cowardness

19

Pick a piece of clothes that you cannot live without.

Hats

Shorts

Jeans

Coats

I care about none

20

Final question; do you feel younger than your actual age?

I feel much younger than my age

I feel slightly younger

I feel like I'm living my age

I'm not sure about the answer

I feel older