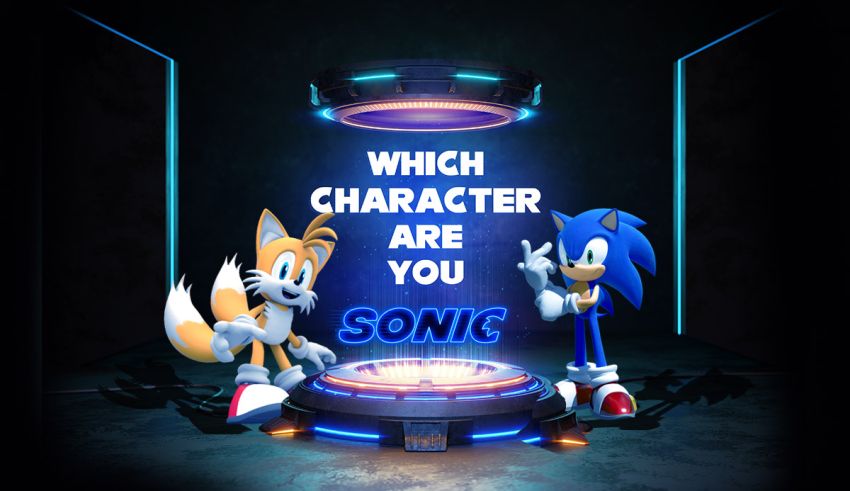 This Sonic character match quiz will analyze your personality to find the closest character to you. It is a 100% fun and accurate test.
Which Sonic character are you?
When Sonic the Hedgehog was released, it gave a lot of people mixed feelings. They could not hate it, but it was not that good to be loved either. This movie was released on Mar 31, 2020. It is suitable for kids and families. Many critics gave it a low grade because they thought it was awful. Some people, though, are a fan of Sonic anyway. If you're reading this, you are probably one of them. Here is a surprise; you can answer a fun quiz to determine which Sonic character you are at the end of the article.
Why is his appearance in the movie different than his appearance in the game
When the trailer was first released, people were disgusted by the character's little eyes and his human-like teeth. The pictures went viral. The underpaid animators were horrified. They took a lot of time to create a more lovely iteration. The audience, fortunately, embraced the second iteration. In the first shot, they tried to design the character in a similar way to an actual hedgehog. The Sega's version eyes were much bigger. The designers enlarged the eyes.
Additionally, they defined his eyebrows more clearly. The mouth is more animated. The teeth are hidden beneath his upper lip.
The audience was shocked regarding his body when they saw his muscles, elbows, and knees in the first trailer. The animators changed his body for a more Sega-like one. The color is a more vibrant blue now. The color of the belly is also different from the first one. He wears more giant socks now and wears white gloves.
About the stars and the box office
The movie made an insignificant amount of 306.8 million USD around the world. It starred Jim Carrey, the energetic Canadian-American movie star, Ben Schwartz and James Marsden.
Sonic character analysis
Let's take a closer look at the characters before we begin the Sonic quiz.
Sonic the Hedgehog: it is common sense that Sonic was not a deep character when first presented in the game series. Later on, it went under several developments. In one Q&A session, one of the developers was asked why Sonic wouldn't fall in love with Amy (the female character). She answered the hedghog was too busy with adventures that no time was left for relationships. That was a clever answer. Nevertheless, some argue the real reason is that the world around Sonic is too slow, and other characters cannot catch up with him.
People make many mistakes about this character. This blue furball is about as tall as Mario (about 1 meter). He is famous for his speed and terribly lonely. He cares about the planet and the animals and plants that reside in it. Sonic is super confident and a little impatient. Opposite to Mario, who loved mushrooms, Sonic hates it.
Ben Schwartz's voice and mannerism were applied to this character. Sonic is a tale that teaches us being different may be lonely. That what you can accomplish on your own is limited.
Doctor Eggman: he has several names; Dr. Robotnik and Mr. Bad. He is the villain of the story. Jim Carrey was given a swath through his hair and a big mustache with curly edges to manifest the villain. There is ongoing combat between the light-hearted and fast-paced blue Hedgehog and the selfish and slow guy in red. He is a billionaire that rules a world in which only machines exist. He is an evil man but can fool others by pretending to be a philanthropist. Despite his arrogant nature, he respects his late grandfather. He is one of the most renowned villains in the history of video games.
Thomas Michael Wachowski, the Greenhill sheriff, is best known by his nickname, Tom. He is a selfless man who wants to move to San Francisco to help more people. However, before he moves, he meets Sonic, the Hedgehog. Sonic convinces him to stay and reminds him of his importance. He usually wears his police uniform. He has blue eyes and brown hair.
Maddie Wachowski: she is Thomas Michael Wachowski's wife. She is also the adoptive mom of Sonic the Hedgehog. She has black hair and brown eyes. When somebody helps her, she tries to help them back.
Lessons we can learn from Sonic the Hedgehog.
Some people only want to use you. Watch out for them when you have power. They may want to misuse it to reach their anti-humanistic goals.
Practice makes perfect. When Tom wanted to be accepted to the San Francisco police force, he never gave up on practicing. You have to have discipline and make an effort to reach what you want.
Sometimes you have to sacrifice yourself to help those in need. Sonic could use his ring and run away to another planet, but he didn't. He decided not to abuse his power to escape problems.
You are more important than you think. What Sonic tells Tom when he wants to move to San Francisco shows how Important our roles are in people's lives even if we are unaware of them.
Sonic IDW quiz
By this point, you must be eager to know which character you are most similar to. We have a solution for that. Take this fun Sonic quiz to find out which Sonic character you are. It takes only about 20 minutes, and you will be provided with the result right after you finish it.
Questions of the quiz
Question 1

To what extent do you agree with this sentence? "The end justifies the means"

I fully agree

I don't fully agree.

I fully disagree.

It depends.

Question 2

Which one was/is your favorite cartoon?

Tom and Jerry

Sponge Bob Square Pants

CatDog

None

Question 3

If you wrote a book one day, which one would you choose as the name? Choose one option that would be closest to your name of choice.

A Manual to Kill Your Enemies

How to Win a Marathon

How to Immigrate Painlessly

In Love

Question 4

What is/was your favorite subject at school?

Question 5

which adjective describes you best?

helpful

indecisive

caring

None/More than one option is true about me

Question 6

Which city would you choose to travel to?

San Francisco

Paris

Barcelona

Berlin

Question 7

Which picture do you find more interesting?

Question 8

Which one is your favorite book?

Friday Night Lights: A Town, a Team, and a Dream

In Cold Blood

The Martian

None

Question 9

How would your friends describe you?

As a hypocrite

As an inspiration

As a person who has itchy feet

I have no idea

Question 10

Which option describes your physical appearance best?

I'm tall with brown hair.

I'm short and chubby.

I'm tall and slim.

None

Question 11

How would you react if you saw someone's bag being robbed?

I would not interfere.

I would call the police.

I would shout for help.

I would put myself in danger to help.

Question 12

How do you treat your friends?

I listen to them and try to inspire them

I try to help them when they need me.

I don't make friends.

None/ More than one option is true about me

Question 13

Which one is your favorite food (or is closest to your favorite)?

Oily Spaghetti

Vegetarian Dish

Sushi

None

Question 14

Which quote do you like the most?

You call it madness, but I call it love.

Not all those who wonder are lost.

Part of being a person is about helping others.

I really do mean to offend you. You know?

Question 15

How important do you think it is to help people in need?

It's of utmost importance.

It's important but I wouldn't sacrifice myself to help others.

It depends.

Why would I care?

Question 16

How do you prioritize your needs vs others' needs?

Others' needs are of second priority.

Others' needs are of first priority.

Our needs are just as the same priority.

What others need is none of my business.

Question 17

How resilient are you in the face of difficulties?

Nothing can beat me.

I sometimes fall on my knees.

I can be weak.

None

Question 18

Who knows all your secrets?

My mom.

My dad.

My wife/husband.

I don't trust people with my secrets.

Question 19

Pick out one color.

Question 20

How selfish are you?

I'm not selfish at all.

I don't really care about others.

I can be selfish sometimes.

It depends.