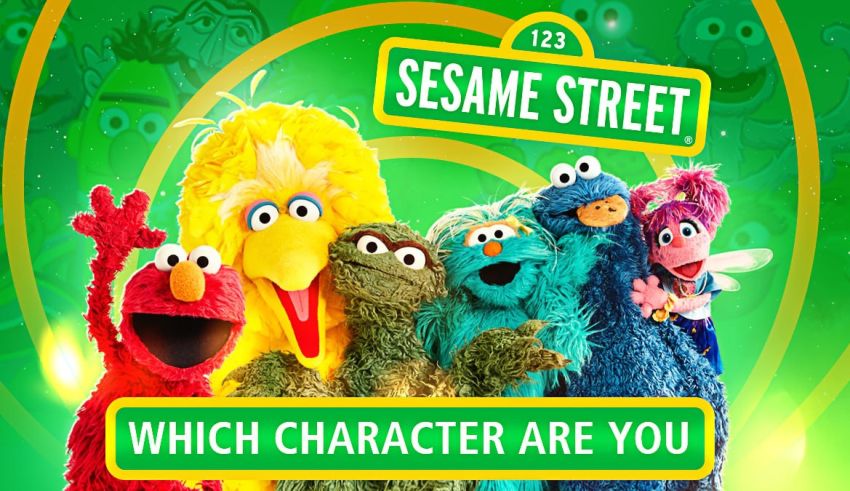 This fun Sesame Street quiz matches you to one of Sesame Street's characters based on your personality.  Are you Elmo, Big Bird, Bert, Grover, or else?
Hey there, fellow Sesame Street fans! Let's take a trip down memory lane and revisit this iconic children's television show. Sesame Street first aired in 1969 and quickly became a household favorite with its lovable characters, catchy tunes, and educational content. It aimed to teach kids important life lessons while entertaining them simultaneously. Interested in learning more? Check out the Sesame Street Fandom page for all the juicy details!
Throughout its history, Sesame Street has featured diverse human and Muppet characters. These characters have taught kids about numbers, letters, shapes, friendship, empathy, and understanding of different cultures. The show has continued to evolve, adapting to the changing needs of its young audience. It remains a beloved classic for children and adults alike.
The main characters and their personalities
Big Bird
Our feathery friend Big Bird is known for his bright yellow plumage and big heart. He's an 8-foot-tall, 6-year-old bird who's always curious and eager to learn new things. With his kind and gentle nature, Big Bird is always ready to lend a helping hand or offer a comforting hug to his friends on Sesame Street.
Elmo
Elmo, the adorable red monster with the infectious giggle, has captured the hearts of millions with his childlike enthusiasm and wonder. This 3-and-a-half-year-old Muppet is all about exploring the world, asking questions, and having fun. Elmo's boundless energy and cheerful disposition make him the perfect companion for any adventure.
Cookie Monster
Cookie Monster is a lovable, blue, furry monster with an insatiable appetite for cookies! He's a fun-loving character who's always up for a good time, but he also knows the importance of sharing and kindness. His obsession with cookies is only rivaled by his love for his friends.
Oscar the Grouch
Oscar the Grouch is the resident curmudgeon on Sesame Street. Living in a trash can, he has a grumpy disposition and a sarcastic sense of humor. But despite his prickly exterior, Oscar has a soft spot for his friends. He has even been known to show a kinder side occasionally.
Grover
Grover, the furry blue Muppet with a heart of gold, is always eager to help others and solve problems. With his boundless optimism and determination, Grover often takes on various personas, such as "Super Grover," to save the day. His enthusiasm and love for adventure make him an endearing character to fans of all ages.
| Character | MBTI Type |
| --- | --- |
| Big Bird | INFP |
| Elmo | ENFP |
| Cookie Monster | ESFP |
| Oscar the Grouch | ISTJ |
| Grover | ENFJ |
Did you know these facts?
Sesame Street has won more Emmys than any other children's show
Sesame Street has received a whopping 193 Emmy Awards (and counting!), making it the most-awarded children's television show in history. With its innovative educational content, diverse cast, and memorable characters, it's no wonder this iconic show has garnered so much acclaim.
Sesame Street is broadcast in over 150 countries
With its universal appeal and educational focus, Sesame Street has been adapted and broadcast in more than 150 countries worldwide. In addition to the original American version, various international co-productions have been created, each incorporating local culture and language to better connect with their audiences.
The show's co-founders were inspired by the power of television
Joan Ganz Cooney and Lloyd Morrisett, the co-founders of Sesame Street, believed that television could be harnessed for educational purposes. They aimed to create a program that would entertain children and teach them essential skills and life lessons. Their groundbreaking idea paved the way for a new era of children's educational television.
Celebrities have made guest appearances on Sesame Street
Over the years, many celebrities have visited Sesame Street to share their talents and connect with the show's audience. From musicians like Stevie Wonder and Katy Perry to actors like Robert De Niro and Natalie Portman, the list of guest stars is truly impressive. These appearances have brought excitement and fun to the show, making Sesame Street a unique and memorable experience for viewers.
Ready to know which Sesame Street character you are?
Now that you've learned more about the wonderful world of Sesame Street, are you ready to find out which character you most like? Hop on over to our Sesame Street quiz and discover your Muppet alter ego!
Looking for more quizzes to try? Check out our Disenchantment character quiz or Family Guy character quiz to continue the fun!
Disclaimer
Please note that QuizExpo does not own the images used in our quizzes. All images belong to their respective creators, and we have used them solely for entertainment and educational purposes.
How to Play?
Playing personality quizzes is straightforward: Choose the option that's true about you—or you relate to—and select "Next." Unlike trivia quizzes, personality tests have no right or wrong answers. But the questions are in forced-choice format. The point is to push you to choose an option that makes the most sense, not the one that's 100% true. For the most accurate results, don't overthink your responses. Go with options that you "feel" are the best.
Questions of the quiz
1

What is your favorite way to spend a day on Sesame Street?

Playing games and learning new things

Using my imagination to create new adventures

Sharing cookies and laughs with my friends

Relaxing in my trash can, observing the neighborhood

2

How do you approach a new situation?

With excitement and curiosity

With kindness and an open mind

With a laid-back attitude and a sense of humor

With skepticism and a witty remark

3

Choose a catchphrase that best represents you:

"I loves you!"

"I'm the one with a big heart."

"Me want cookie!"

"Scram!"

4

Which of these activities sounds most enjoyable to you?

Singing and dancing with friends

Exploring the world around me

Having a cookie party

Sharing my opinions on various topics

5

How do you handle conflicts with friends?

By talking and laughing together

By showing empathy and understanding

By making light of the situation and finding a compromise

By expressing my feelings honestly, even if it's a bit grumpy

6

What's your favorite thing to learn about?

Everything! I'm always eager to discover new things

Nature and the world around me

Delicious recipes and cooking techniques

Interesting facts and trivia

7

How do you react when someone is feeling down?

I try to cheer them up with my laughter

I offer a listening ear and a comforting presence

I bring some cookies to share

I let them know they're not alone in their feelings

8

What's your favorite Sesame Street song?

"Elmo's Song"

"ABC-DEF-GHI"

"C is for Cookie"

"I Love Trash"

9

How would your friends describe you?

Energetic and cheerful

Warm-hearted and imaginative

Fun-loving and easygoing

Sarcastic but caring deep down

10

What's your favorite way to express yourself?

Through song and dance

By telling stories and using my imagination

With humor and a bit of silliness

Through clever remarks and witty banter

11

Which of these hobbies do you enjoy the most?

Performing in front of others

Drawing or painting

Baking and trying new recipes

Solving puzzles or playing strategy games

12

Which type of movie do you prefer?

Uplifting and inspiring stories

Heartwarming tales of friendship

Fun and lighthearted comedies

Thought-provoking dramas with a twist

13

When it comes to teamwork, what role do you usually take on?

The enthusiastic and supportive member

The kind and helpful mediator

The fun-loving, stress-relieving teammate

The straight-talking, no-nonsense advisor

14

What's your favorite season?

Spring - everything feels new and exciting

Autumn - I love the changing colors and cozy vibes

Winter - perfect for snuggling up with cookies

Summer - I enjoy the warm weather and long days

15

How do you usually show your affection to your friends?

With big hugs and lots of smiles

By being there for them through thick and thin

Sharing my favorite treats and having fun together

By offering my honest opinions and advice