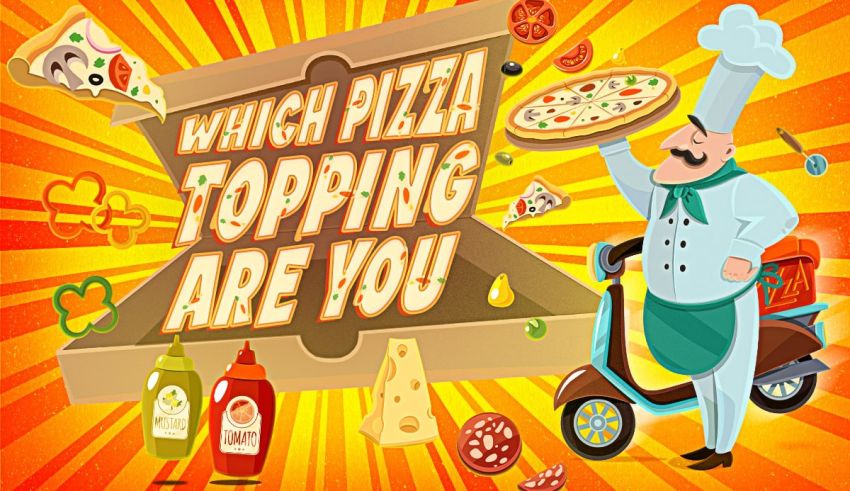 Pizza lovers, don't you wonder which pizza topping you are? Take this funnily accurate personality quiz to find out.
Pizza Topping Personality Quiz Explained
The Pizza Topping Quiz is a food personality test that matches your persona to one of the most liked or hated toppings for pizza in the US.
In case you wonder, there's actually a psychological correlation between your personality and what you eat. So, despite being an entertaining quiz, the Pizza Topping Test may actually reveal some specific aspects of your character—just saying.
| | |
| --- | --- |
| Pizza Topping | Personality |
| Pepperoni | Charismatic |
| Mushroom | Laidback |
| Extra Cheese | Fun-loving |
| Broccoli | Cautious |
| Pineapple | Bold |
For more foodie stuff, check out "What Food Am I?" next.
Your Personality Reveals the Pizza Topping You Are
In many cultures, foods are symbols of human features. Think vegetables. They've always been associated with health and, in some cases, even wisdom. So, with a little bit of back-engineering, your personality can expose the pizza topping you are.
Previously, we asked people love questions and revealed how romantic they are based on the fruits they like. And it worked. But this time, we'll ask you psychological questions to discover the topping you are.
How to Know What Pizza Topping You Are
One easy way to find your pizza-topping persona is by personification. What characteristics would pepperoni have if it was a human? What about mushrooms? These are the type of questions that expose your inner topping.
·       Pepperoni
Currently the most popular pizza topping in the US, Pepperoni represents a well-liked, cool, and relatable personality. People who match this topping are charismatic, sociable, and—obviously—hot.
·       Mushroom
The third most-liked pizza topping among Americans, the mushroom is a symbol of easygoingness and a laid-back lifestyle. Those with a mushroom persona live in the moment, value peace of mind, and give off positive vibes.
·       Extra Cheese
Although a combination of too unpopular terms, extra and cheese, this topping tops most Americans' favorite list. Personality-wise, however, extra cheesy people are spontaneous, fun-loving, and loud.
Are You a Popular or Unpopular Pizza Topping?
The good news is that the Pizza Topping Personality Quiz has amusingly accurate results. But the bad news is that it includes some of the most hated toppings, like anchovies and pineapple.
So, the big question is, are you a beloved or despised pizza topping?
If you're lucky, the quiz might also expose your pizza style and crust. So, there's a possibility you match a perfect pizza pie—or turn it into an unwanted order.
How to Play?
Playing personality quizzes is straightforward: Choose the option that's true about you—or you relate to—and select "Next." Unlike trivia quizzes, personality tests have no right or wrong answers. But the questions are in forced-choice format. The point is to push you to choose an option that makes the most sense, not the one that's 100% true. For the most accurate results, don't overthink your responses. Go with options that you "feel" are the best.
Questions of the quiz
1

Describe pizza with one of these words.

Unhealthy

Delicious

Addictive

Fascinating

Orgasmic

Fine

2

When do you usually order a pizza?

When I have absolutely no other options.

When I'm Netflixing or hanging out with friends.

When I want to celebrate.

When I'm hungry but too tired to cook.

When I want to have fun.

When I'm looking for some diversity in my diet.

3

Which one sounds like the perfect drink pair for pizza?

Water or diet coke

Iced cola

Beer

Wine

Anything but water

None

4

Philosophically speaking, should pizzas go modern, or do you prefer them traditional?

I'm not sure. But I'm fine with modernism.

I kind of like both modern and traditional stuff.

I prefer traditional pizzas. F**** modernism.

Who cares? I just want to eat something delicious.

Only a psychopath would like their pizza "modern."

I'd say the pizza industry must go modern.

5

Your partner snatched your last slice of pizza. Now what?

That's fine. I'll let them have it.

I'd be pissed. But whatever.

That's the declaration of war. I'm going crazy.

I'd ask them to put it back before I do something stupid.

I'd stop talking to them until they bought me more pizza.

I don't care. I don't like pizza that much anyways.

6

Choose a pizza sauce that's heavenly delicious.

Marinara Sauce.

White Garlic Sauce.

Pesto

Garlic Ranch Sauce.

Buffalo Sauce.

Hummus.

7

Choose one of these erotic quotes but make it about pizza.

Stop teasing me.

I love the way you're dripping.

Let me taste you real quick.

You smell yummy.

Just sit on my face already.

I don't get these quotes.

8

How often do you eat frozen pizza?

Rarely or never.

Often.

It depends.

Every week or so.

All the time.

I hate frozen pizzas.

9

How would you feel after binge-eating a ton of fast food?

Guilty and depressed.

I would feel calm and satisfied.

I'd feel bad, but I'd still want to eat more.

I'd feel sad, or maybe a bit stressed out.

I'd feel proud of myself.

I'd never do that. I'm not stupid.

10

Weird pizza toppings should be banned. (Agree or disagree?)

Not really. Let people enjoy their meal.

Maybe. I mean, that's not a bad idea.

Yes, illegalize things like pineapple.

I wouldn't say ban them. But they need to go.

Put socks on your pizza. I don't care.

NO! I love weird and creative toppings.

11

What do you call people who hate pizza?

Just people. Let's not make it a big deal.

IDK what they are. But I can't relate to them.

They are freaking aliens. Jail them.

I used to be one of them. So, I kind of get it.

I call them "stupid." Yes, that's the word.

I'm one of them. So, please mind your own business.

12

Do you enjoy the process of ordering pizza?

Not really.

Sometimes.

Yes, I love that.

I hate it. I'd rather do it online, like in an app.

I'm an expert at ordering pizza.

I'm a rookie who can't place an order.

13

Pizza is a Super Bowl meal. Agree or disagree?

Maybe. But not for me.

It depends on who's watching the game with me.

Yes, facts. Pizza is the best Super Bowl meal.

I prefer burgers when it comes to Super Bowl.

Only if we're pairing pizza with beer.

No. Not at all. It's not a Super Bowl meal.

14

What's your favorite pizza style?

New Haven-style pizza.

Chicago deep-dish pizza.

New York-style pizza.

Neapolitan pizza.

Detroit-style pizza.

None of them.

15

Best pizza franchise in the US?

Domino's

Pizza Hut

Papa John's

Little Caesars

Papa Murphy's

None of them.

16

How often would you eat pizza if it had zero calories?

Once every other month

Once a week

Once a day

Once a month

Three times a day

Once a year or so

17

What are your thoughts on vegetarian pizzas?

I love them.

I like the Italian ones.

I can't relate to them.

I can't say I support the idea.

I think it's silly.

I love the idea! It's innovative.

18

Pick a word that describes your default mood.

Peaceful

Positive

Tired

Nervous

Energetic

Sad

19

Which app is like your second home?

Instagram

Twitter

Snapchat

Facebook

TikTok

I'm not on social media

20

Final question: what's the ideal pizza spice?

Thyme

Oregano and basil

Paprika

Onion flakes

Garlic powder

Fennel