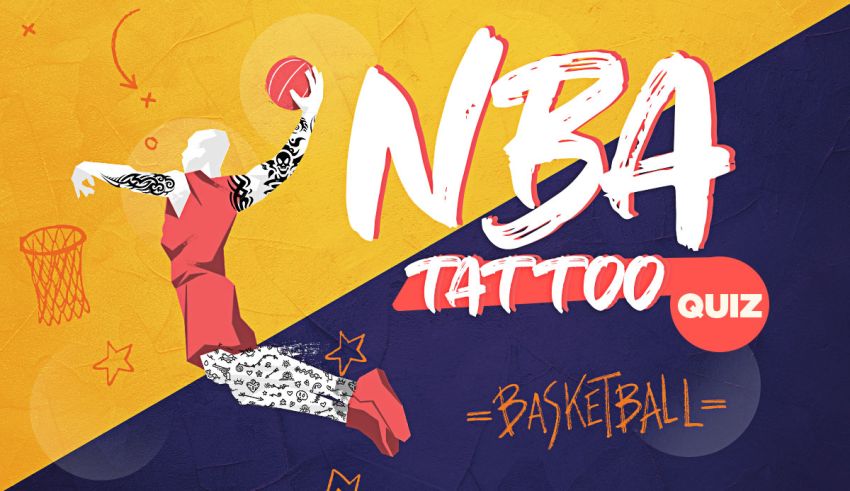 Can you beat this NBA Tattoo Quiz? We doubt that. You have to guess all the 20 players by their inks. Sounds impossible? Wait to see the last three questions.
Guess the NBA Player by His Tattoos
The trend of guessing the players by their tattoos has been around for a while. But this 2022 quiz is the ULTIMATE one. We created a challenging test that gets harder with each question. Less than 35% of the participants manage to beat the game and get a perfect score.
If you are into basketball trivia questions, check out our trending Amazing NBA Quiz, too. It is an excellent tool to expose fake fans.
| | |
| --- | --- |
| NBA Player | Famous Tattoo |
| Kobe Bryant | Venessa |
| Chris Anderson | Free Bird |
| Stephen Curry | A (for Ayesha) |
| Kyrie Irving | F.R.I.E.N.D.S |
20 Challenging Questions
The NBA Tattoo Quiz consists of twenty image-based questions. The goal for you is to guess who the player is by looking at their inks. But to make things a bit more fun, we divided the questions into two categories. (See below).
You are going to start with a classic game. We show you the pictures of athletes' tattoos, and you pick the right names.
For the last few questions, you need to identify the meaning behind famous NBA tattoos. This is where the real fans come into play and shine.
A Fun Scoring System
You are going to receive a score on a scale of 0 to 20. The more correct answers you have, the higher your score is (obviously). But the thing is that the results reveal what type of NBA fan you are. Read on for more info on that.
Fun Facts About NBA Tattoos
Players of the National Basketball Association have interesting stories behind some of their tattoos. So, we wanted to share some of them with you. Each question on the quiz includes a 'Reveal Text,' offering fun facts and trivia on that particular athlete's inks.
What Do Your NBA Tattoo Quiz Points Mean?
This is not going to be a casual test. Your correct answers will prove if you are a real NBA fan—or expose you if you are a newbie. Here is what your results mean.
0-5 pints: Newbie
Scoring less than five in the NBA Tattoo Quiz is not a piece of good news. It indicates that you are not following the league avidly. Yes, you do not have to memorize players' inks to become a real fan. But common, the first ten questions of the test are easy-peasy. So, having five or fewer correct answers is unforgivable.
The good news is that you can retake the quiz and try your luck as many times as you want.
6-10 points:
Guessing at least six NBA players by their tattoos is not that bad. But it does not make you a super-fan. The first few images are of ridiculously famous basketball players. So, such a score is not something to be proud of—unless you are a random dude taking the quiz for fun.
11-15 points:
Any score between eleven and fifteen is safe. It does not mean you are an avid fan. But it keeps you in the competition. TBH, most participants end up scoring as high as fifteen. So, you are going to be in the majority—which is somewhat relieving.
16-18 points:
You are an avid NBA fan. Although it is not the perfect score, having at least sixteen correct answers is a lot. Few people manage to see these numbers on their results. So, you can be proud of your knowledge—or perhaps luck. But we want to know that even such a high score does not make you the perfect national basketball league fan. (Sorry).
19-20 points:
That's it. You ARE the perfect NBA fan. You would be surprised how rare it is for the participants to score as high as nineteen on the quiz. The fact that you can literarily guess any player by his tattoos is mind-blowing. And it is something you should be proud of. To us, you are an expert-level basketball fanatic.
What is the Point of Taking an NBA Tattoo Quiz?
It is both fun and challenging. The questions are designed to keep you entertained. But the results indicate some serious info about you as a basketball enthusiast. Many take the quiz to prove they are real fans and not a casual viewer. Others just want to enjoy the ride and try their luck.
If this is not your thing, head to our NBA Player Quiz. It is a personality test that matches you to one of the top players in the game. And the good thing is that it is stress-free because there are no right or wrong answers.
Disclaimer
QuizExpo does not own any of the images used in the 'NBA Tattoo Quiz.' Please, contact us if you own any of them, and you want them to be removed.
How to Play?
A trivia quiz comes with right and wrong answers. You receive one point for each correct response—but no negatives for the incorrect ones. Take your time and read the questions carefully because some might be trick questions. Choose an option and lock it in by tapping "Next." Lucky for you, the trivia quizzes have instant results. You see if your response was correct immediately. (Green is good, red is bad.) Even better, you can learn more about the topics with the "answer reveals," the fun-fact snippets that appear after each question.
Questions of the quiz
1

Let's start with a simple one; whose hand is this? (common).

Kobe Bryant

LeBron James

Russell Westbrook

2

Okay, here's another easy question. Which NBA player has a superman logo tatted on his arm?

Nathan Jawai

DeSagana Diop

Greg Oden

Shaquille O'Neal

3

Who has a tattoo of Chucky and Jason's mask (from Friday the 13th) on his leg?

Ky Bowman

Luke Kennard

Marcus Morris Sr.

None

4

Which NBA player has a tattoo of an angel on his arm?

Hedo Türkoğlu

JJ Redick

Dirk Nowitzki

5

Which NBA player has this realistic tattoo?

Austin Rivers

Kevin Porter Jr.

D. J. Augustin

6

Which NBA player has a tattoo of Michael Jackson on his leg?

Marvin Bagley

Kelly Oubre

Victor Oladipo

Lou Williams

Aaron Gordon

7

Who has a tattoo that says "No Love?"

Devin Booker

Mikal Bridges

Abdel Nader

Jason Kidd

8

Which NBA player arm is this? (He has the Ford logo tatted on his arm).

Deni Avdija

Kyle Kuzma

Jay Huff

9

Which NBA player's arm is this?

LaMarcus Aldridge

James Harden

Kevin Durant

10

Who has a 505 and Lincoln tattoo on his neck?

Willie Cauley-Stein

DeShawn Stevenson

11

Which NBA player has tattooed the words 'Young Money' on his back?

J.R. Smith

John Collins

Bam Adebayo

Brandon Jennings

12

Which NBA player's tattoo is this?

John Collins

DeMar DeRozan

Javonte Green

13

Which NBA player has a neck tattoo that says, "Swish?"

JR Smith

Collin Sexton

None

14

Who has a tattoo of the lion king on his arm?

Jordan Clarkson

LaMarcus Aldridge

DeMar DeRozan

None

15

Which NBA player has a leg tattoo that says, "Hussle Man?"

Latrell Sprewell

Jayson Tatum

Dennis Rodman

16

Which player has tattooed a microphone on his back?

Victor Oladipo

Lou Williams

Damian Lillard

Aaron Gordon

17

Whose leg is this?

Nigel Williams-Goss

Kyrie Irving

18

Guess the meaning; what does the WB tattoo on Carmelo Anthony's shoulder mean?

It's a tribute to Warner Bros. Space Jam movie

It stands for West Baltimore

None

19

What does the X tattoo on David West's arm mean?

He has never revealed it

It means he got the X factor

It stands for Xavier!

20

What does Steven Adams's "Funaki" tattoo mean?

It was a part of his name

It means warrior in Māori

Its meaning is unclear