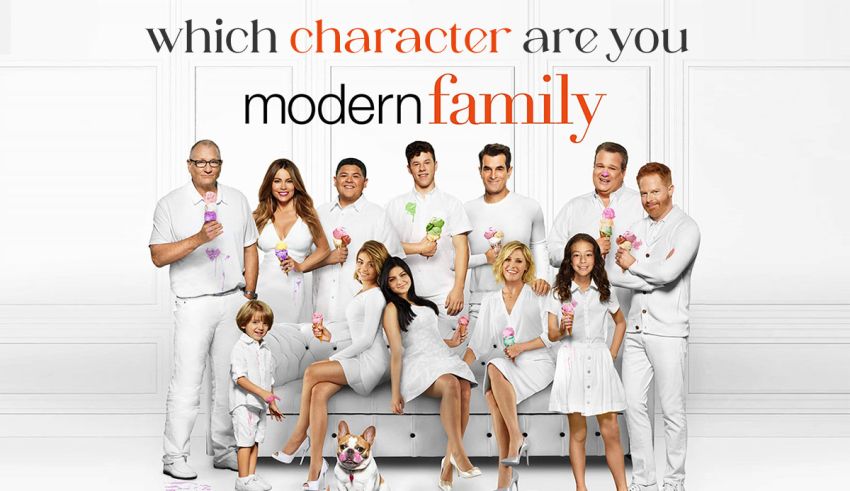 This personality quiz reveals which Modern Family character you are. Are you Gloria Delgado, Phil Dunphy, Cameron Tucker, or else?
The Modern Family Personality Quiz Explained.
It's a 20-question test that suggests which Modern Family character you resemble IRL.
Modern Family is an American sitcom about three Californian families struggling with their modern-day lives.
Much like the Community Quiz, the current test uses your Myers-Briggs type to find your counterpart.
This Quiz Reveals Your MBTI Match in the Show.
MBTI is a personality typology that could accurately match your characteristics to that of the Modern Family characters. It's the same process we use on this page.
If you already know your type, use the following table to find your lookalike.
| | |
| --- | --- |
| Character | MBTI |
| Haley Dunphy | ESTP |
| Alex Dunphy | ISTJ |
| Phil Dunphy | ENFP |
| Claire Dunphy | ESTJ |
| Gloria Delgado | ESFJ |
| Manny Delgado | INFJ |
| Cameron Tucker | ESFJ |
| Mitchell Pritchett | ISTJ |
| Dylan Marshall | ISFP |
| Luke Dunphy | ENTP |
How to Know Which Modern Family Character You Resemble?
The show's characters are so relatable that finding the one you resemble shouldn't be a challenge.
The following guides could help you discover your comfort character(s).
#1. Jay Pritchett:
As a war veteran, Jay is rigid and strict. He values his work ethic and is exceptionally hardworking. But you cannot ignore his manipulative and ignorant aspects as a father.
#2. Gloria Delgado:
A loud and sassy lady, Gloria is expressive, outspoken, and fiery. She has a strong personality which makes her seem bossy at times. But Gloria is a compassionate mother who'd do anything to protect her family.
#3. Claire Dunphy:
Another strong character, Claire, is strict and competitive. Her perfectionist side contributes to her being a controlling mom. And her tough upbringing has made her an anxious person.
#4. Phil Dunphy:
Trying to be a cool dad, Phil is easygoing, supportive, and kind. His goal of being a good father drives him to be a better person. But he's proven to be an inexperienced parent numerous times.
#5: Haley Marshall:
One of the beloved Modern Family characters, Haley, has gone through a lot. She started as a reckless, rebellious kid who cared none for social standards. But she developed into a responsible mom and a lovely wife.
A Trendy Dad, a Troubled Mom, or a Troublemaker Kid?
Modern Family is the story of moms, dads, and kids. But the question is, which one are you?
Do you have a boomer dad's persona? Are you a motherly figure worried about your family? Or are you a troublemaker child complaining about your parents?
Your Modern Family character reveals the answer. It determines what kind of a family member you'd be if you lived in the Californian universe of the Pritchett, Delgado, and Dunphy.
Start the quiz to meet your soulmate character instantly.
Disclaimer
ABC owns all the images in the Modern Family character quiz, and QuizExpo intends no copyright infringement.
How to Play?
Playing personality quizzes is straightforward: Choose the option that's true about you—or you relate to—and select "Next." Unlike trivia quizzes, personality tests have no right or wrong answers. But the questions are in forced-choice format. The point is to push you to choose an option that makes the most sense, not the one that's 100% true. For the most accurate results, don't overthink your responses. Go with options that you "feel" are the best.
How many questions does this quiz have?
20 questions
How long does it take to complete this quiz?
9 minutes
Questions of the quiz
Question 1

Which recurring Modern Family character do you dislike?

Sonia Ramirez

Pameron "Pam" Tucker.

Gil Thorpe

Clive Bixby.

Andy Bailey.

Sal.

Amber LaFontaine.

Pepper Saltzman.

Question 2

What kind of parent would you be if you lived in the Modern Family universe?

Super-kind

Emotional

Modern.

Super-cool.

Easygoing.

Strict.

Protective.

Responsible.

Question 3

How would you describe your sense of humor?

Cute jokes only.

Deep, dark stuff.

Sarcastic remarks that no one gets.

Cool, trendy, modern jokes.

Silly stuff.

Mean jokes and roasts.

Dirty jokes.

Good old dad jokes.

Question 4

What is your favorite subject?

Cooking.

Politics.

Science.

Technology.

Entertainment.

Business.

Fashion.

Military.

Question 5

Imagine Gloria is yelling at you furiously. How'd you react to that?

I'd run away.

I'd remain calm and ask her to be polite.

I'd ignore her.

I'd try not to kiss her because that sh** is too sexy.

I'd remind her that she shouldn't mess with me.

I'd yell louder and show her who's the real boss.

I'd call her a parrot and mock her accent.

I'd wait for her to calm down so we could talk.

Question 6

What kind of dress would you wear to Mitchell and Cameron's wedding?

Something colorful and shiny.

Something casual.

IDK. Whatever I get my hands on.

A silly dress (just to mess with them).

A dark and gothic dress.

A long red dress.

Something expensive and sexy.

A black suit. What else am I supposed to wear?

Question 7

What would you prioritize in life if you were an actual Modern Family character?

Love.

Success.

Education.

Parenting.

Partying.

Money.

Staying in shape.

Living a peaceful life. That's it.

Question 8

What would you do if your crush said something mean to you?

I'd never talk to them again.

I'd cry it out.

I'd pretend I'm fine.

I'd try to make them fall in love with me.

I'd give them a lesson.

I'd be mean to them, too.

I'd blackmail them.

I'd just deal with it and move on.

Question 9

How would you react if your best friend beat you in a competition?

I'd feel happy for them.

I'd feel fine. You can't win everything in life.

I'd try harder to beat them the next time.

I'd try to prove that they've been cheating.

I'd shout my mouth and forget about it.

I'd do everything in my power to avenge my loss.

I'd never talk to that bit** ever again.

I'd work hard and practice to improve my skills.

Question 10

What would it be if you had to change one thing about Modern Family?

I'd add more romance.

I'd add more plot twists.

I'd reduce the silly humor.

I'd increase the silly humor.

I'd add more steamy, adult stuff.

I'd remove most of the sexual stuff.

I'd remake it from scratch.

I wouldn't change anything about this show.

Question 11

Fill in the blank. My favorite characters are often the ______ ones.

Empathetic

Considerate

Smart

Sexy

Unapologetic

Independent

Rich

Tough

Question 12

Which one is a huge turn-off or no-no to you?

Cruelness

Rudeness

Stupidness

Dullness

Cowardness

Childishness

Poorness

None of them.

Question 13

What kind of person attracts you?

Protective.

Respectful.

Smart.

Confident.

Unpredictable.

Nice.

Successful.

Polite.

Question 14

Which one could be your dream job in the Modern Family universe?

Ice cream truck driver.

University professor.

Scientist or inventor.

Strip club manager.

Lion tamer.

Finance adviser.

Fashion designer.

Military commander.

Question 15

Stella is missing. What now?

We need to call 911.

We need to print some missing posters.

We should wait for him to come back.

We should get another dog to make her jealous.

We should go out and look for her like a search party.

We should hire an expert to track her down.

We should forget about her.

We should rent a helicopter to look for her.

Question 16

You see Luke crying in a corner. What do you do?

I hug him without exchanging a word.

I get him a coffee and ask him what's going on.

I offer him some scientific solutions to ease his pain.

I tell him about my saddest experiences to soothe him.

I ask him to drink and get drunk with me.

I remind him that he can conquer all the obstacles.

I ask him to man up and stop crying.

I ignore him and let him cry it out.

Question 17

Choose a silly alternative title for Modern Family.

Live, Laugh, Love.

The State of Marriage.

Our Stupid Modern Life.

Remember That Time When Modernism Hit Our Family?

Our Family Is a Mess.

Sometimes, I Just Hate My Family.

My Family Gone Modern.

None. I prefer the original title.

Question 18

What do you love about Modern Family?

The relationships.

The plot.

The characters.

The gags.

Meh, IDK.

The strong female/male characters.

The styles.

The relatable struggles.

Question 19

How many seasons of the show have you watched?

I've watched all of them

9-10

7-8

5-6

3-4

2

1

I've only watched a couple of episodes.

Question 20

How old were you when you watched Modern Family for the first time?

14 or younger

15

16

17

18

19

20

21 or older