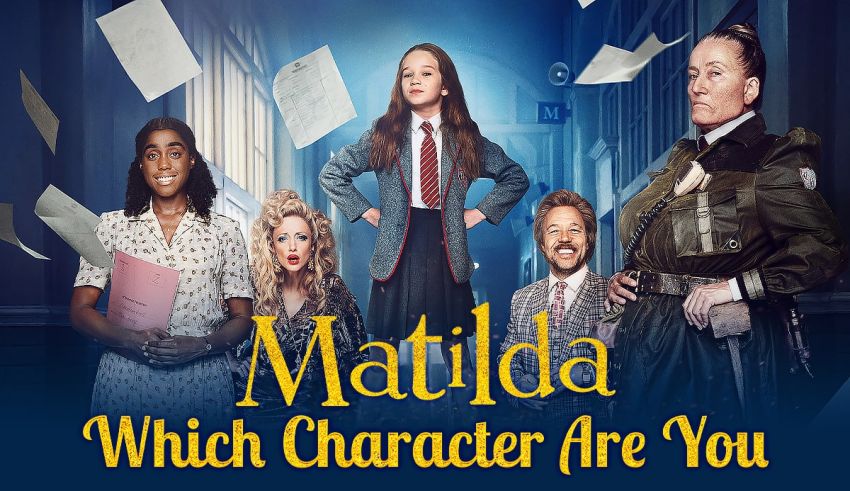 This quiz will reveal which Matilda character you are by simple personality questions. Are you Mrs. Phelps, Miss Honey, Wormwood, Matilda, or else?
There is an unwritten rule in the world of cinema that every year, a musical manages to reach the level of trends of the year. A few years ago, the movie La La Land succeeded in doing this, and a little later, it was Hamilton Theater that achieved this success. The same thing happened this year, and the musical film Matilda, which was released recently, was able to place its foot in the world of trends.
A film that narrates a very interesting story that has been released in different forms over the last several years.
The film is based on an old book and play but has managed to adapt well to modern elements. In the following, we would like to point out which of the characters in the movie Matilda you are. But before saying this, it is better to talk a little about this work.
Productions
It may be interesting to know that Matilda was first confirmed in 2013; This movie was supposed to be made based on Roald Dahi's play, and there was no news of making this movie until 2022. Of course, when this movie was approved, we were not going to see a musical movie.
But the director of this work, Matthew Warchus, decided to make this movie in musical style. According to the final result that we saw from this film, it seems that the decision of the director of Matilda to use the musical style was one of the best possible choices.
In the end, it was the Netflix network that took the necessary funds to produce this film, and finally, this film became a reality in 2022. A film that has a very good acting team, and the sequences of this film have been implemented one after the other in the best possible way.
This is a musical movie, and don't expect to see a simpler series like Heartstopper. Everything is implemented in this completely magical work.
Storyline
The story of this movie is about a girl named Matilda who has a lot of intelligence. Of course, because of the problems in his life and the restrictions of his family, he does not go to school. He goes to the library every day and talks to the librarian there.
She has tan hair but later changes her hair color to green. Matilda's father is against her going to school, and every time Matilda brings home a book, her father tears it up and sends her to her room. Matilda is highly intelligent but does not have a comfortable life where she can pursue her interests.
Most of the movie takes place in a school where Matilda and other students are learning. New challenges and adventures come her way that makes her life difficult but give her a chance to discover her full potential.
Characters
Although the characters of this musical film are a nod to the real world, they can be completely surreal, which is also due to the charm of the story. In the following, we will briefly introduce the characters of this movie.
Matilda
As we said before, Matilda is the main character of this movie who has very high intelligence and comes to a school where she has to measure her very high intelligence.
Miss Honey
He is one of the teachers at this school who shows great interest in Matilda. Miss Honey is a very kind teacher and helps the school children overcome challenges.
Mr. Wormwood
He is Matilda's father, and there is a big difference between this girl and her father. Unlike Matilda, he does not pay much attention to science and knowledge and spends most of his time watching TV shows.
Mrs. Phelps
The city librarian helps the main character of this movie a lot and sees a lot of potential in Her. She is very kind and is considered one of the most lovable characters in the movie.
So Let's find out, Which Matilda Character are you?
Are you ready for this quiz? By answering the 20 questions we have asked you, you will find out which of the characters in the movie Matilda you are. Good luck. Let's go
How to Play?
Playing personality quizzes is straightforward: Choose the option that's true about you—or you relate to—and select "Next." Unlike trivia quizzes, personality tests have no right or wrong answers. But the questions are in forced-choice format. The point is to push you to choose an option that makes the most sense, not the one that's 100% true. For the most accurate results, don't overthink your responses. Go with options that you "feel" are the best.
Questions of the quiz
Question 1

Are you an optimist?

I am more realistic

I am a very optimistic person

I am a pessimist

I am optimistic or pessimistic at different times

Question 2

Are you punctual?

Yes, I am always punctual

Sometimes I may lose track of time

No, I never care about being on time

It wasn't like that in the past, but now I am a punctual person

Question 3

Do you get angry a lot?

it depends. I get nervous if someone bullies me

Sometimes I can get nervous

I am always nervous. Especially if someone disagrees with me

I never get nervous and I control my nerves

Question 4

Do you swear a lot?

No, I keep my mouth clean

I barely do it

I do it regularly

Shut the **** up!

Question 5

How do you deal with your unhappiness?

I try to keep my head warm by working and studying

I try to empathize with others

I distract myself by watching TV

I try to put someone else out of trouble

Question 6

Do you help your friends?

It depends if they help me too

Yes, I always help my friends

No, I only care about myself

I care very little about people

Question 7

Do you judge others easily?

Sometimes yes

No, everyone has their own past and life

Yes, I judge everyone

I used to do this but not now

Question 8

Do you have a big secret in life?

Yes, I have a very big secret in my life

My secret? No! But I know secrets from others

I have no secrets and I don't know anyone's secrets

I have secrets, but they are not that big

Question 9

Do you lie a lot?

If I feel like I'm in trouble, I might lie

I never lie. Because it is not right

I always lie

What is the point of lying? I am a bad liar

Question 10

What is your Favourite Colour?

Question 11

Do you have a big goal?

Yes, I want to be the best in my goal

I feel that I have reached my goal

No really! Life is not very important to me

I feel that I have not reached my goal. But I like that others reach their goals

Question 12

Are clothes and appearance important to you?

Sometimes it matters to me

I don't care at all

I care a lot about my appearance

Sometimes and for some people, I try to be nice

Question 13

What is your favorite food?

Question 14

do you talk a lot?

If it is in my field of expertise, I talk a lot

It depends on the person in front of me. I talk a lot with some people

Yes, I talk to everyone a lot.

No, I am not a talkative person at all

Question 15

Do you think too much?

Yes, I usualy think all day

Sometimes I think too much

No really! I like to distract my mind more

Yes, but I like to combine thinking with arguing

Question 16

Do you care about others?

If I love them, I care about them

Yes, I try to nurture them by helping them all

I only care about myself

I care about very few people, but I strongly support them

Question 17

Are you selfish?

It depends, sometimes I can be selfish

I am not selfish at all

I am completely selfish and my own interests are the first priority

I love the people around me and I want them to improve

Question 18

Are you a shy person?

I'm a little shy but I try not to be

Not with all people

I am not a shy person at all

I rarely communicate with people, but I'm not shy

Question 19

What is your best feature?

If I want to do something, I will go to the end

I try to help everyone be their best

I am the first priority for myself

I have lived a full life

Question 20

Do you like learning science?

It is not about loving; I was born with the potential to learn science

I am very interested in science, and I try to learn everything

not much; I do not care much about science

Yes, I like to transfer knowledge to others