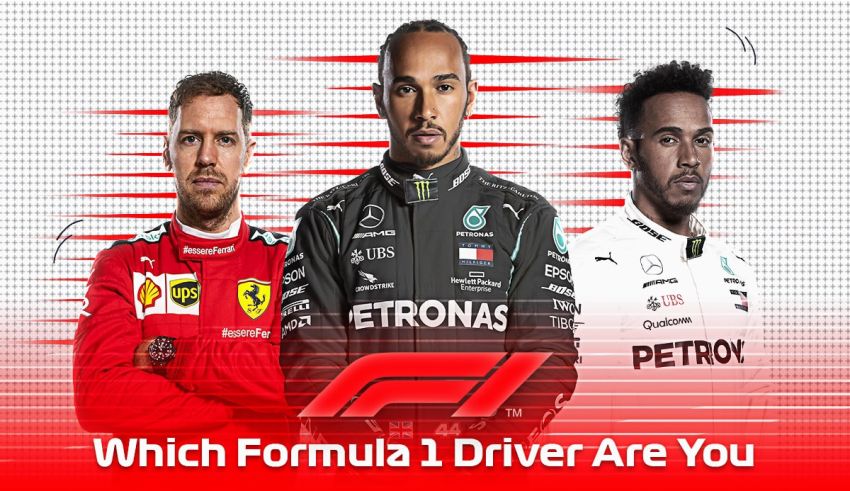 This quiz will match you to one of the Formula 1 drivers based on your personality, abilities, and lifestyle. Just answer 20 F1-related questions to find out.
Formula 1 is one of the multi-billion dollar sports that really can be exciting if you are into racing sports. There are multiple throughout the year, and each year, there are some drivers that become a total sensation and pull a miracle out of their sleeves.
There are some familiar faces in this sport, and also, there are some legends that no longer are in the scene of F1, but their legendary career is still considered to be the best among a lot of Formula 1 drivers.
But let's talk about the real question if you were in sports, Which Formula 1 Driver Are You? But first, let's discuss this sport real quick, shall we?
Class A
F1 is considered to be the highest class of international racing for formula racing cars. Because of the open-wheel architecture of these race cars, the race usually is more exciting and more expert than other kinds of driving races.
But it's not a sport that has been around for a couple of years, and the history of this sport goes back to the 1920s and 1930s when in Europe, people could make F1 cars which were very different from cars today, but the open-wheel architecture was still the main element back then.
Insiders
Throughout time, there have been a lot of companies and a lot of contenders that have been in the sports, but F1 was never been a crowded sport. Currently, there are 20 drivers divided into 10 teams in Formula 1.
Ferrari, Mercedes, Red Bull, and Renault are the current engine manufacturers that supply the teams and the drivers with their amazing technology, which is getting upgraded year to year, and every year, we can see an innovation that changes the face of sports for a long time.
Grand Prix
There is a lot of series of international formula car series that go on, and a lot of contestants are active in them. But the best drivers in the world currently are active in Grand Prix, which is the biggest event in F1 races.
But the Grand Prix doesn't always necessarily have to be about F1. other sports, such as Motorcycling or Sailing, are also in this series, and like the name, it's a grand series that includes many sports.
Grand Prix is a french word for the grand or big prize. Every competition can have a Grand Prix, but when we are talking about Grand Prix, we are mainly thinking about racing events, especially F1.
Technology
As we've said, the technology of Formula 1 cars is being evolved yearly. But this isn't something new. One of the biggest changes in this sport is because of the Bugatti manufacturing and architecture of new engines on Formula 1 to this day, Bugatti is still selling the architecture and improving it.
This happened in 1966 when Bugatti showed off their new car, and they choose Stirling Moss to be their driver he crushed the show with the power of the new Bugatti engine. But there is a big reason behind it.
This technology of Bugatti was called Mini Engine, which they were able to make the engines a little smaller but with the power of the bigger engines. This made the car a little lighter, and therefore, there was more speed to gain in the race.
Let's go; Which F1 driver are you?
It's time for the Formula 1 quiz. There are going to be 20 questions in this quiz, and after you answer all of them, we are going to tell you which one of the Formula 1 drivers is similar to you if you were an F1 driver yourself.
Be sure to check out our other quiz, What Car should I buy after this? Good luck with the quiz.
How to Play?
Playing personality quizzes is straightforward: Choose the option that's true about you—or you relate to—and select "Next." Unlike trivia quizzes, personality tests have no right or wrong answers. But the questions are in forced-choice format. The point is to push you to choose an option that makes the most sense, not the one that's 100% true. For the most accurate results, don't overthink your responses. Go with options that you "feel" are the best.
Questions of the quiz
1

In a racing match, you will drive:

Carefully

Carelessly

With a lot of analyses

Somewhere in the middle

2

Do you like sports car except F1?

Yes, I do

I could say

Not that much

Not at all

3

Which brand do you prefer?

Red Bull

Ferrari

Mercedes

Renault

4

How do you celebrate winning a Grand Prix championship?

With the fans

Back at home

A big party in a mansion

Alone with a trip vacation

5

When you start something:

I usually get success in every stage

I usually start good but fail in the end

I usually fail at the start but am victorious in the end

Somewhere in the middle

6

Do you enjoy playing with RC cars?

Yes, I do

I could say

Not that much

Not at all

7

Are you into getting into Formula 1 from young age?

Yes, I am

I could say

Not that much

Not at all

8

What language do you speak?

English

French

German

Others

9

Can you ride a motorbike?

Yes, I can

I could say

Not that much

Not at all

10

Which one is your specialty hand?

Left hand

Right hand

Both hands

11

Do you enjoy Karting?

Yes, I do

I could say

Not that much

Not at all

12

Do you read and study about the tracks?

Yes, I do

I could say

Not that much

Not at all

13

What is the main reason you want to be a Formula 1 driver?

Because I love racing and driving

I really like this sport

Because of the money

I don't Know

14

What number do you like more?

15

What is your favourite colour?

16

Do you like collecting cars?

Yes, I do

I could say

Not that much

Not at all

17

Do you care about breaking records?

Yes, I do

I could say

Not that much

Not at all

18

Do you likely to crash your car?

Yes, I do

I could say

I don't think so

Not at all

19

How can you injure yourself as a driver?

Crashing my car

Injury in playing football

Just a drunken mistake

I don't injure myself

20

Do you plan to retire at young age?

Yes, I do

I could say

Not that much

Not at all