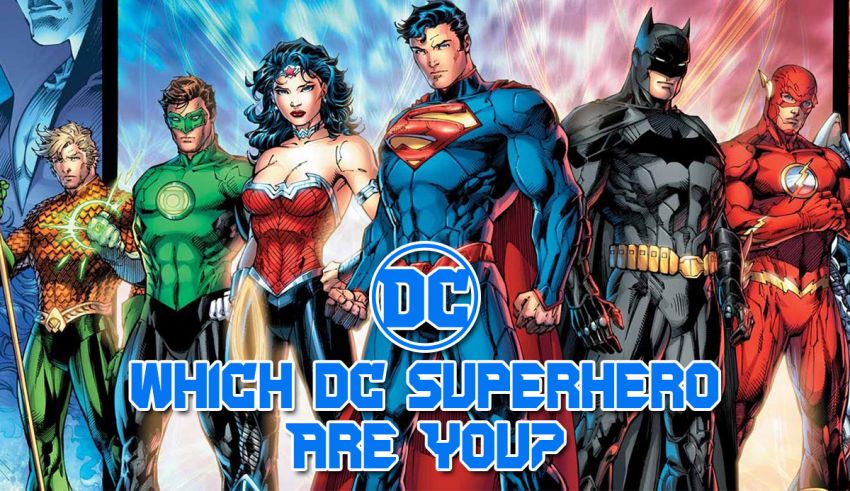 Are you asking yourself, "Which DC superhero am I?" Take this comic book quiz that reveals if you are Superman, Batman, Aquaman, The Flash, or else in no time.
An Interplanetary DC Quiz to Reveal Your Superhero Match
The set of questions on this test match your personality to one of the famous DC protagonists. The goal is to get to know your persona type to match it with the most similar superhuman in the Multiverse.
If you are into infamous comic book characters, take our controversial quiz, "Which Villain Are You?" Here, you are only matched with the good guys and heroes.
Find out which hero you resemble.
You probably wonder which superhero you are out of all the 10,000+ DC characters if you are on this page. The good news is that the quiz answers that question right away. You find your 10/10 matching personality in less than 5 minutes. And you can share the results with others—which is a useful feature for real-deal fans.
Meet your nemesis!
If you were a DC superhero like Superman, who would be your #1 enemy? That is a type of question our test answers accurately. We analyze your characteristics to see which of the bad guys in the Multiverse would hate you. It's a cool feature because we do not offer generic answers based on the comics. So, you may match Batman in the test. But it would not guarantee that your nemesis is Joker. The answer depends on your character.
Get to know your superhero team.
Okay, you may take the DC quiz and find out which superhero you are right away. But wouldn't it be even better if you knew which team would recruit you? Think about it. Would you be a Justice League member or a part of Green Lantern Corps? Or maybe even a classic team like 'The Justice Society of America,' huh?
An interesting feature of the test is finding the right superhero team for your personality. This has never been done before, and no other online DC Quiz would do it for you. (Keep that in mind).
Learn more about your personality.
The premise of the test is to answer questions like, "Which DC superhero am I?" But we wanted to make the results even more profound. That is why the editors included a brief but comprehensive character breakdown to shed some light on your persona. It helps you understand why we think you are similar to a particular superhero and how you should feel about it.
How to Know Which DC Superhero You Are? (Without a Test)
Taking the quiz is only one way to find out which DC Multiverse hero you resemble. Another method is to read all the individual character descriptions to decide which one is similar to you. It is not an efficient technique. But some fans prefer to do the matching process manually.
Here are some examples of hero personality breakdowns that can help you with discovering your counterpart.
#1. Superman.
Matching Clark Kent in the DC Quiz is an excellent piece of news. He is everything you would want a superhero to be. Calm, intelligent, gentle, and noble. Some even proceed to describe him as "PERFECT." Superman is a kindhearted guy who uses his god-like powers to help people in need. And he is always humble about his abilities.
Participants who are similar to Clark have a protective personality type. They prioritize taking care of their loved ones above all else.
#2. Batman.
Bruce Wayne is among the few DC superheroes who have no actual superpowers. He fights criminals and villains relying on his gadgets and physical strength only. Batman is a passionate guy who sees the good in everyone, believing even the bad guys deserve a second chance.
#3. Wonder Woman.
If you have a giving and caring character, WW is probably the best match for you. She is a compassionate person who is also a natural warrior. But Wonder Woman only fights for peace and dignity. She never hesitates to put herself in danger to save those in need. And that makes her one of the beloved Multiverse heroes.
#4. The Flash.
Being a socially awkward boy, The Flash might seem like an introvert at first. However, he is an intelligent guy with a heart of gold. He is extremely loyal to his friends and views them as a part of his family. Matching him in the DC Superhero Quiz indicates that you are an innovative, talented, and trustworthy individual.
#5. Or else.
You just read the character description of only four Multiverse heroes. But there are thousands of other characters that might be your actual match. We could not include all of them in the quiz. But the results here have all the protagonists that you would expect to see in a personality test! So, make sure to give it a try if you are looking for solid answers.
3 Characteristics That Makes You a DC Superhero
For many fans, the big question is, "Can I be a hero?" And, unfortunately, there is no clear way to answer that. But generally, people who have the following attributes have the potential to become DC Multiverse protagonists.
Virtue. A DC hero would never use their powers for personal gain or to harm others. Being a moral individual is one of the primary features you need to become a good guy.
Think of Batman, for example. He believes that you can save all the criminals and turn them into responsible citizens. And he even refuses to kill his enemies because of such a belief. That is the superhero spirit you need to be a candidate DC character.
Kindness. A hero's ultimate goal is to help and save people. Being a caring and giving person gets you one step closer to being a DC superhero. There is no room for selfishness and cruelty among protagonists of Multiverse.
Wonder Woman is an excellent example of such an attitude. She is kind and generous towards everyone, constantly trying to protect them from evil.
Heroism. Can you imagine a DC superhero who lacks bravery? Having a daring personality is a crucial attribute of becoming a protagonist. You do not need to get rid of your fears, though, because you need them to survive. But a good guy always manages to overcome their doubts, never allowing them to ruin the journey.
Disclaimer
QuizExpo does not own any of the images used in the 'Which DC Superhero Are You Quiz.' Warner Bros. Global Brands owns the said pictures.
Questions of the quiz
Question 1

What's the coolest thing about being a DC superhero?

Helping others

Having superpowers

Being invincible

Being unique

Having cool friends

I don't think it'd be a cool thing

Question 2

What would you do to a villain after capturing them?

Hand them to authorities

Humiliate them for a while

Teach them a lesson

Give them a second chance

Beat them up

Kill them

Question 3

What should be a hero's priority?

Caring for others

Improving their abilities

Protecting the world

Fighting crime

Trying not to be an a-hole

Survival, like everyone else

Question 4

Fill in the blank. I'd want to be the __________ superhero in the Multiverse.

Kindest

Most famous

Most reliable

Most useful

Most badass

Most advanced

Question 5

What pisses you off the most?

Cruelty

Disloyalty

Ignorance

Humiliation

Lying

Bad vibes

Question 6

What do you hate about the bad guys in comic books?

They hurt innocent people

They always bluff about their powers

They brag about killing others

They are so childish

They are too loud

They are stupid and unintelligent

Question 7

What's the best way of fighting crime?

Education

Laws

More policing

Giving criminals a second chance

Kicking criminals' asses

There's no way for that

Question 8

If you could create a team of DC superheroes, what would you call it?

Team World

Team Thunder

R.E.A.C.T

A.C.T

Cool Guys

Revenge Angels

Question 9

What's the challenging side of being a protagonist?

Responsibilities

Battles

Leaving your family behind

Losing friends

Waking up early

Everything about it is challenging

Question 10

How would you feel after killing your enemies?

Sad

Confused

Regretful

Broken

Fine

Happy

Question 11

What's a quality you look for when making new friends?

Vibes and connections

Sense of humor

Loyalty

Honesty

Reliability

I don't like making new friends

Question 12

As a DC superhero, how would you like to spend your free time?

Reading

Sleeping

Exercising

Learning new moves

Drinking

Inventing new gadgets

Question 13

Which of these Marvel characters could be your best friend?

Lois Lane

Patty Spivot

Steve Trevor

Alfred Pennyworth

James Gordon

None

Question 14

Would you like to fight the bad guys alone or with the help of your team?

With my team

It depends

Both sounds cool

I don't know

It doesn't matter

Alone

Question 15

Which of these villains do you dislike the most?

Doctor Poison

Joker

Doomsday

Darkseid

Scarecrow

All of them

Question 16

What is the key to becoming an unbeatable superhero?

Having trustworthy friends

Having a unique superpower

Having a big heart

Practice and hard work

Strong body

Advanced technology

Question 17

What can ruin a hero's life?

Selfishness

Stupidity

Power

Violence

Hatred

Loneliness

Question 18

Should a DC superhero get involved in politics?

No

I don't know

It depends

Maybe

Who cares?

Yes

Question 19

Choose a word that you think has a deeper meaning.

Love

Friendship

Protection

Forgiveness

Humbleness

Knowledge

Question 20

Final question; what's one thing every DC superhero should have?

A mask

A nickname

A pet

An assistant

A safe house

A weapon