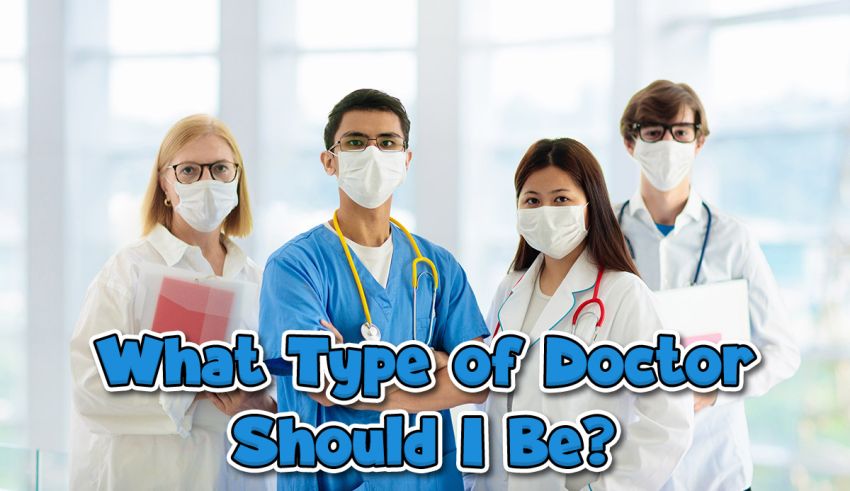 Are you a medical student asking, "What type of doctor should I be?" Take this quiz to find out! Should you be a neurologist, dermatologist, surgeon, or else?
How to Choose Your Medical Specialty
You can use various methods to decide what specialty works best for you. Consulting other students/doctors, conducting local research, and using online questionaries are only some of them. But the best approach is to create a strategy that includes all.
You need to talk to people who've already decided what type of doctor they should be, asking them about their likes and dislikes. You should also use clinical exposure to see what's your favorite specialty like in real life. You can also use online quizzes and tests (like the one here) to determine what type of doctor you should be.
If you're not sure if medical school is the best decision, take our other quiz, "What Should I Major in?" It can reveal if this is the right path or you're better off without it.
Method #1: Use the 6-Step Questionary
The most common way of choosing your medical specialty is by taking the following 6-question questionary.
What is your clinical interest?
Do you like anatomy, brain, bacteria, or something else? Your interests can show you the way. Becoming a surgeon might be a good option for an anatomy lover. But neurology is the best bet for one who is into the brain and how it works.
Do you like direct or indirect patient care?
Indirect patient care includes radiology and pathology. Any other medical field is considered direct care. You need to figure out if you want to be in touch with the patient population directly or not. That can help you answer questions like, "What type of doctor should I be?"
Would you prefer surgical, medical, or mixed specialty?
For many students, the big question is, "What type of surgeon should I be?" If that's the case, you're probably sure about working in the surgery room. But if you haven't made your decision yet, think about the different aspects of each specialty. Mixed fields include a bit of medical and surgical operations at the same time. Think urology, dermatology, or OB/GYN. Medical specialties, however, require direct care and relationship with patients.
What's your idea of work-life balance?
Before asking things like, "What type of doctor should I be?" think about how much you want to work. Some medical specialties, such as dermatology, require no urgent calls. But others might require you to be on call and ready to serve no matter what.
What's your ideal patient population and outcome?
Do you like to work with patients with minor diseases or challenging ones? The patient population you'd prefer to deal with plays a significant role in choosing the type of doctor. The outcome is also a crucial aspect to consider. Some fields require lots of hard work with little to no significant outcome. So, you have to be prepared for that.
Method #2: Take an Online Quiz
One way to determine what type of doctor you should be is by participating in specialty tests. The one on this page genuinely looks into your skills, preferences, and expectations to identify the ideal medical field for you. Here's how it works.
Analyze your skills.
All skills can be learned throughout your medical school journey. So, it should not be a primary factor in choosing your specialty. However, it's always smart to play to your strength and select a field that suits your current skillset. For example, if you're a friendly and outgoing person, becoming a family medicine is an excellent choice.
Review your preferences.
What do you expect your workplace to look like? Do you prefer it to be as challenging as the emergency room or as peaceful as a dermatology clinic? Your preferences play a significant role in selecting the right specialty. For example, if you hate blood, surgery is not an option, but dermatology could be.
Find out what type of doctor you should be.
The premise of the quiz is to reveal the best specialty for you—based on your likes, dislikes, and skill. By taking the test, you receive a reliable result that can give you an idea of what would work for you in your medical school journey.
Method #3: Choose Your Specialty Based on the Numbers
Students who ask, "What type of doctor should I be?" need to know the data and statistics. Medscape is one of the many websites that provide medical students with interesting information about different specialties and other aspects of living as a doctor.
Analyzing such data is one way to choose your field. For instance, if money is your biggest concern, you can choose a specialty that earns the most yearly salary on average. Here's what you need to know about this method.
Compensation
Some students want to know what doctor makes the most money and who gets the highest salary. And the answer can be used as a factor to select their specialty. Although it's not a good idea, many aspiring doctors choose their field based on compensation and financial aspects of the job. If that's the case, the following table can help you make the right decision.
| | |
| --- | --- |
| Doctor Type | Annual Salary |
| Orthopedics | $482K |
| Plastic Surgery | $471K |
| Otolaryngology | $461K |
| Cardiology | $430K |
| Dermatology | $419K |
| Radiology | $419K |
Source: Kaptest.com
Happiness at Work
The lifestyle of the specialty is another factor to consider when making a decision. Do you want to have a luxurious life outside your work, or would you prefer a modest lifestyle but spend happy hours in the hospital or clinic? According to Medscape's 2019 survey, dermatologists are the most optimistic doctors at work, whereas rheumatologists are the happiest specialists OUTSIDE work. The following table might help you figure out what type of doctor you should be to live a happy life.
| | |
| --- | --- |
| Specialty | Happiness Percentage |
| Dermatology | 43% |
| Ophthalmology | 42% |
| Allergy and Immunology | 41% |
| Orthopedic | 37% |
Work Schedule
According to Averagedoctor.com, "Emergency physicians work in shifts for 30-35 hours per week. But a primary care doctor working 9-5, 4 days per week plus one Saturday call day per month." So, the type of doctor you choose directly affects your work-life balance. And you need to pick a specialty that does not interfere with your desired or preferred lifestyle.
Why Taking an Online Quiz Makes the Most Sense?
No matter what method you use to choose your medical school specialty, taking, a quiz can be helpful. It helps you analyze your current desires, skills, and preferences from a different perspective. And it also allows you to focus on the essential elements of the decision.
Note: It's Actually NOT the Biggest Decision of Your Life
According to Medscape data, only 25.7% of medical students in 2018 didn't change their specialty and kept it as indicated on the MSQ. That means the other 74.3% DID change their field and pursued a different career somewhere during their education. So, don't overthink questions like, "What type of doctor should be?"
It's wise to do your research and pick the best option. But keep in mind that you'll have the chance to change your mind if necessary.
How to Play?
Playing personality quizzes is straightforward: Choose the option that's true about you—or you relate to—and select "Next." Unlike trivia quizzes, personality tests have no right or wrong answers. But the questions are in forced-choice format. The point is to push you to choose an option that makes the most sense, not the one that's 100% true. For the most accurate results, don't overthink your responses. Go with options that you "feel" are the best.
Questions of the quiz
1

What are your areas of clinical interest?

Skin

Infections and allergies

Organs

Anatomy

2

Do you want to be directly in touch with your patients, or do you prefer indirect care?

I'd prefer semi-direct interactions

I want direct interaction

I'd rather semi-indirect

I'd like indirect interaction

3

Which one do you think is more fun, surgical, medical, or mixed specialties?

None

Medical

Surgical

Mixed

4

Which one describes your ideal contact with your patients?

It depends

Long-term

Short-term

It doesn't matter

5

What's an ideal work-life balance?

60% life, 40% work

60% work, 40% life

80% life, 20% work

50% work, 50% job

6

What type of patient do you want to be in touch with?

Healthy and educated

It doesn't matter

Wealthy and mature

Famous and prestigious

7

What kind of treatment outcome would satisfy you?

Complete recovery of the patient

The closest thing we can have to a full recovery

A treatment that the patient is happy with

A treatment that enhances performance

8

What do you think is your strength?

Patience

Tolerance

Risk-taking

Concentration

9

Which one could be an ideal environment for your work?

My clinic

A hospital

Surgery room

Somewhere like a gym

10

What's a reasonable weekly work time?

40 hours or less

50 hours

60 hours

70 hours

11

How much control do you think you could have over your work time? (In percentage).

12

Your ideal monthly salary is ___________.

13

What do you think it would feel like to get an urgent call at midnight?

Terrible

Fine

Unacceptable

I don't even know

14

How stress-tolerant are you?

I hate stress

I'm pretty stress-tolerant

I'm stress-proof no matter what

I don't know

15

How vital is compensation to you?

Very important

Not my priority

I care about prestige more

It's my #1 concern

16

Would you rather have a challenging job that grants you a lavish lifestyle or a regular job with lots of leisure time?

I can't decide

A regular job

A well-paying, challenging job

I already have a lavish lifestyle

17

What's the age group that you'd like to interact with the most?

16-20

Any age group (doesn't matter)

30 or older

21-29

18

How big of a risk-taker are you?

I hate taking risks

Not that much

I'm always taking risks

It depends

19

You want to become a doctor because_________.

You like the job

You want to help others

You want prestige

You want to get rich

20

Final question; on a scale of 0 to 10, how comfortable are you to see blood? (0 means not comfortable at all).