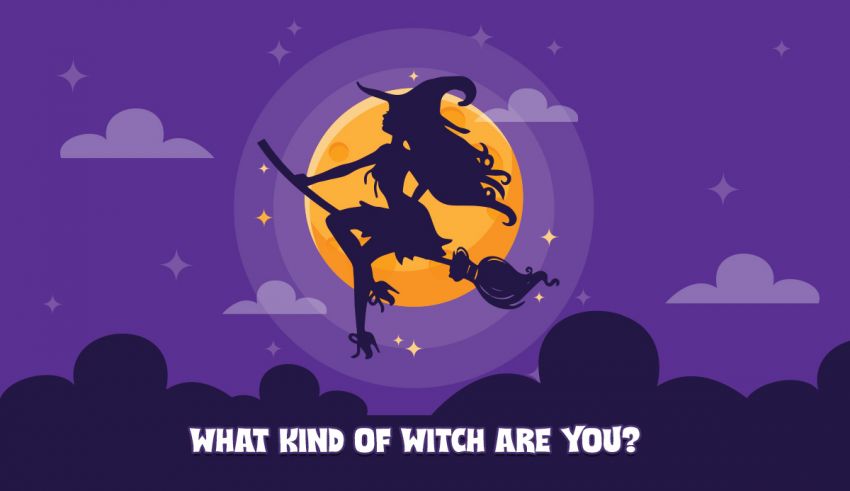 If you wonder, "what kind of witch am I?", this quiz has an answer for you. This 100% accurate test matches you to one of the 45 types of witches.
A Quiz to Expose What Kind of Witch You Are
We created a set of questions about your witchcraft abilities, skills, personality, and beliefs. The goal of the test on this page is to discover your witch type. You might be feeling like you have magical powers. And taking this quiz helps to prove that.
How Do You Categorize Different Types of Witches?
People be like, "what type of witch am I?" right after finding out there are hundreds of categories for witchcraft practitioners. But one question is that how are they categorized into different groups? In general, witches can vary by their techniques, traditions, skills, and even ideologies. And such variations lead to dividing them into separate groups.
By Witchcraft
The type of magic you practice can define your witch or wizard type. For instance, if you practice black magic, you are categorized in the group of dark magicians. Sometimes, you can answer a question such as "what kind of witch am I?" just by analyzing your witchcraft.
By Traditions
Magic power possessors might follow various traditions. For instance, Wicca is a type of ritual that includes many old methods and techniques. Participants of Wicca are usually called traditional witches. So, another way to answer "what kind of witch am I?" is to understand your rituals.
By Abilities
Magical people have unique skills. So, your skillset is also another factor when categorizing you into a witchery group. Take Sea Witches, for instance. Such people are naturally bonded with water, oceans, and the correlating elements. So, they have their specific group and category.
By Beliefs
People who do magic are still human beings. Some might believe in god, while others are atheists. So, they share similar belief systems with non-magical. And that gives us another perspective to categorize them into different groups. You should ask, "what do I believe in?" before finding the answer to "what kind of witch am I?"
How Do I Know What Kind of Witch Am I?
Many have suggested that you should test your blood, take a DNA test. Or go to a psychic person who is specialized in discovering your witch type. However, those are costly, difficult, and time-consuming methods. There are two easier ways to find out what kind of witch or wizard you are.
Method #1: Take the Quiz on This Page
The What Kind of Witch I Am quiz is 100% accurate. That is because we use several types of information to expose your witchery category. You should provide us with your knowledge about bewitchments, personality, spiritual experiences, and beliefs. And if you give us honest answers, we will return genuine results almost instantly.
Method #2: Trust Your Instincts
Another way to find out what kind of witch you are is to believe in your feelings. You should not forget that you are the one with magical powers. So, if you "have a sense," it is highly likely that it is true. Stop for a moment and close your eyes. Listen to the voice inside your head. And let it guide you on what type of a special person you are.
3 Tips for Beginner Witches from a Real Witch
Annabel Margaret is a real witch. She has a YouTube channel called "The Green Witch," through which she teaches beginners how to be better at their witchcraft practices. Annabel gave out some tips on finding your path as a novice during one of her recent videos. We think you might like her lessons because asking "what kind of witch am I?" indicates that you are an enthusiast learner.
You do not have to learn everything.
Annabel says, "I used to try to learn everything I could learn." And she believes that doing so had kept her back for quite some time. "You cannot learn everything," she adds in her video. So, if you are a beginner at witchcraft practices, it is best to keep things simple and understandable as much as possible. There is a quiz that can help you find out what you are good at then start learning the secrets step by step.
It is a lifelong practice.
Some might want to jump into action after finding the answer to "what kind of witch am I?" But Annabel believes that "becoming a witch is a lifelong process." You cannot wake up and do magic. That is not going to happen. So, be patient and try to learn new stuff step by step.
What works for one witch might not work for another.
Witchery is a wonderful world where most things are unpredictable. So, the path a witch takes to answer "what kind of witch am I?" might not work for you—or anybody else. Annabel believes that you have to find your way and follow your instincts instead of imitating others.
Things to Ask Before "What Kind of Witch Am I?"
Understandably, you want to find out what your witch or wizard type is as soon as possible. But be aware that there are other important questions on your way to becoming a magic expert. Here are the three big questions to answer before even wondering what your kind is.
"Am I ready to know what kind of witch I am?"
The answer can affect your witchery journey's future. So, are you ready to hear it? If not, please do not take the quiz and rethink your decision.
"Is it going to help me find my path to witchcraft?"
Sometimes, you might be performing better when you have no idea which group of witches you belong to. That is because labeling yourself could put you in a box and reduce your creativity. So, no need for a witch-type quiz if you are already a well-performing expert.
"Do I need this?"
Well, this is a simple question. But its answer is vital for your future. Do you need to know what type of witch you are? If no, why are you taking this quiz? Wouldn't it be easier to let things have their flow? (Think about it).
How to Play?
Playing personality quizzes is straightforward: Choose the option that's true about you—or you relate to—and select "Next." Unlike trivia quizzes, personality tests have no right or wrong answers. But the questions are in forced-choice format. The point is to push you to choose an option that makes the most sense, not the one that's 100% true. For the most accurate results, don't overthink your responses. Go with options that you "feel" are the best.
How many questions does this quiz have?
20 questions
How long does it take to complete this quiz?
4 minutes
Questions of the quiz
Question 1

Where do you prefer to practice your magic?

Darkroom

Seaside

Kitchen

Anywhere

Question 2

What is your favorite tool?

Pentacle or Paten

Sword and knife

Bowls

My mind

Question 3

What kind of witches do you hate the most?

Question 4

Which part of being a witch sounds interesting to you?

Learning new stuff

Peace of mind

Helping others

Fun adventures

Question 5

What is the one thing you would never do as a witch?

Stop learning

Doing dark magic

Hurting others

Living a boring life

Question 6

What are you afraid to lose the most?

My spell

My friends

My lover

My powers

Question 7

Who is your ideal type of person (in the witchery world)?

Pure-blooded

Cool and funny

Kind and caring

Strong and reliable

Question 8

Which of the following nicknames matches your personality as a witch?

The old lady

The green witch

The lovely witch

The guardian of the gates

Question 9

Choose one word that describes your personality or is close to who you are.

Question 10

Would you ever practice black magic?

Question 11

Which part of your home is your favorite?

Bedroom

Dining room

Kitchen

Basement

Question 12

Are you open about the fact that you think you are a witch?

Not really

Only in front of select people

Absolutely

No

Question 13

What kind of a person would you like to marry?

Wise

Adventurous

Truthful

Quiet

Question 14

Choose a tool that you think would make you a more powerful witch.

Old spell Books

Unique sea elements

New ingredients

None (I'm already powerful)

Question 15

Choose an element that you relate to the most.

Question 16

Should you have a unique witchery custom, what would it look like?

Black and long

Blue and long

White and short

I hate customs

Question 17

What is your most unique power?

Strong sixth sense

Reading minds

Feeling what others feel

Something I can't tell or describe

Question 18

Have you ever performed a successful spell?

Sure

Kind of

I don't know

Every time!

Question 19

Which of the following magical powers sounds interesting to you?

Invisibility

Flying

Mind control

Transportation

Question 20

I would never use my magic to _____ people.