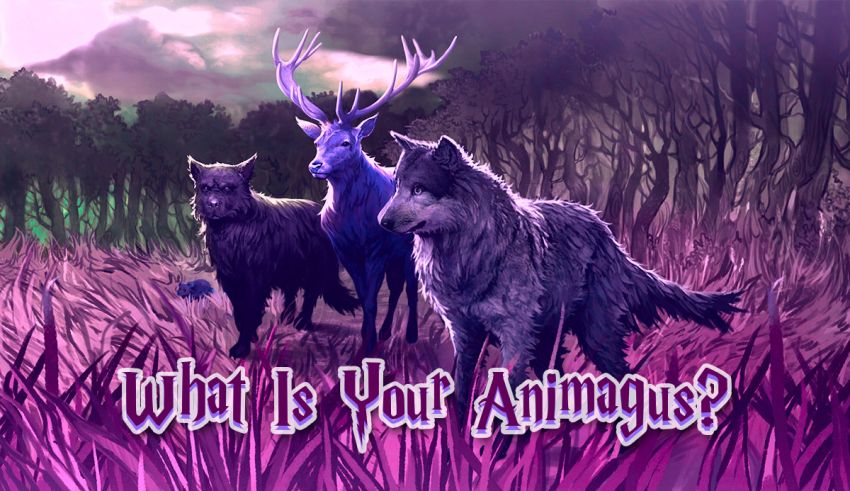 Do you have questions like, "What is my Animagus form?" Take this 20-question Harry Potter quiz to find your animal form. Includes the most famous Animagi types.
What Is Your Animagus?
Your Animagus is the animal you would transform into and back again. The Harry Potter books indicate that you have no control over the spell results. So, your form could be a dog, frog, hawk, insect, or any other creature.
Note that the Animagi Quiz differs from a Patronus Test. The latter reveals your guardian animal, whereas the former discovers what creature you would transform into if you had the ability.
Take a Genuine Harry Potter Animagus Quiz
The test is a set of wizardry-related questions that reveals what animal your Animagus form could be. It is a reliable way to discover your secondary figure as it considers all the affecting factors, such as your appearance, skills, and characteristics.
If meeting your creature self does not interest you, please consider taking our Harry Potter character quiz. It is a trending questionary among the Potterheads right now. (It reveals which witch or wizard of the HP universe is similar to you personality-wise).
To create the test, we used the information J.K. Rowling provides about this magic in her 2019 e-book, Short Stories from Hogwarts.
Go through the Animagus process.
The transformation has a long and challenging process. It takes you over thirty days to perform the magic and possibly get results. The Animagi Quiz puts you through the same practice to see how strong-willed you are.
Analyze your physical features.
The quiz also checks your appearance. That is because your Animagus animal shares the same physical features as your human form. So, knowing how you look helps us determine the outcome precisely.
Assess your wizarding skills.
We want to know if you are a wizard or a Muggle. Your magic skills affect the Animagus results significantly. Amateurs could never perform this spell correctly. And that could lead to horrible things. For instance, you might transform yourself into an animal and never come back! Or you might become a half-human, half-animal creature.
Find out who else has the same animal persona!
A cool feature of our test is that it lets you know what other witches or wizards have the same Animagus type as you. Our team did thorough research to gather all the famous (and even unknown) names to include in the results.
Receive an additional personality breakdown.
Your big question is, "What is my Animagus?" And the test right here answers that. But that is not all we do for the Harry Potter lovers. The results also include detailed personality analysis, explaining why you would turn into a particular animal.
Currently, no other Animagus Test does that for you! So, it is a one-of-a-kind experience.
Things to Know Before Taking the Animagus Test
The HP universe is massive. And it is challenging for some fans to find all the answers on their own. We already helped the Potterheads to find out their house or discover their Harry Potter wand type. And now we are about to reveal their animal form! (Yay).
But here are a couple of things we would like you to know before the actual quiz.
It differs from a Transfiguration Quiz.
Transfiguration is the spell of changing an object or human's form. And any witch or wizard could perform it after some practice. However, Animagus is a rare skill that only a few people have mastered.
So, the quiz you are about to take has nothing to do with transforming skills.
You do not get to choose your Animagus animal or name.
J.K. Rowling explains that a witch or wizard can never predict what animal they will transform into. The same thing is true about the Animagus Quiz. We did our best to create the most unpredictable questionary while keeping it as precise as possible.
The test considers the RISK OF FAILURE!
You might fail the Animagus test. In that case, you will transform into a half-human, half-creature thing with no way to get back to your human form. Although the questions do not include any true-or-false answers, we can identify weak witches and wizards who fail the task. ¯\_(ツ)_/¯
Some Examples of Animagi
The most famous witches and wizards who could transform into animals and back again are James Potter, Sirius Black, Peter Pettigrew, and Rita Skeeter. (All of them are registered).
The following table shows more examples of Animagi and their animal form.
| | |
| --- | --- |
| Witch or Wizard | Animagus |
| Mcgonagall Minerva McGonagall | Silver Tabby Cat |
| James Potter | Stag |
| Sirius Black | Black dog |
| Peter Pettigrew | Grey Rat |
| Rita Skeeter | Blue beetle |
| Talbott Winger | Eagle |
| Olivier Kikkert | Frog |
Take the Test for an Accurate Match
If the big question of 'What is my Animagus' remains unanswered, make sure to give the test a try. Our editorial team worked hard on this one, turning it into a fun and informative questionary.
By the way, you can share the results with your friends on social media directly from the website.
Disclaimer
QuizExpo does not own any of the images used in the 'What Is My Animagus Quiz.' Warner Bros. Pictures owns all the said pictures.
How to Play?
Playing personality quizzes is straightforward: Choose the option that's true about you—or you relate to—and select "Next." Unlike trivia quizzes, personality tests have no right or wrong answers. But the questions are in forced-choice format. The point is to push you to choose an option that makes the most sense, not the one that's 100% true. For the most accurate results, don't overthink your responses. Go with options that you "feel" are the best.
Questions of the quiz
1

Let's start with a weird question; how long can you stay awake?

46 hours or more

30 hours

24 hours

18 hours

16 hours

Less than 16 hours

2

Which of the following features describes you better?

Calm

Sensitive

Attentive

Tough

Cautious

Stressed

3

What is a feature every witch and wizard should have?

Loyalty

Kindness

Fast thinking

Strong will

Watchfulness

Ruthlessness

4

What kind of spells would you like to master?

Helpful

Fun

Practical

Challenging

Defensive

Lethal

5

What do you think about black magic?

It's unacceptable

It's cruel

It's interesting

It's complicated

It's scary

It's fun

6

What would you do to an enemy who just surrendered?

Punish them before setting them free

Give them another chance

I'd ask for some intel

I'd jail them immediately

I'd make sure they can never be free again

I'd kill them

7

What is so remarkable about transforming into an animal?

Talking to other animals

Running away from all the buzz

Seeing the world from another perspective

Getting some new physical abilities

Having a place to hide and chill

Attacking others while you remain unknown

8

What would you use your Animagus skills for?

Make new animal friends

Have fun

Experiment

Create a squad of cool animals

Hide from my enemies

Assassinate my enemies

9

Who is your favorite Hogwarts professor?

Snape

Trelawney

Dumbledore

Hagrid

Sprout

None

10

Which of these venomous creatures are you afraid of the most?

Snake

Scorpion

Wasp

Vampire bats

Gila Monster

None

11

Fill in the blank. Family is all about ____________.

Strong ties

Giving and caring

Unconditional love

Having each other's back

Protection

None

12

What kind of animals is interesting to you?

Friendly and sociable ones

Cute ones

Smart ones

Wild and free animals

Rare and exotic ones

I don't like animals

13

If you could talk to animals as an Animagus, what would you tell them?

That humans suck

That I love all of them

That I like to get to know them

That I want to join their clans

That I need their help

That I want them to work for me

14

How long could you stay in your Animagus form?

A couple of days

48 hours or so

24 hours

12 hours

Less than 12 hours

A couple of weeks or more

15

Would you ever use your magic to transform someone you don't like into an animal?

I'd try not to

I cannot do that

It depends

I might do that

I'm not sure

I would definitely do that

16

Choose a color combination.

Black + gray

Orange + black

Black + brown

Gray + white

Brown + pink

None

17

Which of these features would you like to have?

Sensitive ears

Wings

Extremely sharp eyes

Lion-like sharp teeth

A cute tail

None

18

If you had to describe your Animagus persona in one word, what would it be?

Trusty

Lovely

Nifty

Bulky

Stealthy

None

19

If your animal persona was a predator, would you hunt other creatures?

I'd try not to

I cannot do that

It depends

I might do that

I'm not sure

I would definitely do that

20

Final question; would you ever mate with another animal as an Animagus?

I'd try not to

I cannot do that

It depends

I might do that

I'm not sure

I would definitely do that