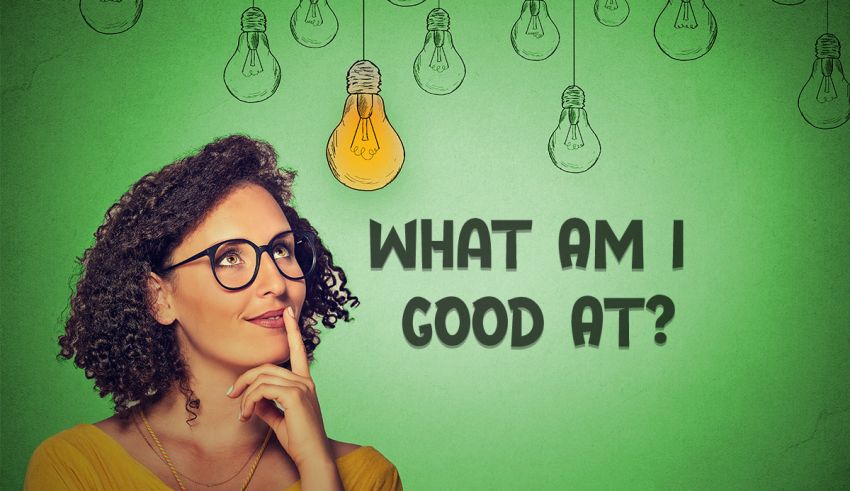 Are you facing the question of what am I good at? This 20-question test helps you find your strengths and tells you what you should do with your life.
Test: What Am I Good At?
You are good at things that you with love and passion. The quiz on this page reveals your true passion, which is or could be your expertise, too. We have prepared twenty questions covering every topic that can expose your talent(s). By taking the What Am I Good At quiz, you have the chance to find out who you are and what you should do.
4 Questions to Ask Before "What Am I Good At?"
It is understandable that the youth stress over their future life and career. However, there are four more important questions to ask before wondering what you are good at. These are the queries that help you figure out the genuine answer.
1. What is one thing you do because you enjoy it?
The chances are high that you are good at the thing you do the most. For instance, if you are a teenager spending most of his/her time playing video games, that is your current passion. And there is no need to fight that. Your desires do not need to match others' expectations.
2. What is one thing you spend money to do?
Things you spend money on without expecting anything in return are valuable. If you are a bookworm who loves buying books, maybe you have already found your passion. You are good at reading—and you can make a career out of that for sure.
3. What is one thing you do that makes you fear judgments?
Stuff you enjoy doing in secret is key to answering "what are you good at?" type of questions. Humans usually tend to hid their most precious possesses. For instance, you might love dancing. But you are also afraid of dancing in front of others. That might be because dancing is your core value. And you are afraid of judgments because you do not want anyone to ruin it for you. So, your secret passions have a higher chance of being what you are truly good at.
4. What is one thing that makes you excited?
Your heart does not go wild over ordinary stuff. So, if you feel excitement while doing a particular thing, you do not need to look any further for your passion.
The Formula of Finding Out Who You Are and What You Are Good At
Many people tried answering "what am I good at?" by creating a career formula. But not many of them are genuinely practical. The following method is one of the most reliable and realistic ones. Chris Do, CEO, and founder of the Future, introduced this technique in his Europe Tour speeches.
Follow the below six steps to find out what you are good at or what you should do with your life.
Step #1: Write Down Your Skills
It is easier to discover your talents when you have the answer to what type of a person am I? So, the first thing to do is to jot down your hard and soft skills. Do not hold yourself back. Write anything that you think you are good at. You do not need to be picky at this stage.
Step #2: Make a List of Things That Make You Happy
Review your happiest memories in your life. What were you doing? Things that make you genuinely feel happy and excited help you discover your passion.
Step #3: Think About the Trends and Opportunities
Now, you should make a list of trending stuff that relates to steps #1 and #2. For instance, if your skills are reading, writing, and proofreading, and storytelling makes you happy, content creation is a trending topic for you. It included both your aptitude set and passion while being a hot career topic.
Step #4: Discover and Sort Your Hobbies
This might sound like step #2. But give it a chance. Your hobbies are sometimes things that you are good at. But you are not aware because you have kept them in the closet. For example, binge-watching Netflix shows might be your go-to hobby. But you are missing the opportunity here. You could become a critique and start your blog to review the shows you have watched. So, do not hide away your interests and write all of them down.
Step #5: Answer "Who Might Enjoy or Benefit from Your Aptitudes?"
To find out what you are good at, you need to think about others, too. It does not mean that you should act upon their expectations. But at the end of the day, you need others' attention and money. So, try to figure out who would pay for what you do. Or who would be willing to support you? For instance, if you are a gamer, lots of people would like to watch your streams and support you.
Final Step: Map Out Your Career or Passion
The final step of the formula to answer "what am I good at?" is about linking your interests and skills. Now, you have a set of hobbies, aptitudes, possible clients, and desires. What you should do is to find common areas between them. It is like you are categorizing similar stuff. A possible chunk could look like this: Focus as skill, gaming as what makes you happy, streaming as something you do secretly, and gaming as your hobby. In this case, becoming a pro gamer or streamer seems like a reasonable idea.
Do the same thing with your information to discover what you are good at.
The What Am I Good At Quiz Works Based on the Said Formula
Take our quiz to realize what your strengths are if you do not have enough time to apply the formula. The 20-question passion test on this page follows the same steps as mentioned in the formula. But it makes it easier for you to come up with an answer. It only takes 5-10 minutes to complete it. And it provides you with instant FREE results.
Read This if You Think You Are NOT Good at Anything
Do you feel like everybody is good at something except for you? Well, that is a common thought among most of us—at least at some point. But you should not forget that "What am I good at?" is not the greatest question of your life. Here are things to have in mind before taking the passion quiz.
The 10,000-Hour Rule
Malcolm Gladwell, the author of the Outliers: The Story of Success, introduced the idea of the 10,000-Hour Rule in 2008. He interviewed many experts and successful people, trying to expose their success formula. He found out that all of them spent a huge amount of their life practicing or participating in what they are now experts at. The next time you ask what am I good at, keep in mind that it will take time to figure it out.
Talent Is Scientifically Proven to be a Myth
Stop saying, "I am not talented." Such a thing does not even exist. According to psychologist Anders Ericsson and science writer Robert Pool, The belief that one's genetically prescribed characteristics limit one's abilities manifests itself in all sorts of 'I can't' or 'I'm not' statements." In other words, talent is only an excuse to avoid thousands and thousands of hours of practice. In their book Peak: Secrets from the New Science of Expertise, the two authors prove that talent does not affect things that you are good at—because it does not exist.
That is another reason to quit overthinking the "what am I good at?" type of questions.
How to Play?
Playing personality quizzes is straightforward: Choose the option that's true about you—or you relate to—and select "Next." Unlike trivia quizzes, personality tests have no right or wrong answers. But the questions are in forced-choice format. The point is to push you to choose an option that makes the most sense, not the one that's 100% true. For the most accurate results, don't overthink your responses. Go with options that you "feel" are the best.
Questions of the quiz
1

Which of the following aptitudes matches your set of skills?

High stamina

Problem-solving

Amplification

Public speech

Imagination

Consoling

2

Which of the following tasks would never bored you?

Extreme activities

Studying

Learning

Debating

Painting

Analyzing

3

Which of the following things would you be willing to pay for?

New gears

New books

New courses

New suit

New records

Charity

4

The first thing I do in the morning is_________.

Working out

Scheduling my day

Checking my emails

Watching/reading news

Doing yoga or relaxing

Making sure everybody is having a great day

5

What is the most admirable thing about someone you idolize?

Their strength

Their knowledge

Their passion

Their cleverness

Their creativity

Their kindness

6

Which of the following famous people sounds like someone you would admire?

Cristiano Ronaldo

Albert Einstein

Martin Luther King

Barak Obama

Bob Marley

Mother Teresa

7

What type of TV show would you not want to miss out on?

A sports match

A documentary

A talk-show

The news

A movie

An informative biography

8

Which of the following achievements would make you feel happy?

A gold medal

A scientific degree

An honorary diploma

A promotion

10K new followers on social media

A medal of honor

9

You are the happiest when you _______________.

Do a fun activity

Discover something new

Help someone else progress

Win an argument

Create something new

Protect someone in need

10

Which of the following imaginary scenarios sounds like a fantasy to you?

Thousands of fans shouting your name

Receiving an acceptance email from Harvard

Reading a thank you letter from someone you helped years ago

Leading a successful company

Being featured in a famous gallery

Rescuing someone who's about to die

11

Which of the following people make the most money?

Sportspersons

Pharmacists

Personal coaches

Politicians

Actors

Doctors/Surgeons

12

What is the secret to becoming a successful person? (In your opinion).

Hard work

Knowledge

Passion

Ambition

Originality

Kindness

13

Select a quote that you relate to the most.

You should wake up like a soldier who's ready to fight

We are standing on the shoulders of giants

If you can't explain something in simple words, you haven't learned it

Politics is not a game, but a serious business

Art is not what you see but what you make others see

Intense love does not measure. It just gives

14

I would love to invest in ________________.

My physical strength

My education

My skills

Stocks

Something cool (meh)

Charity

15

Which of the following stuff sounds like something you would do as a hobby?

Jugging

Researching

Teaching

Attending a rally

Writing

Doing volunteer work

16

What is one thing you would hate to do as a hobby?

Reading books

Working out

Playing games

Watching a sit-com

Anything serious

Drinking

17

I would like to do something that makes people________________.

Idolize me

Thank me

Remember me

Follow me

Envy me

Love me

18

The ultimate goal of my life is to_______________.

Never give up

Make the world a better place

Be a useful human being

Become a respectable person

Find my true self

Enjoy the beauty of life

19

Which of the following ways of making money sounds interesting to you?

Signing deals

Being paid for your inventions

Having a reliable salary

Having multiple incomes and side-hustles

Being paid for what you create

Being paid for your knowledge

20

Final question, how would you like to be remembered?

As a hero

As an innovative person

As a respected person

As a leader

As an extraordinary person

As a kind and caring person