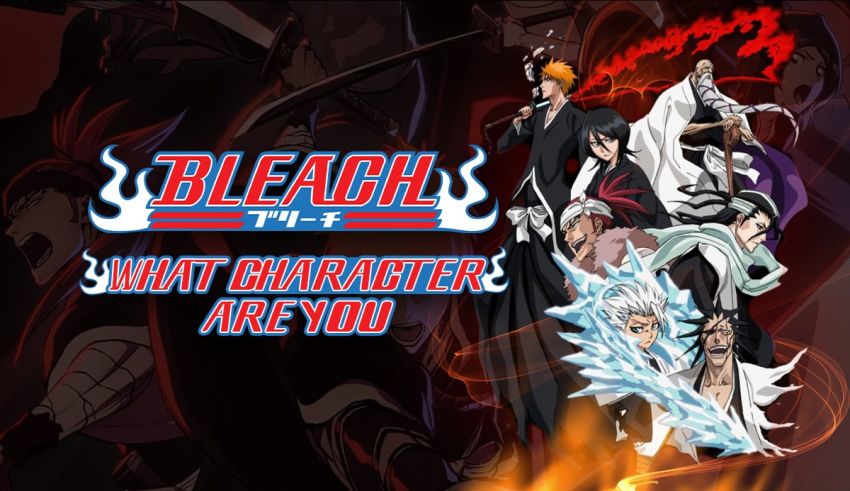 The Bleach character quiz reveals which Shinigami you are. Are you Ichigo Kurosaki, Rukia Kuchiki, Kisuke Urahara, or else?
The Bleach Character Quiz Explained
Comprised of twenty anime-inspired questions, the Bleach Character Quiz is a personality test that reveals which protagonist or antagonist you are. In other words, it identifies if you're Ichigo, Rukia, Kisuke, Orihime, or someone else.
Bleach is a Shonen anime based on a titular manga by Tite Kubo. It tells the story of a young man who accidentally receives a Shinigami's power and enters the Soul Society.
With the current quiz, you find out which of the show's main characters shares the same personality as you.
For more anime quizzes, try "Which Demon Slayer Character Are You?"
How to Know Which Bleach Character You Are
With over 60 characters, Bleach has a rich cast of memorable anime personalities. But that makes it challenging to find your perfect match among the Shinigami. Currently, the two optimal ways to discover your Bleach doppelganger are taking a personality test—like the one on this page—or comparing your MBTI type with the anime characters.
If you already know your MBTI, use the following table to see what Bleach character is similar to you.
| | |
| --- | --- |
| Character | MBTI |
| Orihime Inoue | ESFJ |
| Ichigo Kurosaki | ISFP |
| Rukia Kuchiki | ISTJ |
| Kisuke Urahara | INTP |
| Kenpachi Zaraki | ESTP |
| Toshiro Hitsugaya | ISTJ |
| Sosuke Aizen | INTJ |
| Gin Ichimaru | INTP |
| Byakuya Kuchiki | ISTJ |
Ichigo Kurosaki
As the anime's protagonist, Ichigo is brave, loyal, and protective. He strives to do the right thing and fight against evil. But he also battles his inner demons. Ichigo is an ISFP character, a gentle caretaker who values relationships and friendships above all else.
Rukia Kuchiki
Personality-wise, Rukia is a caring, responsible, and considerate person. But she comes off as serious and introverted. What makes her a memorable Bleach character is her mature attitude and wise decisions. Rukia is an ISTJ, a responsible organizer who likes discipline and order.
Kisuke Urahara
Despite his mysterious side, Kisuke is a funny, laidback, and innovative character. He is also quite intelligent, helping out his friends with creative solutions. Kisuke is an INTP, a logical analyzer with the ability to think outside of the box.
Orihime Inoue
A sweet, giving, and optimistic girl, Orihime is a fan-favorite Bleach character. Personality-wise, she is cheerful and lively, making her a helpful friend in the gloomy world of anime. As an ESFJ, Orihime can be described as outgoing, loyal, organized, and tender-hearted.
Heads Up! You Might Match a Bleach Villain
Whether it's Sosuke Aizen and his group called the Espada or Gin Ichimaru and Kaname Tosen, your Bleach match might be one of the most notorious characters in anime history. So, before choosing an option, think twice.
Ready to Find Your Shinigami Self in the Soul Society?
Are you still wondering which Bleach character you are? If yes, waste no time and hit the start button. The quiz helps you find your Bleach counterpart based on your Shinigami potential.
Answer twenty entertaining questions and see if you're Ichigo, Rukia, Kisuke, Orihime, or some other Bleach character.
Disclaimer
QuizExpo does not own the images in the Bleach Character Quiz and intends no copyright infringement. TV Tokyo Corporation, Shueisha, and Viz media own the said pictures.
How to Play?
Playing personality quizzes is straightforward: Choose the option that's true about you—or you relate to—and select "Next." Unlike trivia quizzes, personality tests have no right or wrong answers. But the questions are in forced-choice format. The point is to push you to choose an option that makes the most sense, not the one that's 100% true. For the most accurate results, don't overthink your responses. Go with options that you "feel" are the best.
Questions of the quiz
1

What do you think of the Shinigami?

I like some of them

I admire them

I think they're lost

I'm not the biggest fan

I think most of them are weak

They are overrated; I hate them

2

What makes Bleach an iconic anime?

Relationships and friendships

Battles

Plot twists

Jokes

Brutality

It's not an iconic anime

3

What would you prioritize if you were a Soul Reaper?

Helping others

Protecting loved ones

Hiding my identity

Experimenting with my powers

Beating up bad guys

Conquering the world

4

What would you do to an Arrancar who has surrendered?

I'd set them free

I'd jail them

I'd interrogate them

I'd do some experiments on them

I'd kill them

I'd turn them into my spy

5

What should be done to the Soul Society?

Democratized

Reformed

Exposed

Modernized

Empowered

Destroyed

6

What makes a hero great?

Kindness

Courage

Knowledge

Creativity

Ruthlessness

Cunningness

7

What would you do if you saw a bunch of Hollows?

I'd hide away

I'd fight back

I'd call the authorities

I'd distract them, so they don't hurt others

I'd kill all of them useless entities

I'd try to join them

8

Which one describes your best friend's personality?

Supportive

Inspiring

Intelligent

Funny

Tough

I don't have a best friend

9

What makes someone a good friend?

Honesty

Loyalty

Reliability

Easygoingness

Strongmindedness

There are no good friends

10

What's the best battle strategy?

Negotiation (no battle at all)

Defense

Counterattack

Stealth attack

An all-out attack

Cunningness. Fool your enemy and win.

11

What do you think of rules and traditions?

I'm okay with rules and most traditions.

I don't like them, but I respect them

I like and respect them

I think they're outdated ideas, but whatever

I think rules are there to be broken

I hate all rules and traditions; no exceptions

12

What would it be if you could pick a Soul Reaper nickname for yourself?

The Angel

The Savior

The Chosen One

The Outlander

The Warrior

The Destroyer

13

What would you do if you had the ability to see ghosts?

I'd use it to help others

I'd use it for hunting evil spirits

I'd hide my ability from others

I'd use it to communicate with ghosts

I'd use it to become a Shinigami

I'd use that ability to become rich and famous

14

Which one better describes your prominent mood?

Happy

Nervous

Calm

Bored

Excited

Angry

15

What kind of superpower would you like to have?

Healing powers

Flying

Telepathy

Cyborg abilities

Hulk-like strength

I'd like to have a lethal, scary power

16

How would you react if a close friend lied to you?

I'd forgive them

I'd ask for an apology

I'd cut ties with them

I'd dig deeper to catch other lies

I'd give them a lesson

I'd lie to them as well

17

What kind of training is the most effective?

Slow and steady

Fast and intense

Slow and scientific

Fast and technology-oriented

Fast, brutal, and painful

No training is effective unless you're talented

18

How do you usually express your anger?

I put it in words and talk about it

I control my anger and calm myself down

I hide my anger and show no signs of it

I hang out with friends to forget about it

I yell or do unexpected stuff

I become a dangerous person

19

Which one is the best weapon?

Unity

Experience

Knowledge

Technology

Strength

Media

20

Final question: How old are you?

16 or younger

17-20

21-25

26-27

28 or older

I'd rather not say