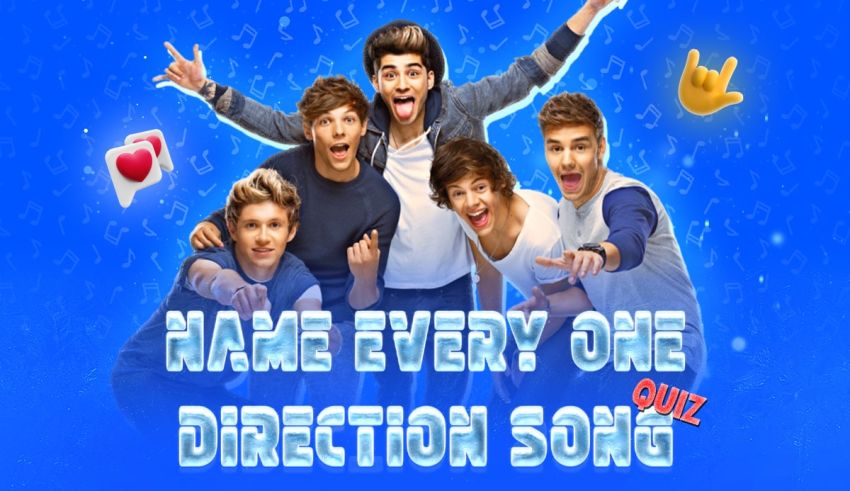 Can you name every One Direction song in this 'difficult edition' quiz? Only true Directioners beat this 1D test.
Explaining the 1D Song-Naming Quiz
With this song-naming quiz, you must correctly name every song in One Direction's discography. It's a fandom test to discover how many 1D tracks you know the name of.
During their career, One Direction recorded 109 songs—91 of which have been released.
The test challenges your knowledge about those songs through a guessing game.
| | |
| --- | --- |
| Name The Song | Difficulty |
| Which One Direction song starts with the letter G? | Easy |
| Name three 1D songs that start with A. | Medium |
| Which 1D song's title starts with D and ends in A? | Hard |
If you're into 1D trivia tests, check out our exclusive One Direction Quiz next. (It's almost impossible to beat.)
Can You Name Every One Direction Song?
Take this trivia quiz to put your knowledge to the test. With its 15 questions, the "Name Every 1D Song Quiz" reveals if you know the band's discography.
Naming all 91 songs of One Direction takes work. It takes a real Directioner to do so. (Are you one?)
Guess the Songs by Lyrics and Images
During the test, you must name One Direction songs by their lesser-known lines and rarely-seen images.
The "Name Every 1D Song Quiz" is a multi-level trivia test. It starts with simple lyric-guessing games and gradually steps up to more challenging questions based on images.
For a One Direction personality test, check out "Which Harry Styles Song Are You?"
Are You a True Directioner Who Knows Every Song?
Thirteen years of One Direction and fans are still posting "Guess the Song" videos on TikTok. (The band has an immortal fandom.) But what about you? Can you name every 1D song?
The One Direction Song Quiz lets you compare your knowledge with other Directioners.
It is one of the hardest guess-the-song tests ever. Beating this one proves you know the band's discography like the back of your hand.
Hit the start button, and let's see how many 1D songs you can name.
Disclaimer
QuizExpo does not own the images in the Name Every One Direction Song Quiz and intends no copyright infringement.
How to Play?
A trivia quiz comes with right and wrong answers. You receive one point for each correct response—but no negatives for the incorrect ones. Take your time and read the questions carefully because some might be trick questions. Choose an option and lock it in by tapping "Next." Lucky for you, the trivia quizzes have instant results. You see if your response was correct immediately. (Green is good, red is bad.) Even better, you can learn more about the topics with the "answer reveals," the fun-fact snippets that appear after each question.
Questions of the quiz
1

Guess the One Direction song by the line: "You just call my name."

Diana

Everything About You

Better Than Words

Gotta Be You

2

Which One Direction song starts with "Easy come, easy go?"

FourFiveSeconds

History

Grenade

None of them

3

What 1D song does the line "Our time is short" belong to?

I'm Yours

Infinity

Illusion

None

4

Which line is NOT in "Kiss You?"

"You get this kinda rush."

"Wanna be the first to take it all the way like this"

"Looking so good from your head to your feet."

"And you just wanna take me home."

5

How many One Direction songs have the word "Little" in their name?

6

Name the last song on Up All Night's tracklist.

Na Na Na

I Should Have Kissed You

Another World

None

7

Name the first song in Take Me Home.

Live While We're Young

Irresistible

Summer Love

None of them

8

Name the One Direction song with the following line. "My hands pressed to your cheeks."

Girl Almighty

No Control

18

Fireproof

9

"I ain't up for debating." What song does this line belong to?

Wolves

Drag Me Down

Change My Mind

None

10

Which line is in End Of The Day?

You taught me how to be someone.

Tell me, do you ever try?

And you follow your heart, even though it'll break sometimes.

So don't let it go, we can make some more.

11

Name the song from the Made in the A.M. album that starts with the letter "N."

Night Changes

No Control

Nobody Compares

Never Enough

12

Guess the One Direction song by the image.

Gotta Be You

What Makes You Beautiful

One Thing

None

13

Name the One Direction song that matches this image.

Live While We're Young

One Way or Another

One Thing

None

14

Can you guess the 1D song by this image?

Last First Kiss

Kiss You

What Makes You Beautiful

One Thing

15

Can you guess the One Direction song based on this BTS image?

One Thing

Kiss You

Save You Tonight

Story of My Life