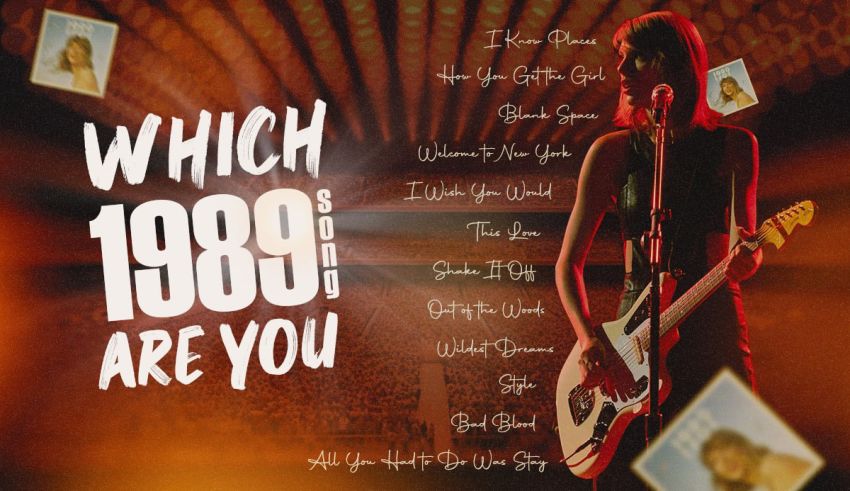 Do you wonder which 1989 song you are? This Taylor Swift personality quiz reveals which of her hit tracks matches your characteristics.
The 1989 Quiz is a personality test inspired by Taylor Swift's titular album with the goal of identifying the song that resembles you. Basically, the test compares your characteristics with those of the characters in Taylor's lyrics to find a perfect counterpart.
For example, we all know that "Slut!" is all about rising above the bullies and being yourself. So, a bold, warrior-spirited Swifty would definitely get this song in their result. However, a reserved, shy, and depressed fan would probably get "Say Don't Go." (It's all about the words and vibes in a song.)
In 2014, Taylor Swift released her fifth studio album called "1989." Fast forward to October of 2023, as part of her re-recorded series, she unveiled a fresh rendition of this iconic hit.
Previously, we created a trivia test for Swifties, telling them how big of a fan they are based on a series of challenging questions. But to celebrate the release of 1989 Taylor's Version, we decided to help you find your soul's track with a genuine test.
Answer the 20 questions on this page to see which 1989 song you are.
Here are a few things to consider:
The quiz includes both the original and Taylor's Version songs.
You might match one of the "From the Vault" tracks. (These include Slut!, Say Don't Go, Now That We Don't Talk, Suburban Legends, and Is It Over Now?)
The personality analysis you get in the end is based on lyrics.
The test uses the Deluxe editions of both classic and re-recorded versions.
Disclaimer
QuizExpo does not own the images used in the test and intends no copyright infringement.
How to Play?
Playing personality quizzes is straightforward: Choose the option that's true about you—or you relate to—and select "Next." Unlike trivia quizzes, personality tests have no right or wrong answers. But the questions are in forced-choice format. The point is to push you to choose an option that makes the most sense, not the one that's 100% true. For the most accurate results, don't overthink your responses. Go with options that you "feel" are the best.
Questions of the quiz
1

Heartbreaks. How do you get over them?

I just cry and let time heal my wounds

I usually ask for a close friend's help

Unfortunately, I push the "rebound" button

No breakdowns. I just move on like a champ

2

Describe Taylor Swift in one word or two.

Angel

True artist

Sis

Inspiring Baddie

3

What did the 1989 album make you feel?

4

What's the most challenging part of love?

Trusting your lover

Finding the one

Settling down and commitment

Matching the vibes of someone else

5

Why did your last relationship end?

Cheating

It's not ended

Trust issues

Complicated stuff

6

How do you react to social media bullying?

It affects me so bad. I can't deal with it

I usually just ignore them bullies

I fire back and stand up for myself

I make those bullies regret their existence

7

Which one describes your dream relationship?

Romantic, classic, and trust-oriented

Firey, intense, and unique

Adventurous, breathtaking, challenging

Lustful, naughty, and bold

8

What type of people attract you the most?

Honest and nice

Good-looking and tall

Mysterious and confident

Rich and famous

9

What would you say about your first crush?

Still hurts

I genuinely liked them. *Sight*

Haha. It was the silliest thing ever

I don't want to talk about it

10

What kind of student were you in high school?

Shy and quiet

Creative and nerdy

Funny and active

Naughty and rebellious

11

How's your relationship with your parents?

Non-existent

Really good. I love them

Meh, it is what it is

Oh, boy. We hate each other

12

Why do you think Taylor Swift is such a special singer?

Her personality

Her life experiences

Her musical talent

Her relatable lyrics

13

How old were you when Taylor released the original 1989 album? (I mean, back in 2014.)

Probably 10 or younger

Around 13-16

Maybe 17-23

24 or older

14

What type of lyrics are your jam?

Sad

Romantic

Motivational

Deep and bold

15

Which version of Taylor is your favorite?

Innocent girl

Lover girl

Queen of pop

Badass girl

16

How big of a Swifty are you? (10 means you're the biggest fan.)

17

Love hurts. Do you agree?

Yes, every freaking time

I don't know. It has hurt me for sure

Well, maybe. But it's worth it

No, love is just a lie. You're just hurting yourself

18

What is a must-have feature for your partner?

Kindheartedness

Romanticism

Style

Money and confidence

19

What type of love do you wish to experience?

Honest

Unconditional

Intense

Forbidden

20

Final question: How often do you listen to Taylor's songs?

Every day

Usually, when I'm alone

Mostly while I'm driving

It's not that often. Once in a while, I guess