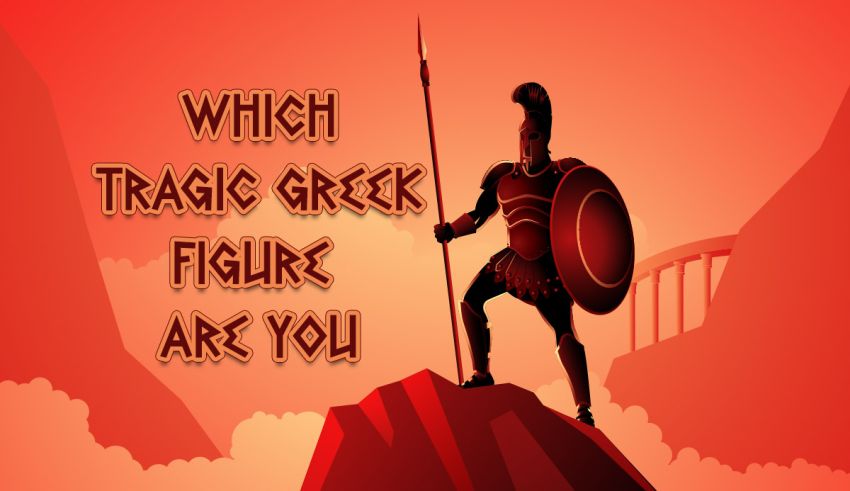 This quiz will reveal which tragic greek figure you are with 15 personality questions. Are you Achilles, Bellerophon, Cyparissus, Orpheus, or else?
What is the tragic Greek figure quiz about?
It is a personality test that matches you to one of the tragic greek figures with questions about your lifestyle, love status, and feelings. The main figures are Achilles, Bellerophon, Cyparissus, Orpheus, Patroclus , Odysseus. You find their personalities in the following summarized table:
| | |
| --- | --- |
| Achilles | Brave |
| Bellerophon | Arrogant |
| Cyparissus | Sad |
| Orpheus | Sorrowful |
| Patroclus | Faithful |
| Odysseus | Clever |
Find out more about these Greek Figures.
Here are the famous figures:
Achilles
Achilles was a strong warrior in a story from ancient Greece. The story is called the "Iliad," written by a poet named Homer. Achilles was the son of a goddess and a mortal man. He was known for his bravery in battle and his great strength. But Achilles had one weakness, and that was his heel. It was said that if someone hurt his heel, he would die. In the story, Achilles is killed by an arrow shot into his heel.
Bellerophon
Bellerophon was a brave warrior and a hero in ancient Greek myths. He was known for taming and riding the winged horse Pegasus and killing the monster Chimera. Bellerophon was the son of a king and was raised by another king as his son. He went on many adventures and was known for his courage and strength. He was also known for his tragic end, where he angered the gods and was punished by being banished and living out the rest of his life alone.
Cyparissus
Cyparissus was a beautiful young boy in ancient Greek myths. He was known for his love of animals, especially for a beautiful white stag. He was so sad when the stag died that he asked to be turned into a cypress tree, a tall, thin tree often used in gardens and cemeteries. The gods granted his wish, and from then on, the cypress tree was a symbol of sadness and mourning.
Orpheus
Orpheus was a musician and a poet in ancient Greek myths. He was so talented that his music could charm animals, rocks, and trees. He brought his wife Eurydice back to the land of the living with his music, but unfortunately, he failed to follow the instructions and lost her again. Orpheus was also known for his journey to the underworld, where he tried to bring back his wife a second time, but he could not do it again. Orpheus is remembered as a symbol of the power of music and its ability to move people's hearts.
Patroclus
Patroclus was a close friend and companion of Achilles in ancient Greek myths. Patroclus was not as strong or skilled in battle as Achilles, but he was a brave and loyal warrior. He fought in the Trojan War alongside Achilles and helped him in many battles. When Achilles refused to fight, Patroclus put on his armor and fought in his place but was killed by Hector. Patroclus' death deeply saddened Achilles, and it was a significant factor in his decision to rejoin the battle and ultimately kill Hector. Patroclus is remembered as a symbol of friendship and loyalty.
Odysseus
Odysseus was a hero in ancient Greek myths. He was the king of the island of Ithaca and a skilled warrior. He fought in the Trojan War and was known for his intelligence and cleverness. He was famous for his journey home after the war, which took him ten years to complete. He faced many challenges, such as the wrath of the sea-god Poseidon and the allure of the sorceress Circe, but he overcame them.
Let's find out your character.
If you are curious to find your match, start the personality test and answer 15 simple questions to reveal your Greek myths.
How to Play?
Playing personality quizzes is straightforward: Choose the option that's true about you—or you relate to—and select "Next." Unlike trivia quizzes, personality tests have no right or wrong answers. But the questions are in forced-choice format. The point is to push you to choose an option that makes the most sense, not the one that's 100% true. For the most accurate results, don't overthink your responses. Go with options that you "feel" are the best.
Questions of the quiz
Question 1

What do you do when you face a problem?

Take charge and solve it myself

I can handle any problem easily

Avoid it altogether

Express my feelings about it

Look for help from others

Think before taking action

Question 2

When making decisions, I:

Take risks and make risky decisions

Make them quickly without thinking

Ask for advice from others

Reflect on my feelings

Think about how it will affect those around me

Take my time to consider all options

Question 3

What do you think about music and art?

Don't have much interest in it

Find it to be a distraction from reality

Believe it reflects the world around us

I find it very moving and emotional

Use it to achieve my goals

I Appreciate it for the skill and technique

Question 4

How hard is it for you to forgive someone?

I don't forgive easily.

I don't forgive. Just revenge!!

I forgive easily

It is not easy, but I forgive!

I believe forgiveness needs to be earned

I try to understand why someone acted a certain way

Question 5

What would be your reaction if you did something wrong?

I accept my mistake

I never do anything wrong

It makes me upset

I try to compensate

I discuss it with my friends

I try to find the reason for my mistake

Question 6

Which one is the most important for you?

Honor

Skill

Freedom

Love

Trust

Thinking

Question 7

Are you a leader or a follower?

Leader

Maybe I am not a leader, but I don't want to be a follower

I follow everyone

I am a creative person, so I follow those who motivate me

I follow my friends

I don't follow, I think!!

Question 8

What do you think about love?

It is distracting

I cannot love anyone!

It can be traumatic

It is a gift

It should be under my control

It can be challenging

Question 9

Which one breaks your heart?

Treason

Meanness

Misbehavior

Lies

Disobey

Foolishness

Question 10

What would make you feel better?

Working

Nothing can make me feel better.

A warm hug after a rough day.

A cup of coffee with a lovely friend.

A welcoming smile and a heartwarming convo.

Solving puzzles

Question 11

What are you afraid of?

Loosing

I'm not afraid of anything

Love

Losing my faith in others

Giving up on my dreams

Having a meaningless life

Question 12

In a war, you want to be ….

A leader

I don't want to be in a war

A soldier

A strategy developer

Question 13

How many friends do you have?

More than 10

5-10 Friends

1-5 Friends

I have no friend

Question 14

Family or Friends?

Both of them

None of them

Family

Friends

Sometimes family and sometimes friends

Such a bad question, how can I choose?

Question 15

Are you someone who is able to remain focused and determined, even in the face of adversity?

Yes, always

Yes, sometimes

Not at all