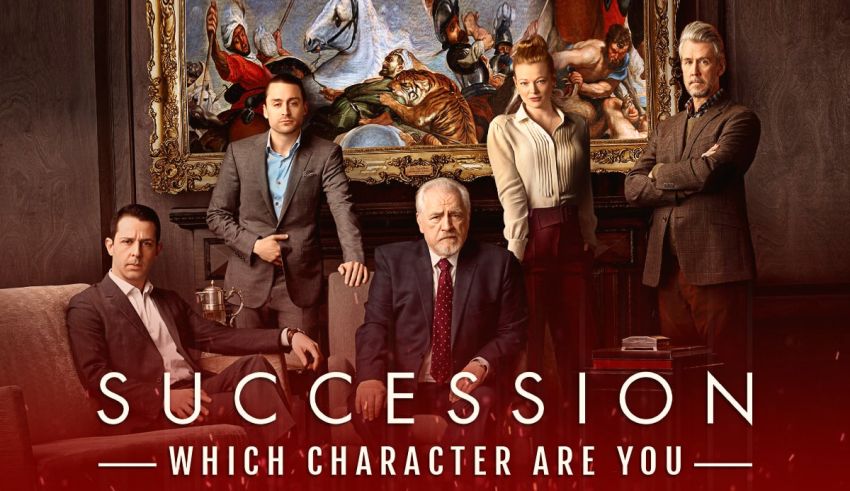 This quiz will reveal which Succession character matches your personality. Are you Logan, Kendall, Shiv, Roman, or else? It includes S4 characters.
Hey there, fellow Succession fans! Are you as obsessed with this addictive drama as I am? If so, you're in for a treat with this Succession personality test! We've designed this fun quiz to help you figure out which Succession character you are, so you can find your inner Roy family member or one of their key associates. Ready to dive in? Let's first do a quick recap of the show and its characters!
Story Line of the Succession Series
Succession is an HBO series that follows the Roy family, a wealthy and powerful clan that owns a global media empire. The show's central theme is the family's struggle for power and control, as the aging patriarch, Logan Roy, battles with his health and decides who should take over the family business. With all the backstabbing, scheming, and manipulation going on, it's no wonder this show has captured our hearts and kept us on the edge of our seats!
Main Characters and Their Personalities
The Roy family and their inner circle are a complex and fascinating bunch. Let's take a quick look at some of the main characters:
Logan Roy

: The powerful and ruthless patriarch of the family. He's a shrewd businessman with a fierce desire to maintain control over his empire.

Kendall Roy

: Logan's ambitious yet troubled eldest son, who constantly struggles with addiction and self-doubt.

Shiv Roy

: Logan's only daughter, a politically savvy and cunning woman who can be cold and calculating when necessary.

Roman Roy

: The youngest Roy sibling, a charming and impulsive jokester who often gets underestimated.

Tom Wambsgans

: Shiv's husband, who is desperate to fit in with the Roy family and prove his worth.

Cousin Greg

: A naive and awkward outsider who gets pulled into the family's power struggles and schemes.
New Season in 2023
The excitement just keeps building, as Succession is set to return for 4th season in March 2023! We can't wait to see what's in store for our favorite dysfunctional family, and we're sure there will be plenty of twists and turns to keep us glued to our screens.
Which Succession Character Are You?
Now that we've refreshed our memories on the characters, it's time to find out which Succession character you are! Take our Succession personality test and embrace your inner Roy family member or associate. Share your results with friends and compare your Succession alter egos!
Love taking quizzes on HBO TV shows? Check out these other HBO shows personality tests:
How to Play?
Playing personality quizzes is straightforward: Choose the option that's true about you—or you relate to—and select "Next." Unlike trivia quizzes, personality tests have no right or wrong answers. But the questions are in forced-choice format. The point is to push you to choose an option that makes the most sense, not the one that's 100% true. For the most accurate results, don't overthink your responses. Go with options that you "feel" are the best.
Questions of the quiz
1

What's your preferred style of leadership?

Authoritarian

Collaborative

Indecisive

Opportunistic

2

How do you deal with failure?

Blame others

Learn from it and move on

Retreat and give up

Deny it ever happened

3

How important is family to you?

Everything

Important, but not everything

Unimportant

Complicated

4

How do you deal with stress?

Internalize it and let it consume you

Use humor to cope with it

Get help from others

Ignore it and hope it goes away

5

How do you handle conflict?

Confront it head-on

Avoid it at all costs

Manipulate others to achieve your desired outcome

Play both sides and see how it shakes out

6

What motivates you the most?

Power and control

Money and success

Personal growth and self-improvement

Helping others

7

How do you feel about being in the public eye?

Love it

Hate it

Ambivalent towards it

It's a necessary evil

8

What's your relationship like with your siblings?

Competitive and hostile

Supportive and close

Non-existent

Complicated and fraught

9

How do you respond to criticism?

Get defensive and lash out

Take it to heart and make changes

Ignore it

Turn it around on the person criticizing you

10

How do you handle secrets?

Keep them to yourself at all costs

Use them as leverage to your advantage

Can't keep them and share them with others

Keep them, but feel guilty about it

11

How do you see yourself fitting into a group?

The leader

The supporter

The outsider

The wildcard

12

How do you feel about being manipulated?

Hate it and try to fight back

Don't even realize it's happening

Are aware of it, but allow it to happen

Manipulate back

13

How do you feel about taking risks?

Love them and take them frequently

Calculate risks carefully before taking them

Avoid risks whenever possible

Take risks, but worry about them constantly

14

How do you handle betrayal?

Get even at all costs

Cut the person out of your life completely

Try to forgive, but never forget

Betray them back

15

What is your relationship with power?

Love it and crave it

Are uncomfortable with it, but use it when necessary

Avoid it altogether

Struggle with it and don't know how to handle it

16

How do you handle difficult emotions?

Bottle them up and ignore them

Use humor to deflect from them

Talk them out with others

Turn to drugs or alcohol

17

What is your favorite color?

18

How do you feel about loyalty?

Value it above all else

Value it, but not above personal gain

Indifferent towards it

Struggle with it and don't know how to be loyal

19

What is your biggest fear?

Losing power and control

Failing and being seen as a disappointment

Being alone

Betrayal from someone you trust

20

How do you handle conflicts of interest?

Prioritize personal gain over everything else

Recuse yourself from the situation to avoid conflict

Use your power and influence to manipulate the situation in your favor

Are conflicted and struggle to make a decision.