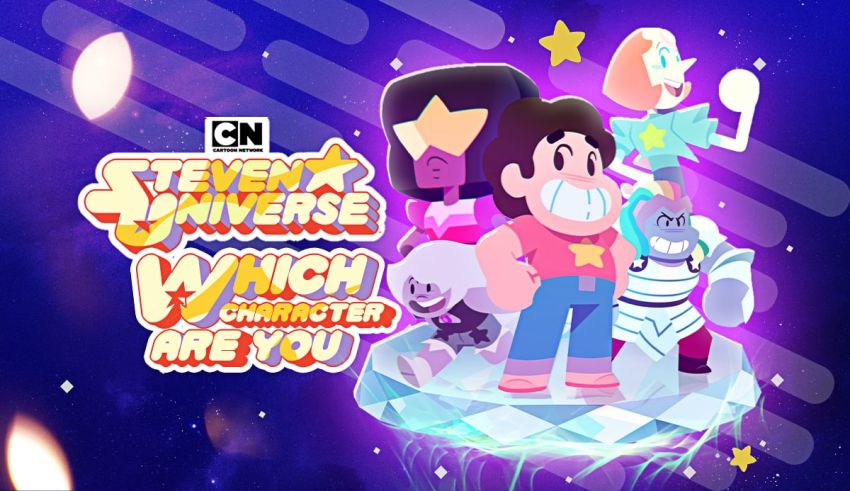 Hey, which Steven Universe character are you? This fun personality quiz shows if you're Garnet, Connie, Steven, or else.
This Nostalgic Quiz Reveals Your Steven Universe Match
Made up of 20 childhood-memory-evoking questions, the Steven Universe quiz exposes the canon character you are.
The test, inspired by the original 2013 show and the 2019 animated movie, includes all the species: Gems, Fusions, and Humans.
Steven Universe is a Cartoon Network animated series about a young boy fighting to save the planet—maybe even the cosmos.
If you like personality tests with animation themes, check out the Adventure Time Quiz next.
It's Based on the Characters' MBTI
What better way to find your matching character than an MBTI comparison?
Relying on its extensive character profiles, the current test contrasts your traits with that of the show's personalities.
The results are, therefore, way more accurate than an average test.
| | |
| --- | --- |
| Character | MBTI |
| Steven Universe | ESFJ |
| Connie Maheswaran | ISFJ |
| Garnet | ISTP |
| Amethyst | ESFP |
| Pearl | ISTJ |
| Peridot | ESTJ |
| Rose Quartz | ENFP |
Here's How to Discover Which Character You Are
Steven Universe, with over 60 memorable characters, has a broad cannon. And that complicates finding your lookalike, the person resembling you.
One way to overcome the challenge, though, is by reading character descriptions. (The following guides might help with that).
#1. Steven Universe.
A true ESFP, Steven is cheerful, friendly, sociable, and kind-hearted. His passion for helping others drives him to try harder, be better, and do good. But he's also a carefree young man excited about everything fun.
#2. Connie Maheswaran.
Connie, Steven's love interest, is calm, attentive, and intelligent. She is everything a good friend should be. Despite her shyness, Connie is keen to help Steven uncover his potential and be the hero he is.
#3. Garnet.
As the Fusion of two Gems—Ruby and Sapphire—Garnet is an intuitive leader. She demands respect, discipline, and compliance. But her frontrunner persona aside, Garnet is also outspoken, lively, and engaging.
Other personalities.
With 60+ main, reoccurring, and minor characters, Steven Universe has nearly endless possible matches for you. So, for an accurate comparison, take the quiz; it's the most convenient way to unmask your cannon counterpart.
Heads Up! You Might Be a Steven Universe Bad Guy
You read it right. The quiz also includes some of the notorious antagonists and villains of the cannon. So, you might realize you've been the bad guy this whole time.
If that becomes the case, try the Disney Villain Quiz next—see how deep your villainess goes.
Fun Twist: Which Character Would Thirst Over You?
Would you like to know which Steven Universe character has a crush on you? If yes, don't hesitate to take the quiz.
Besides a detailed personality breakdown, the results include an analysis of your love life. In other words, the results also explain who and why could fall in love with you.
Meet Your Steven Universe Self in Minutes.
It's time to enter the Beach City, hang out with the Watermelon Stevens, and discover your matching character.
The following are 20 entertaining questions—all inspired by the cannon—to expose which Steven Universe Human, Gem, or Fusion you are.
Let the fun begin.
Disclaimer
Cartoon Network owns the images in Steven Universe Quiz, and QuizExpo intends no copyright infringement.
Questions of the quiz
Question 1

What makes Steven Universe characters unique?

Their compassion

Their friendships

Their goals

Their hard work

Their sense of humor

IDK. They're not that unique.

Unique? All of them are generic.

It's their idiocy that makes them unique.

Question 2

What would you use your superpower for if you had one?

I'd help people and animals in need

I'd make the world a better place.

I'd invent things that would make life easier.

I'd protect the planet from bad guys.

I'd have fun and enjoy life.

I'd try to perfect my skills and become the best.

I'd use my power to create a perfect life for myself.

I'd use my superpower to conquer the world.

Question 3

Which word describes the Watermelon Stevens better?

Cute

Helpful

Smart

Dutiful

Funny

Insufficient

Silly

Useless

Question 4

What do you think of White Diamond?

She's cruel

She deserves a second chance.

She is irresponsible.

She is charismatic.

She's dumb.

She's arrogant.

She is an inadequate diamond.

I admire her. She's gorgeous.

Question 5

Which one makes you a bad person?

Indifference.

Selfishness.

Idiocy.

Disrespect.

Grimness.

Mistakes.

Bad reputation.

None of them.

Question 6

It's a sunny day in Beach City. How do you spend it?

I go camping in a refreshing forest.

I hang out with my best friends.

I read or do something productive.

I either work or work out.

I eat, sleep, and repeat.

I try to avoid others and spend some time alone.

It depends on my mood.

Nothing. I hate sunny days.

Question 7

You can have a supernatural weapon. Which one do you choose?

Shield

Sword

Arrow

Axe

Poison

I can't decide.

I'd like to own all of them.

None. I want something deadly and scary.

Question 8

Pick your favorite magical item.

Gem Destabilizer

Aquamarine's Wand

Gem Shards

The Light Prism

Wrap Pad

Obelisk

Desert Glass

Gemstones

Question 9

Pick your favorite Steven Universe gadget.

Jelly Jiggler

Sun Incinerator

Observation Orb

Diamond Communicator

Race Rush

Limb Enhancers

Injectors

Destiny Destroyer

Question 10

What's the best strategy to save the planet?

Spreading love.

Loving yourself.

Prioritizing knowledge and education.

Following in good people's steps.

Having fun and letting go of negativity.

It's nearly impossible to save the planet.

I don't know. That sounds like a cliché idea.

None. Saving the planet is a waste of time.

Question 11

What kind of villain is more dangerous?

Unfeeling

Stubborn

Foolish

Undisciplined

Serious

Confident

Two-faced

None of them.

Question 12

What do you think of Fusion?

It's cute

It's exciting

It's romantic

It's unnecessary

It's funny

It's creepy

It's overrated

It's disgusting

Question 13

What is your prominent mood?

Peaceful

Excited

Nervous

Focused

Tired

Insecure

Bored

Sad

Question 14

Which one breaks your heart?

Ignorance

Aloofness

Wrong judgments

Disrespect

Mean jokes

Humiliation

None of them.

Lies and betrayals.

Question 15

What are your thoughts on Steven Universe: The Movie?

It was perfect.

It was fine.

It could be better.

I liked that it had more action scenes.

It was funny. I enjoyed it.

The film had too many mistakes and plot holes.

I haven't watched it yet.

I didn't like it at all.

Question 16

What's the best way to beat Monster Steven?

Healing his soul.

Creating a group of superheroes to fight him.

Studying his nature and finding his weaknesses.

Setting up a trap.

Letting him be.

Planning a perfect attack.

Using technology.

None. There's no way to beat real monsters.

Question 17

Which one is a good nickname for you and your partner's Fusion?

Romantica

Bonded Bam

Two of a Kind

Ultra Us

Silly S.O.

Perfect Duo

To the Power Two

I hate Fusion.

Question 18

What kind of superpower would you like to have?

Healing

Flying

Mind-reading

Superhuman strength

Teleportation

Invincibility

Invisibility.

Something deadly

Question 19

How do you feel when you're lonely?

Peaceful

Bored

Energetic

Concentrated

Sleepy or hungry

Nervous or scared

Happy

Sad

Question 20

Final question: How old were you when you watched Steven Universe's first episode?

23-25

17 or younger

18-19

20-22

26-29

30-35

36 or older

I don't want to specify my age.