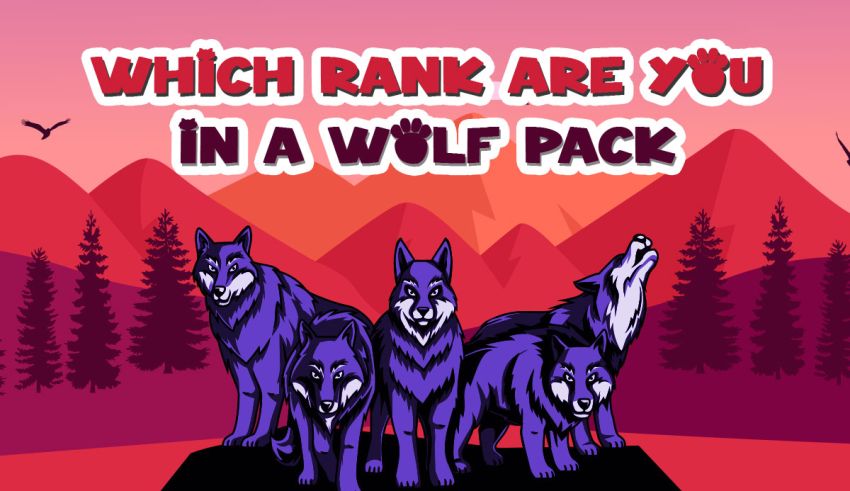 Do you want to know which rank you are in a wolf pack? Take this hunting, mating, and breeding quiz to find out if you'd be an Alpha, Beta, Omega, or just a lone wolf.
How to Guess Your Rank in a Wolf Pack
In theory, you are an Alpha wolf if you like to be in charge of a group. If you prefer to be the second-in-command and watch out for the group members, you're likely a Beta. But if you choose to stay out of trouble and refuse to take charge, you're Omega.
It's also possible that you don't fit in any of the wolf pack ranks. In that case, you are a lone wolf, a Beta who leaves the group to start its own pack.
| | |
| --- | --- |
| Wolf Pack Rank | Meaning |
| Alpha | Leader |
| Beta | Second-in-command |
| Omega | Subordinate member |
| Lone Wolf | A Beta who leaves the pack |
Take the Wolf Role Quiz to Discover Your Position
By taking the test, you find out what you'd do if you lived in a K9 pack: Would you become the leader? Would you be the warrior? Or would you rebel against the hierarchy and start your own independent journey?
Knowing your wolf pack rank differs from discovering your animal spirit. It's more of a behavioral analysis, determining your role in social environments.
Which of the Four Wolf Pack Ranks Are You?
To accurately decide which role one could have in a group of predators, you need more info than their typical behavior.
In others words, just because your boss leads the company doesn't mean they're an Alpha male or female. They could actually have the lowest rank, Omega, due to their passive social behaviors.
So, unlike determining one's dog breed type, you can't be certain about someone's wolf role knowing only their basic features. Regardless of their social status, any individual could have one of the following ranks.
Alpha:
Also called the leader, an Alpha wolf is in charge of everyone in the pack. It decides when to hunt, who to attack, and who to eat first.
Beta:
Theoretically, some wolves in a pack become the second-in-command unite, fighting and hunting for the group under the Alpha's lead.
Omega:
The term was coined to refer to wolf packs' lowest-ranked and weakest members.
Lone wolf:
When a Beta leaves the pack to start its own family, it becomes a lone wolf.
Other Interpretations of the Wolf Roles
Alpha, Beta, and Omega have created a whole subgenre in art, literature, and cinema. (Take Omegaverse as an example). But that's now how most scientists categorize wolves. In fact, there are other interpretations based on breeding and relationships as opposed to power hierarchies.
According to the International Wolf Center, "most wolves who lead packs achieved their position simply by mating and producing pups, which then became their pack." So, you could call them breeders or parents.
There's another classification with four prominent roles: Leader, Warrior, Mother, and Guardian. But it's pretty similar to the Alpha-Beta-Omega theory. The only difference is the Guardian rank, young wolves who are supposed to protect the pups when other males are unavailable.
The Problem with the Alpha-Beta-Omega Theory
Your biggest question might be something as innocent as, "What role am I in a wolf pack?" But there's a catch: The idea of wolves living in precisely ranked communities is a myth.
Unfortunately, some people have used the idea of Alpha-Beta-Omega structures to justify their rude, inconsiderate, toxic, and even inhumane behavior. But recent studies show that wolves don't fight or bully each other to gain power over others.
David Mech, the American biologist who popularized the term Alpha wolf, has tried to inform everyone that he made a mistake. He realized that Alpha wolves are just parents of the pack members.
So, unlike what the media suggests, it's not the most masculine, badass wolf who gets to lead others after beating his opponents up or tearing them apart. Wolves simply follow their moms and dads like most other species.
Are You a Leader, Follower, Protector, or Breeder?
Whether it's scientific or not, knowing what role you have in a wolf pack is fun. So, we created an engaging quiz to expose your rank based on your social persona.
But you have to answer the questions as if you were a wolf. That's how you find out if you are a reliable leader, a daring warrior, or a caring protector or guard.
By the way, if you're interested in fun personality quizzes inspired by the wildlife, check out our "What Animal Am I Quiz." It's a series of creative questions that reveal your inner creature with accuracy.
Disclaimer: Read Before Taking the Quiz
QuizExpo is against any form of discrimination. We are aware that specific groups of people validate their toxic behavior by calling themselves Alpha. But we've tried our best to keep the quiz results toxicity-free and educational—as well as entertaining.
Please, contact us if you find any questions or results inappropriate or misleading.
Now, hit the start button and discover your position in an actual wolf pack!
How to Play?
Playing personality quizzes is straightforward: Choose the option that's true about you—or you relate to—and select "Next." Unlike trivia quizzes, personality tests have no right or wrong answers. But the questions are in forced-choice format. The point is to push you to choose an option that makes the most sense, not the one that's 100% true. For the most accurate results, don't overthink your responses. Go with options that you "feel" are the best.
Questions of the quiz
1

Why do you think wolves have specific ranks in their packs?

To survive other wolves' attacks

To hunt better

It's probably just an instinctive thing.

It's because most wolves are scared of the Alpha.

I have no idea.

2

What makes wolves unique?

Their soldier-like attitude.

Their intelligent hunting strategies.

Their monogamous nature.

Their strength.

I think wolves are overrated.

3

How would you feel about hunting if you lived among wolves?

I'd love it.

I wouldn't like it. But I'd do it to survive.

I'd ask others to hunt for me because I hate doing that.

I'd probably enjoy hunting alone.

I dislike all kinds of savagery.

4

What would you do if your pack's leader wasn't qualified for the position?

I'd try to replace it.

I'd help it improve.

I'd mind my own business and do nothing.

I'd leave the pack and create my own superior group.

IDK. I'm not a wolf.

5

Relying on your instincts, what kind of partner would you choose to breed?

Healthy and strong.

Smart and intuitive.

Kind and protective.

I don't like the idea of breeding.

I wouldn't choose my partner based on my "instincts."

6

What part of wolves' social life is interesting?

Their hierarchy of power.

Their mating and breeding.

Their parent-child relationship.

Their somewhat democratic leadership.

I don't know anything about their lives.

7

What could be your priority if you were a wolf pack's leader?

Breeding and growing our pack.

Protecting the cubs.

Saving enough food to survive rainy days.

Training young wolves to create a loyal army of warriors.

I don't know.

8

How would you treat the elderly members of your pack?

I'd respect them.

I'd protect them.

I'd probably spend most of my time with them.

I'd avoid them. I don't like hanging out with the elderly.

I'd treat them like everyone else because age is just a number.

9

Which of the following elements could symbolize the wolves' nature?

Blood

Claws

Teeth

Bones

I don't know

10

How often do you rely on your instincts to make important decisions?

Always

More often than not.

Rarely.

It depends.

Never.

11

What are you good at?

Analysis

Communication

Entertainment

None of them

All of them

12

Which one matters the most?

Physical strength

Mental health

Looks/appearance

Mindset

All of them, duh.

13

What would you like to teach to people that are younger than you?

Self-defense

Self-love

Self-confidence

Self-reliance

None of the above.

14

Does any of the following statements describe you?

I'm a natural mom/dad.

I'm like an older sibling.

I'm like a younger sibling.

I'm like the cool uncle/aunt everyone loves.

I'm like a grandparent.

15

What kind of people make great leaders?

Experienced

Smart

Kind

Assertive

People who're trained for a leadership position.

16

How would you react if another wolf pack attacked yours?

Protecting the kids and she-wolves.

Preventing casualties at all costs.

Getting to a safe place.

Distracting the attacking pack so my friend and family can escape.

IDK. I'm not a wolf.

17

What's the best war strategy?

An all-out attack.

A planned counter-attack.

Defense

Stealth attack

I don't know.

18

What do you think of disloyal people?

I hate them.

Meh, I can't say I like them.

I relate to them.

I don't get them.

It depends.

19

How often do you feel a need to socialize?

All the time.

Frequently.

Rarely.

Never.

It depends.

20

Final question; how good are you at following the orders?

I'm better at giving orders than following them.

It depends on who's giving the orders.

I'm really good at following orders.

I'm terrible at following orders.

It depends on the order.