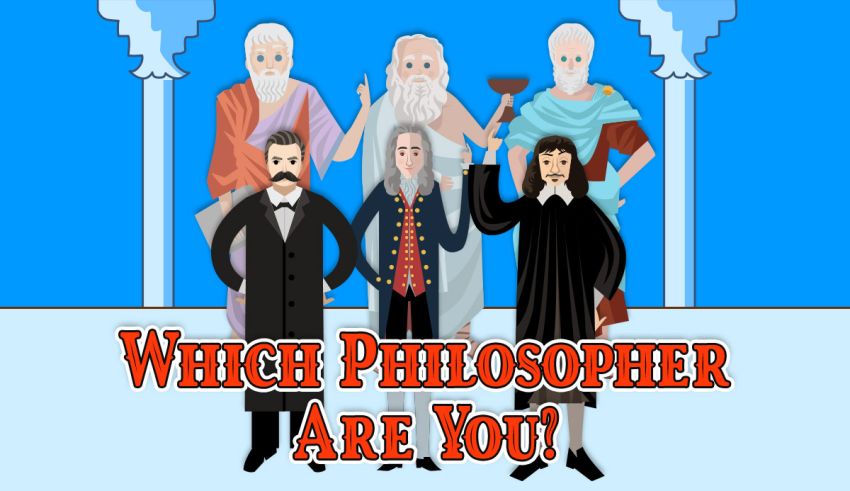 If you wondered which philosopher are you? This complex ideology quiz matches you to a famous wisdom lover. Plato, Aristotle, Nietzsche, or else?
For the Love of Philosophy
The word philosopher means "lover of wisdom." And you are here to find out which 'philosophers' matches your personality. We created the first accurate quiz that matches your ideologies, views, and thoughts to the greatest minds of all time.
Unlike most other quizzes, we don't ask irrelevant questions like "How old are you?" Instead, we take you on a philosophical ride to dig deep into your true self and find your perfect match afterward.
Find out which famous philosopher you are.
The primary goal of the quiz is to answer questions like, "Which philosopher am I?" We have created a database of famous wisdom lovers' profiles. And your responses help us compare yours to them.
Discover your philosophy branch.
What kind of philosopher would you be? Which of the seven branches would you choose? Axiology, Metaphysics, Epistemology, Ethics, Political Philosophy, Aesthetics or Logic? The good thing about our test is that it reveals your branch based on your persona and ideologies.
Get to know your books and well-known works.
The big question might be, "Which philosopher are you?" But we have more to offer. The test results introduce some of the books or famous works of the philosopher that you match. We handpick the books that suit your way of thinking and overall character. So, it's going to be a fun collection.
See what key ideas resonate with your personality.
What is a philosopher with no ideology? We wanted to finetune the results with the unique ideas of the great mind that you resemble. So, your results also include pieces of information that expose what type of belief system you might have.
How the Philosopher Quiz Works
The test is a set of 20 questions that focus on your personality and thoughts to identify which famous philosopher is similar to you. It includes three primary phases that expose your MBTI personality type, challenges your beliefs, and finally reveal the most similar historical character.
Here's what to know about each phase of the philosophy quiz:
MBTI Analysis.
Our database includes information about the personality type of famous philosophers worldwide. But we need to uncover your class in advance to see which one you resemble in real life. So, the first couple of questions in the test focuses on revealing your MBTI category as accurately as possible.
| | |
| --- | --- |
| Philosopher | MBTI Personality |
| Plato | INTP |
| Aristotle | ENTJ |
| Immanuel Kant | INTP |
| Lao-Tzu | INFP |
| Nietzsche | INTJ |
Ideology Challenge.
The second phase of the quiz consists of some mind-bending and slightly uncomfortable questions. The goal is to challenge your beliefs and discover your true persona before suggesting the best philosopher match.
Character Match.
The final stage of the test is to find out which world-famous philosopher shares the same personality type with you. We included brief breakdowns in the results, so you leave the quiz knowing more about yourself. Be mindful that we do not require you to enter your email address or any pieces of personal information to see the results. So, you're guaranteed to find your match instantly.
How to Know Which Philosopher You Are? Without a Test
Taking the quiz is the most reliable way of meeting your philosophical counterpart. But if not interested, try the other method. You need to read the personality description of your favorite philosophers to decide which one you relate to the most. It's not an accurate technique. But it's the only alternative you have.
#1. Plato
Known as one of the greatest minds, Plato is an INTP type. He values creation and reformation, as well as boldness and consistency. His personality is described as authoritative, thoughtful, and wise.
Those who take the philosophy quiz and match Plato are natural logicians. They are intuitive, thinking, and rational characters who enjoy researching and finding the truth no matter what.
#2. Aristotle
As an ENTJ, Aristotle is a leader. A logician who's confident, expressive, and goal-oriented. He's one of the most open-minded philosophers who was way ahead of his time. Aristotle was not afraid of expressing disagreement with others' ideologies no matter what—he's famous for rejecting some of his mentor, Plato's ideas.
ENTJ characters who match Aristotle in the quiz are ruthlessly rational. They believe there's a thin line between stupidity and genius.
#3. Nietzsche
Nietzsche had one of the most complex personalities among contemporary philosophers. It's rare for the participants to match him. But he's also one of the most popular results of the philosophy quiz. As an INTJ, Nietzsche is described as an architect. He was introverted, thinking and judging. And he loved perfecting the details of life.
When asked, "Which philosopher are you?" Nietzsche might not pop up in your mind. But matching him in the test indicates you are a creative, private, and open-mind person.
#4. Lao-Tzu
Lao is a mediator. His philosophy is based on balance, peace of mind, and freedom from desire. As an INFP, he must have been quiet, imaginative, caring, and creative. And his key ideas, such as Taoism, show how big of a peace-seeker he was.
Those who match him in the philosophy quiz are problem-solvers. They have perfected the art of negotiation and are excellent convincers.
Other Philosophers
History is full of great minds that might have had a similar personality to yours. But you just read the description of four of them. If you want to increase your chance to find your perfect match, don't hesitate to take the quiz. We have gathered reliable information about the biggest names in philosophy and created a fun, entertaining, and challenging path to match them with your persona.
If You Don't Like Philosophy, Don't Take the Quiz.
Be mindful that the 'Which Philosopher Are You Test' is slightly complicated. We recommend it to those who already love the idea of digging deep into their thoughts and exploring their personalities.
Questions of the quiz
Question 1

What's the meaning of life?

It's a journey to find yourself.

It's a chance

It's a complicated phenomenon

It's a systematic series of events

Life is meaningless

Question 2

How can a person truly thrive?

By letting go of worldly ideas

By building confidence

By learning one new thing per day

By understanding the rules of life

Thriving is an illusion

Question 3

What is personality?

Combination of thoughts and deeds

The outcome of substance and form

The outcome of environment and genetics

The outcome of a systematic education

A combination of everything that a person goes through

Question 4

How do you define ethics?

Your inner moral principles

Moral principles accepted in a society

Your moral principles + society rules

A systematic way of distinguishing right and wrong

A forced way of thinking

Question 5

Which one matters the most?

Peace of mind

Career

Friendships

Education

None really matters

Question 6

What happens after we die?

Hopefully, another journey begins.

Logically, we shouldn't expect anything special.

I'd rather skip the question.

I don't know the answer.

Nothing happens. We disappear forever.

Question 7

What's death?

It's the start of a new life

It's a reason to live

It's an unfortunate truth

It's a population balance tool

It's the only real illusion of life

Question 8

How can you achieve peace of mind?

By accepting life as it is

By creating yourself a better environment

By believing in yourself but also doubting your knowledge

By educating yourself

You can never find it no matter what

Question 9

What's one thing that holds most humans back?

Greed

Lack of confidence

Strict ideologies

Fear

Foolishness

Question 10

What's the best strategy to solve problems?

Patience

Trial and error

Innovativeness

Teamwork

Creativity

Question 11

True friendship is based on __________.

Trust

Respect

Virtue

Shared gain

Lies

Question 12

What's an ideal society's main goal?

Equality

Regulation

Freedom

Peace

Ideal societies don't exist

Question 13

What's the key to success in life?

Letting go of your sword and shield

Working towards common goals

Understanding your true self

Having realistic expectations

Owning your experiences

Question 14

Which word describes you better?

Calm

Assertive

Thoughtful

Serious

Puzzled

Question 15

How to define fear?

The will to survive

An essential emotion

The other side of foolishness

A tool to control people

An illusion of weakness

Question 16

What defines virtue?

Your morals

Your deeds

Your intentions

Arbitrary rules in your society

Your superstitions

Question 17

How would you fill in the blank? A good person ___________.

Won't lie

Won't betray

Won't brag about being good

Won't steal

Won't exist

Question 18

Can you describe what freedom means?

It's the inner peace everyone needs.

It's a byproduct of a healthy society

It's the ability to bring your thoughts to life

It's the state of being happy with your limitations

It's an illusion

Question 19

How can you achieve your full potential?

By being humble

By having others' help on your side

By being authentic to yourself

By being loyal to your principles

By understanding your bright and dark sides

Question 20

Final question: what do you like about life?

I like everything about it.

I like how unpredictable it looks.

I like how complicated it is

I like how predictable and systematic it is

I don't like anything about it