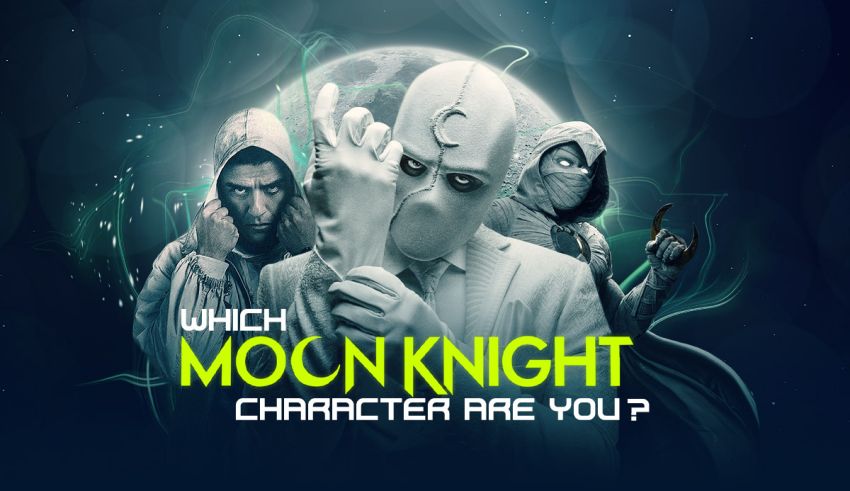 If you have watched MCU's new series, you may wonder which Moon Knight character you are. This quiz reveals whether you are Steven Grant, Mr. Knight, Jake, etc.
Moon Knight Personality Quiz Explained
It's a Marvel quiz that identifies which of the Moon Knight's alter-egos you have.
According to the comics and MCU series, Marc Spector is Moon God's host. And he has four alternative personalities: Steven Grant, Jake Lockley, Mr. Knight, and Moon Knight himself.
The test uses dissociative identity disorder symptoms and your characteristics to expose which one is more similar to you.  (It's because Marc is believed to have DID, a type of disorder that cause multiple personalities).
Tip: If you're looking for a broader match, consider taking our Marvel Character Quiz instead. It includes most of the famous MCU superheroes—not just one franchise.
Which of the Khonshu's Four Aspects Are You?
According to Marvel's comics, Marc seals a deal with Khonshu, the God of the Moon, God of Vengeance, and the Shepherd of the Lost. The agreement granted another life to Marc and turned him into an avatar for hosting the four aspects of the Egyptian God.
By taking the Moon Knight Quiz, you figure out which aspects are prominent in you.
Note: except for the Watcher of Overnight Travelers, it's unclear which aspect is associated with Marc's personas. But the following is the possible combination based on what we already know.
–           Pathfinder
Khonshu's Pathfinder alter-ego is probably manifested as Jake Lockley. As a cab driver in New York, Jake knows every inch of the city. He's also familiar with street life and can even communicate with criminals to extract intel.
–           Embracer
The comics don't mention which alter-ego is the Embracer. But since the word "embracer" is an alternative form of embraceor, it likely refers to Steven Grant. He is a billionaire playboy who is capable of embracery.
–           Defender
Mr. Knight is the most down-to-earth and helpful persona out of all. He is the one who cares about people and is less violent towards the villains. So, it won't be surprising if he was the manifestation of Moon God's Defender aspect.
–           Watcher of Overnight Travelers
We do know that Moon Knight is the manifestation of Watcher of Overnight Travelers. He is protective and strong, putting the fear of God into his enemies.
How to Know Which Moon Knight Character You Are?
Studying Khonshu's aspects and Marc's personas can help you find your match. So, you don't necessarily need a quiz to identify your MCU alter-ego—although that's the best option.
#1. Marc Spector
Personality-wise, Marc is determined, tough, and dutiful ISTJ. As an ex-Marine and CIA agent, he is a skillful fighter capable of working with all sorts of weapons. He is also vengeful, seeking revenge on Bushman.
#2. Steven Grant
In the new MCU show, Steven Grant has an ISFJ personality type. He is introverted and observant, hardworking, and devoted. However, in the comics, he is more of a confident businessman who's also a well-known playboy in the city.
#3. Jake Lockley
Jake is an ISTP whose personality can be described as sensing, thinking, perceiving, as well as fiercely independent. He's most likely the manifestation of Moon God's Pathfinder persona. And other alter-egos, especially Moon Knight, rely on his connections and pieces of information.
#4. Mr. Knight
He is a down-to-earth, subdued, but also flamboyant persona. Mr. Knight tends to be more of a detective than a caped vigilante. And he's often genuinely caring towards people in need of help.
#5. Moon Knight
Just like Marc Spector, Moon Knight has an ISTJ personality type. But he's more brutal, bold, and risk-taking. It's said that he wears an all-white costume to let his enemies know that he's coming for them. The comics also show that he can be quite violent, attacking the bad guys ruthlessly.
| | |
| --- | --- |
| Character | Personality |
| Marc Spector | ISTJ |
| Steven Grant | ISFJ |
| Jake Lockley | ISTP |
| Moon Knight | ISTJ |
Is It Possible to Match Other Characters in the Quiz?
The test reveals which Moon Knight persona you have. But that's not all it does. You might end up matching other characters such as Arthur Harrow, Layla El-Faouly, or Bobbi Kennedy as well.
Is the Quiz Based on the Comics or the MCU Version?
With the release of the 2022 Moon Knight TV series on Disney+, we know that Marvel is taking a new approach to developing the characters. For example, Steven Grant is portrayed as a dorky gift shop worker rather than a billionaire playboy. So, which version is used in the quiz, you might ask?
Our editors used both comics and MCU descriptions to create accurate profiles. But the results lean towards the original versions of the characters.
Disclaimer
QuizExpo does not own any of the Moon Knight Character Quiz images. Marvel Entertainment owns all the said pictures, and no copyright infringement is intended.
Questions of the quiz
Question 1

What's something about Moon Knight's personality that makes him unique?

His intentions

His confidence

His fighting skills

His cleverness

His ruthlessness

Question 2

What would you do to a criminal who has surrendered?

I'd hand them to the authorities

I'd imprison them in my basement

I'd beat them up and interrogate them

I'd use them as my spy

I'd finish them right away

Question 3

What kind of superpower would you like to have if you lived in the Moon Knight universe?

Shapeshifting

Invisibility

Invincibility

Reading minds

Something lethal

Question 4

Of the following skills, which one are you better at?

Public speech

Communication

Teamwork

Critical thinking

Leadership

Question 5

What career would you choose to cover up for your superhero persona if you were a Marvel character?

Model

Businessperson

Police officer

Grocery clerk

I wouldn't need a job for that

Question 6

How do you feel, or what do you think about criminals?

I pity them

I despise them

I feel sorry for them

I relate to them

I like them

Question 7

Moon Knight aside, which of the following Earth-616 superheroes is your favorite?

Dr. Strange

Iron-Man

Captain America

Spider-Man

Hawkeye

Question 8

What would it be if you had to pick a nickname for your favorite weapon?

Mr. Killingskey

Lil Kissy

Hell Blade

Choker Nutz

The Servant

Question 9

What makes a person a true friend?

Respect

Loyalty

Reliability

Supportiveness

I don't know

Question 10

What's the best way to fight crimes in Earth-616?

Having a solid police force

Investing in technologies to fight crimes

Training people and teaching them self-defense

Using more undercover cops

Letting superheroes take care of the matter

Question 11

Many people compare Moon Knight to Batman. What do you think about the comparison?

It's understandable

Batman is boring

Moon Knight is much stronger

It's a funny comparison

Batman should be proud of that

Question 12

What should be a Marvel hero's priority?

Remaining a nice person

Remaining a cool person

Being prepared for the worst

Having as many reliable friends as possible

Learning how to kill villains as fast as possible

Question 13

Choose your favorite Egyptian God.

Osiris (God of the underworld)

Re (God of the sun)

Horus (God of the sky)

Anubis (God of the dead)

Seth (God of chaos)

Question 14

What is your favorite role in a team?

Coach

Defense

Attack

Support

Captain

Question 15

What kind of weapon would you like to use if you were an actual Moon Knight character?

High-tech stuff

Something classy like a Katana

Daggers or arrows

Some sort of handgun

I prefer my bare hands

Question 16

How do you react to people who flirt with you?

I don't overreact and enjoy it.

I flirt back

I ask the person to stop

I get nervous and shy away

I ignore the person

Question 17

Would you like to join the Avengers if you were a Marvel superhero?

Yes, I'd do that

It depends on their offer

I'm not sure

That would be my dream come true

No, I prefer solo missions

Question 18

Of the following incidents, which one would piss you off the most?

Disrespect

Ignorance

Disobedience

Disloyalty

All of them

Question 19

Choose an ally that you think could help you fight the bad guys.

Phil Coulson (SHIELD Agent)

Pepper Potts (Iron-Man's wife)

Peggy Carter (Captain America's love interest)

Ned Leeds (Spider-Man's best friend)

None of them. I'm a lone wolf.

Question 20

Final question; how do you feel about making new friends?

I like it

I need it

Meh

I LOVE it

I don't like it at all