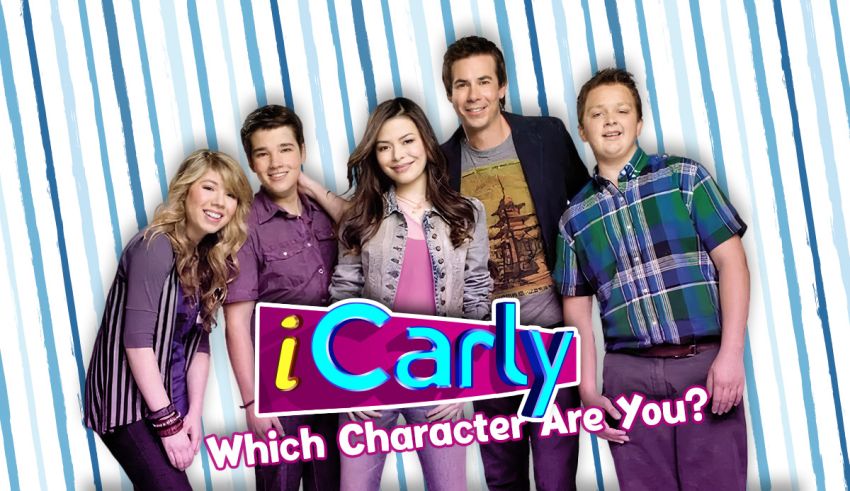 Hey, which iCarly character are you? Carly, Sam, Spencer, Freddie, or else? This fun quiz matches you to one of the 6 main characters by your personality.
An Updated 2021 iCarly Character Quiz Is Here!
With only 20 abnormally interesting questions, this quiz identifies which character of the original and new iCarly you resemble. And it does so with 100% accuracy.
Unlike our VICTORiOUS Quiz, this one has no right or wrong answers and trivia questions. The test is designed to analyze your personality, matching it with one of the 8+ main characters of the show.
Get to Know Which iCarly Character You Are
The premise of the test is to answer questions like, "Which iCarly character am I?" Our editors rewatched all the episodes of the 2007 Nickelodeon hit to create an accurate match-finding system.
Here are some of the results you might end up getting at the end of the questionary.
· Carly
When asked, "Which iCarly character are you?" most fans would love to say, "I'm Carly Shay." That is because she is the protagonist of the story. Despite her carefree nature, Carly is a bright, vivid, and loveable teen girl. She moderates everything around her, bringing out the best in her friends no matter what.
People who match Carly in the quiz have high levels of Libido. And they are described as rather spiled characters.
· Sam
Matching Sam in an iCarly quiz is not a piece of good news. She is an aggressive, unapologetic teen who hates it when people oppose her. Of course, Sam is also known as a beloved character who fans miss in the new sequel. But again, her anger issues make her a controversial match.
· Spencer
Many boys who watched the show as a teen would like to say, "I'm Spencer," when asked which iCarly character are you? He is the man-child of the show who, surprisingly, has an active love life. Spencer is the cool (slash) funny (slash) protective guy other teenagers need to survive. But no one ever notices the importance of Spencer's presence throughout the show.
Participants who match Spencer Shay in the iCarly Character Quiz are artistic, optimistic, and creative.
· Freddie
Nerdy and nice are Freddie's middle names. His exposure to helicopter parenting has made him a somewhat insecure boy. However, we see that he grows into a more confident and reliable character throughout the story. Despite everything, Freddie Benson remains an honest guy who is loyal to his friends no matter what. And his unconditional love for Carly is still an admirable part of the show to this day.
Those who match Freddie in the test are nice, humble, and orderly.
· Other Character?
Just like any other Nickelodeon teenager sitcom, iCarly has lots of memorable characters. So, it is somewhat impossible to include all of them in one single quiz. However, QuizExpo's test, which you are about to take, has most beloved personalities, such as Gibby, Nora, and other reoccurring characters.
| | |
| --- | --- |
| Character | Age |
| Carly | 27 |
| Freddie | 27 |
| Sam | 27 |
| Spencer | 39 |
| Millicent | 11 |
| Gibby | 27 |
Are the New Sequel Characters Included, too?
Yep! The iCarly Character Test lists all the main cast and interesting personalities from the 2021 sequel alongside the original gang. You match newly introduced cast such as Millicent and Harper.
What Else Does the iCarly Quiz Reveal?
We wanted to do something more than just a casual match-finding test. That is why the results include additional information such as a free personality analysis and a personality disorder diagnosis! (For entertainment, though).
Your iCarly Crush
One of the coolest pieces of information the quiz has is your love interest. Despite being a teen show, iCarly had lots of controversial love scenes. So, we thought you might like to know which character could be on your hot boy/girl radar if you lived in Seattle and attended Ridgeway (Junior) High School.
Personality Analysis
What makes a particular iCarly character your match? That is the type of question the quiz results answer. The comprehensive persona breakdown you receive lets you know the why behind your result. Plus, it helps you better understand your true self through fiction and sitcom-ish methods.
Your Possible Personality Disorder!
It might sound too dark for iCarly fans, but almost every character in the show has some type of PD. Sam, for example, is antisocial. Carly has narcissistic behaviors. And Freddie seems to have a general anxiety disorder.
So, our editors thought that it would be fun to diagnose you with a personality disorder based on your responses. Of course, it would not be an official diagnosis. So, please, take the results lightly.
Disclaimer
QuizExpo does not own any of the images used in the iCarly Character Quiz. Nickelodeon owns all the said pictures.
How to Play?
Playing personality quizzes is straightforward: Choose the option that's true about you—or you relate to—and select "Next." Unlike trivia quizzes, personality tests have no right or wrong answers. But the questions are in forced-choice format. The point is to push you to choose an option that makes the most sense, not the one that's 100% true. For the most accurate results, don't overthink your responses. Go with options that you "feel" are the best.
Questions of the quiz
1

It's the first day of high school. How do you feel?

Excited

Sad

Fine

Nervous

Numb

Disgusted

2

Your friend has broken up with their girl/boyfriend. What do you say to make them feel better?

You deserve better

Sh** happens

Relationships are meant to end

He/she was ugly AF, anyway

Let's go f*** up his/her car

Time to plan your revenge, my friend

3

Carly wants you to do something embarrassing in front of the camera for her show. What do you say?

I don't want to

What's in it for me?

I'm not stupid

Only if it's going to make me famous

Meh

I'm totally down

4

Sam is arguing with Gibby. Who do you side with and why?

Gibby, because he's a nice guy

Both of them, because why not

None of them, because I don't care

Sam, because I'm afraid of her

Sam, because she's the coolest

Sam, because she's always right

5

Spencer needs an extra $200 for her next invention. Would you lend it to him?

Yes, sure.

It depends

Not a chance

Maybe

Spencer can go F himself

I don't lend money to anyone

6

Which one sounds like the type of party you'd throw after high school graduation?

Nice and classy

Crazy and fun

Formal and organized

Naughty and wild

I hate parties

Lavish and expensive

7

What is your love life like? (Describe it in one word).

Quiet

Complicated

Boring

Active

Stupid

Torturing

8

Complete the following sentence. School is ____________.

Fun

Stupid

Essential

Underrated

A form of torture

Overrated

9

Which of the following roles would you like to have during a silly roleplay?

Groom

Scientist

Witch

Princess

Serial killer

King/Queen

10

How much would you pay to be Sam and Carly to have you in their show?

None

$50

$100

$1,000

$5,000

$10,000+

11

Pick a topic that you could talk about for an hour with no preparation.

Technology

Philosophy

Social media

Books

Sports

None

12

How often do you use social media, and what for?

Rarely, just to check in with friends

Often, just to kill time

Always, to keep my followers updated

Always, to see what my friends are up to

I hate social media

I'd rather not say

13

Which of the following iCarly characters do you dislike the most?

Nevel

Millicent

Spencer

Sam

Freddie

Carly

14

Your best friend wants to become a YouTuber. What do you do/say?

I support them

I'd say why not

I'd help them create content

I'd ask for a shout out

I wouldn't give an F

I'd say it's a waste of time

15

Do you think Carly is a mean girl?

Not at all

Not sure

Sometimes

Carly is sweet as sugar

Not as mean as me!

Sure, she's the devil.

16

Imagine you have to kiss one of the following iCarly boys. Who do you pick?

Spencer

Nevel

Gibby

Freddie

T-Bo

I'd rather die

17

Describe your ideal relationship in one word.

Calm

Adventurous

Classy and royal

Hot and spicy

Cool

I don't know

18

Guess what? You have a bully in high school. What do you do now?

Tell a teacher

Ask for a friend's help

Plan my revenge

Tell my parents

Punch them in the face

Keep it a secret

19

On a scale of 0-10, how difficult is it for you to avoid sex for a month? (10 means it's impossible).

20

Final question; what do you like about iCarly the most?

Characters

Jokes

Plot

Romance

Sam!

None