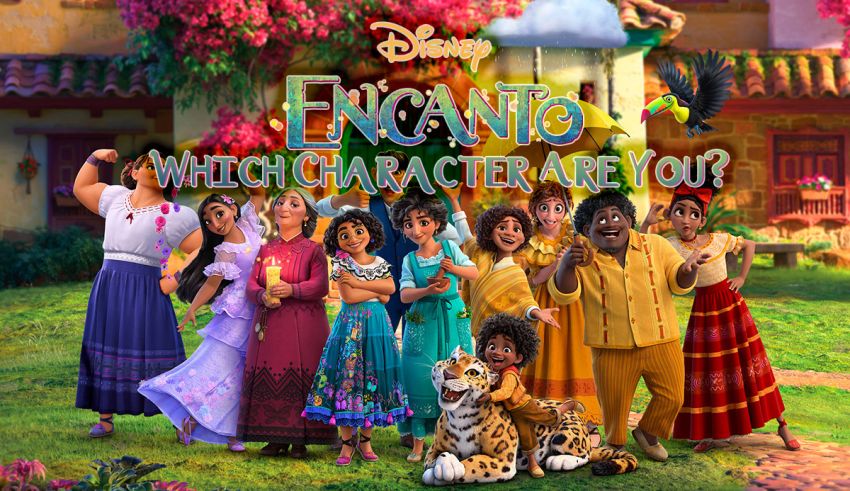 Do you want to know which Encanto character you are? This quiz reveals which Madrigal family member matches you. Are you Mirabel, Luisa, Antonio, Bruno, or else?
The Encanto Quiz Explained
The test is a set of 20 personality questions inspired by the magical and emotional events of the Encanto animated movie. Its goal is to reveal which of the main characters is similar to you.
Unlike our ultimate Disney trivia quiz, there are no right or wrong answers in the questionnaire. Your choices help us analyze your personality and find the perfect match accordingly.
Which Madrigal Are You?
The premise of the Encanto quiz is to help fans who ask, "Which character am I?" We have created detailed profiles of all the magical members of the Madrigal family members. And your responses enable us to create your as well. So, by the end of the test, you'll meet the character who's your soulmate or counterpart in the Disney universe.
Things That the Quiz Reveal About You
Yes, the big question is, "Which Encanto character are you?" But we wanted to create a quiz that does more than just that. The quiz participants learn the following additional stuff about their persona as an animated Disney character.
Your best friend.
We analyze your responses to declare which Encanto characters could be your bestie. It's fun to know which Madrigal members would actually vibe with you. And the quiz helps you discover that. As seen in the movie, Mirabel is a friendly girl who always tries to make new friends. But not all characters are as friendly as her. So, only an accurate and genuine test (like the one on this page) can reveal your best friends.
Your magical powers.
Each Madrigal family member has a unique magical power—except for Mirabel. By taking the Encanto quiz, you have the chance to find out what YOUR magical abilities could be. We look into your persona and evaluate your likes/dislikes to find a reliable answer.
| | |
| --- | --- |
| Antonio | Communicate with animals |
| Mirabel | No Power |
| Luisa | Superhuman strength |
| Isabela | Can conjure and grow plants |
| Bruno | Ability to see the future |
| Dolores | Enhanced hearing |
Your personality type.
You want to know which Encanto character you are. And we got you covered. But don't forget that you're about to take a personality test. So, your responses will provide us with enough information to break down your own persona as well. Your result includes a comprehensive character analysis explaining why we think a particular Madrigal member is your perfect match.
How to Know Which Encanto Character You Are
Your best bet is to take an online quiz. But if that's not your thing, try the manual method. Read the personality description of the main characters and see which one you relate to the most. You can find some examples below.
#1. Mirabel
As the movie's protagonist, Mirabel is the only Madrigal with no magical power. But that doesn't stop her from being one of the loveliest members of the family. She's friendly, optimistic, helpful, and independent. Despite having no extraordinary abilities, Mirabel is a problem-solver and creative-thinker who protects the whole family from greater dangers.
Matching Mirabel in the Encanto quiz means you're a generous and enthusiastic person. You want to live your life to its fullest. And you also enjoy helping others thrive in their personal paths.
#2. Luisa
She's the strongest Madrigal. Everyone counts on Luisa when it comes to hardships, and she tries her best not to disappoint any of her relatives. However, Luisa feels a bit lonely since most family members expect her to take care of the most challenging tasks. She finds it exhausting to be the one everyone relies on and even complains about it in her song.
Despite all that, many would pick Luisa when asked, "Which Encanto character are you?" Thanks to her superhuman strength and kind nature, she's one of the most popular girls in the movie. Matching her in the test indicates that you're a protective person who's always ready to serve loved ones.
#3. Antonio
Although the youngest, Antonio is one of the Madrigals' kindest and most intelligent members. He has a heart of gold and is noticeably kind and caring. Antonio doesn't mind that Mirabel has no special or magical powers and loves her anyway. His innocent nature makes him a loveable and cute character many people would like to match.
It's not common for adults to say, "I'm Antonio," when asked, "Which Encanto character are you?" And that's mainly because of her child-like innocence. But you have the opportunity to match him in our quiz—although the chances are pretty thin.
#4. Bruno
Bruno has been in isolation for quite a while. And he's usually anxious about most things in life. However, he's also very passionate about his family and is ready to sacrifice everything to keep them safe. Despite his pessimistic nature, Bruno is innocent and likable. Matching him in the Encanto quiz reveals you're a bit introverted, shy, and timid, though.
Other Encanto Characters
The 2021 Walt Disney movie has so many colorful and memorable characters. And it's not an easy task to find your match among them all. So, we'd still recommend you participate in our accurate and entertaining Encanto quiz. It's the fastest and most reliable way of discovering your counterpart.
Why Fans Ask Things Like, "Which Encanto Character Am I?"
The movie portrays a family with distinctive and unique members. The individuality of each Madrigal encourages fans to ask things like, Which Encanto character are you?" Plus, it's an exciting way of entering the fandom.
Disclaimer
QuizExpo does not own any of the images used in the 'Which Encanto Character Are You Quiz.' Walt Disney co. owns all the said pictures. No copyright infringement intended.
Questions of the quiz
Question 1

What makes a person special?

Their emotions

Their personality

Their experiences

Their appearance

Their achievements

I don't know

Question 2

What kind of superpower would you like to have if you were an actual Encanto character?

Flying

Invisibility

Super-strength

Reading minds

Mind control

I don't know

Question 3

What would you use your superpowers for?

To help those in need.

To make the world a peaceful place

To become an invincible hero

To become famous and popular

To create my own army of superhumans

I can't decide

Question 4

What's the most challenging part of having no superpowers while all your family members do?

It's not that of a big deal

Loneliness

Feeling like you're weaker than others

Never feeling special

Blaming yourself

I don't really know

Question 5

What would you say to comfort Mirabel the night she found out she's not magical?

It's not a big deal

You're going to be fine

I'm here for you

It's the worst thing ever. Sorry

You can try again

I don't know what to say

Question 6

If you lived in the Encanto universe, how difficult would it be for you to make friends? (10 means it would be impossible).

Question 7

What should the priority of people who have unique or magical powers?

Helping other people

Preventing wars and hunger

Practicing and becoming better

Shining like a superstar

Acquiring knowledge and improving

I don't know what it should be

Question 8

What would you do if you woke up and realized all your superpowers were gone?

I'd take a few days off and relax

I'd cheer myself up and move on

I'd look for other ways to gain them back

I'd cry and feel awful

I'd spend the rest of my life acquiring new powers

I have no idea what I'd do

Question 9

Which one sounds like a reason to end your friendship with an old friend?

Ignorance

Lying

Irritation

Disrespect

Disobey

I can't decide

Question 10

What is an essential part of a family?

Unconditional love

Trust

Support

Admiration

Goals

I don't know

Question 11

How would you react to Bruno's disappearance if you were an actual Madrigal?

I'd always wait for him to come back

I'd go out and look for him

I'd try to cope with his absence

I wouldn't really do anything

I'd be mad at him and try to forget him

I don't know what I'd do if he disappeared

Question 12

What's something that can ruin you as a person and turn you into an unlovable creature?

Ignorance

Envy

Dependence

Insecurity

Laziness

Um, I can't decide which one it is

Question 13

What's something that can save any sort of relationship and help it thrive?

Kindness

Commitment

Hard work

Attraction

Chemistry

I have no idea

Question 14

If you lived in the Encanto universe, what kind of person would attract you the most?

Friendly

Responsible

Confident

Rich

Famous

None of them

Question 15

What did you love about the Encanto animate movie?

The relationships

The characters

The animations

The songs

The plot

None of them

Question 16

Why do you think Mirabel is the protagonist despite being a regular girl?

Because she's unique

Her emotions made her unique

Not all heroes need superpowers

I don't think she was the protagonist

It's because she was an underdog

I don't know why that is

Question 17

Which one describes your prominent mood better?

Cheerful

Optimistic

Determined

Sassy

Unsatisfied

Depressed or anxious

Question 18

Other than Encanto, what other Disney movies do you love?

Zootropolis

Moana

Wreck-it Ralph

Frozen

Cinderella

None of them

Question 19

What do you usually do when someone or something irritates you?

I play video games

I meditate or read

I overeat

I cry and isolate myself

I keep myself busy with work

I don't do anything specific

Question 20

Final question; how old are you?

Seven or younger

8-15

16-20

21-24

25-30

31 or older