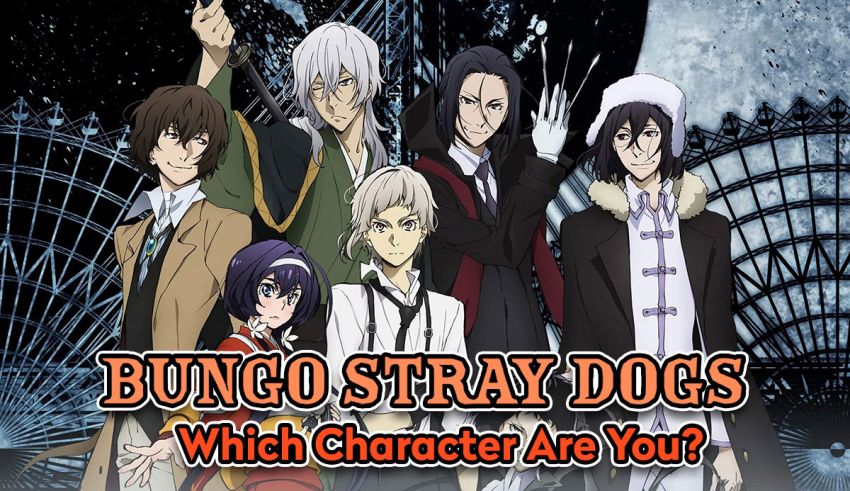 If you want to know which Bungou Stray Dogs character you are, this manga-inspired quiz reviews your traits and abilities to discover your BSD character.
The Ultimate Quiz to Discover Your Bungou Stray Dog Kin
The test is a set of 20 questions inspired by the events of Bungō Sutorei Doggusu anime and manga. The goal is to match your personality to that of the show's characters, revealing the one you represent in real life.
The premise of the questionnaire is similar to our viral Black Butler Quiz. But it dives deeper into your persona and dark core.
Find out if you're a detective or a mafia member.
One of the perks of taking the Bungou character quiz is realizing what kin you belong to. The results also let you know if you would be a member of the Mafia or the Armed Detective Agency. (No other online quiz currently offers such additional information).
See what abilities and skills you have.
Some characters of the Bungou Stray Dogs franchise have special abilities. The quiz analyzes your responses to see if you'd be one of the said ability users or not. Some fans need to know such details because it reveals their type of person. Plus, most fan-favorite characters are among the ability users. So, there's also that.
Get a personality analysis.
The test enables us to answer things like, "Which Bungou Stray Dog character am I?" But that's not all we do. We also analyze your responses outside the concept of the anime show to break down your personality. So, by the end, you'll also get to know yourself better and understand why we think a particular character is similar to you.
How to Know Which Bungou Stray Dogs Character You Are
Thanks to the diversity of personas in each show, it's always challenging to know which anime character you are. But one way to deal with that is by reading the personality descriptions of the main protagonists or antagonists. It's a manual process, though. And you have to decide which one you relate to without a piece of solid evidence to match your characteristics.
Here's a brief description of some of the Bungou characters that might help with that.
#1. Atsushi Nakajima
Despite being the show's main character, Atsushi is not your average protagonist. He has overly low self-esteem and often struggles with guilt and shame. However, Atsushi is always there when you need him as a friend. Though, he sometimes overreacts to the happenings due to his traumatic past and harsh experiences.
If you ask the fans, "Which Bungou Stray Dog character are you?" many would pick Atsushi. That's because he's relatable and vulnerable.
#2. Osamu Dazai
According to the latest data, Osamu Dazai is currently the most popular character in Bungou Stray Dogs series. He is a mysterious and secretive guy who never reveals what's going on in his head. But fans love him because of his confidence and intelligence. Dazai managed to become the youngest leader of the Mafia, and his enemies feared him more than anything in life.
Matching Dazai in the character quiz indicates that you're a natural leader and an excellent strategist. It's easy for people to trust your decisions because they believe in your wisdom.
#3. Naomi Tanizaki
She's not an ability user. But her intelligence has helped her become one of the key employees in the Armed Detective Agency. Naomi is a motherly figure who cares about other detectives' safety and wellbeing more than anything. She's also passionate about helping her coworkers, no matter how risky the situation is. Another thing about Naomi is that she's the most mentally stable girl among all the other characters. Despite the constant threat and fear, she keeps calm and cheers others.
When asked, "Which Bungou Stra Dogs character are you?" many fans would pick Naomi Tanizaki. That's because she's cute, daring, and bold.
#4. Ranpo
Being one of the smartest guys in the series, Ranpo is a loveable character. He might seem childish and irritable at times, teasing and picking on others. But deep inside, he's a genuinely caring friend. Ranpo does everything in his powers to never let any of his fellow detective friends down. And he secretly watches over all of them despite teasing them once in a while.
Participants who match Ranpo are funny and witty. Their cleverness amuses everyone. Plus, they know how to change into their serious and adult-ish mood when necessary.
| | |
| --- | --- |
| Character | Age |
| Nakajima Atsushi | 18 |
| Akutagawa Ryūnosuke | 20 |
| Dazai Osamu | 22 |
| Nakahara Chūya | 22 |
| Edogawa Ranpo | 26 |
Other Bungou characters.
The show has many other cool boys and girls—in all the kins. So, if you want to increase your chances of finding your perfect match, just take the quiz. You'll finish it in less than five minutes. But the results would be much more reliable.
The Cool Thing About the Bungou Stray Dogs Quiz
All questions of the test are based on the anime show's timeline events. Unlike other quizzes that ask cliché questions like, "What is your favorite color?" we recreate situations that are identical to what happens in the series. But don't worry about spoilers—because there aren't any. Although the questions are related to the actual Bungou Stray Dogs' story, they're not identical.
Bonus: You Might Match the Antagonists
You're here to find out which Bungou Stray Dog character you are. But the quiz has a twist. You may (or may not) match one of the antagonists of the show. Think Mori or Akutagawa. Although the bad guys of the anime are pretty popular among the fans, not many would like to be similar to them—especially personality-wise. So, choose your responses carefully if you don't want to end up matching a villain.
Disclaimer
QuizExpo does not own any of the images used in the Bungou Stray Dogs character quiz. Crunchyroll Anime Limited owns the right to all the said pictures. No copyright infringement is intended. Please, contact us for any related concerns.
Questions of the quiz
Question 1

What makes the Bungou Stray Dogs characters so fascinating?

Their personality

Their relationships

Their intelligence

Their backstory

Their skills

They are not fascinating

Question 2

What would be the most challenging thing about being an Armed Detective Agency member?

Fighting the bad guys

Working with super-talented detectives

Solving the strange mysteries

Keeping your identity a secret

Becoming an efficient ability user

Being a detective is stupid, not challenging

Question 3

Which one describes your personality?

Protective

Shy

Cool

Quiet

Loud

Serious

Question 4

What do you think is the best way of fighting the Mafia?

Better rules

More detectives

Better technologies

Harsher punishments

I don't know

You can't fight the Mafia

Question 5

Why do you think Bungou Stray Dogs is such a successful franchise?

It has relatable characters

It has a great story

It has clever plot twists

It surprises you no matter what

It has excellent action scenes

I've seen better anime shows

Question 6

What should be the priority of a detective?

Fighting criminals

Reducing the crime rates

Solving mysteries

Becoming criminals' nightmare

Surviving

IDK. I don't like detectives.

Question 7

What do you think about the brutality of the Mafia?

It's horrible

It's unacceptable

Brutality in their blood

It's a sign that negotiations are never an option

It's a part of their business—no big deal.

It indicates how powerful the Mafia is

Question 8

Which one describes your relationship with friends?

We are super-close

I have only a few close friends

We have a professional-ish relationship

We are not close because I respect my privacy

We are a bunch of crazy people hanging out

I don't have any friends—and don't need any

Question 9

What do you have to say about your confidence?

My confidence is not that high.

I'm not confident at all.

I'm super-confident

I'm as confident as my achievements allow

I don't need confidence.

I feel like a god walking on earth.

Question 10

What kind of ability would you like to have if you lived in the Bungou universe?

Something practical

A unique ability

A mind-related skill

Something mysterious

I'd like to have martial art skills

I'd want to have a lethal ability

Question 11

What is the coolest thing about being an ability user?

You could help others

You could fight crime

You could make the world a better place

You could save innocent lives

You could kick your enemies' butt

You could become an emperor

Question 12

What is the best strategy to solve a mystery?

Talking to witnesses

Gathering clues

Recreating the crime scene

Being patient and waiting for the criminal's mistake

The good cop, bad cop technique

I don't like solving mysteries

Question 13

Imagine you're a Mafia member. What kind of role would you like to have?

Cook

Soldier

Scout

Leader

Assassin

The godfather

Question 14

Describe your best friend(s) in one word?

Cute

Kind

Smart

Reliable

Funny

I have no friends

Question 15

How would you deal with your enemies?

Negotiate with them

Imprison them

Exile them

Scare them away

Kick their butts

Kill them

Question 16

What would you do to an enemy who has surrendered?

Forgive them

Imprison them

Interrogate them

Use them as a spy

Kick their butt

Get rid of the ASAP

Question 17

What's the best punishment for the Mafia members?

Sending them back to school

Sending them to an isolated prison

Using them as your spies

Exposing their identity on TV

Humiliating them

Threatening their families

Question 18

If you were an Armed Detective Agency member, what would your biggest fear be?

Losing friends

Screwing up a mission

Making an unforgivably wrong decision

Putting my family at risk

Being captured or kidnapped by the Mafia

I hate being a detective.

Question 19

What would it be if you had to change one thing about Bungou Stray Dogs anime?

The plot

The characters

The mysteries

The voice actors

The fight scenes

The whole show

Question 20

Final question; how old are you?

16 or younger

17-20

21-25

26-29

30 or older

I'd rather not say