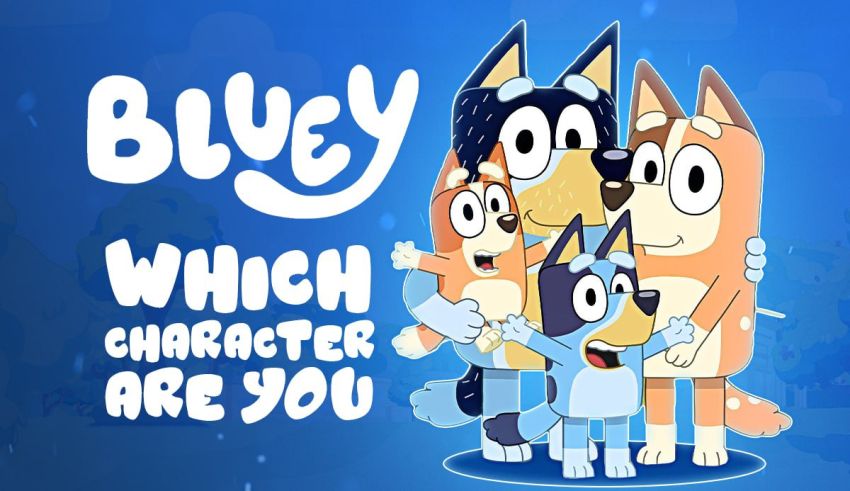 Discover which Bluey character matches your personality with this fun quiz! Find out if you're Bluey, Bingo, Bandit, Chilli, or else!
The Bluey Character Quiz Explained
Made up of twenty nostalgic questions, the Bluey Quiz is a personality test to reveal which character you are.
Despite being a kids' show, Bluey has also gathered a huge fanbase of adults, and many families relate to the Heelers. But what most fans don't know is which character they represent in real life. And that's when the Bluey Character Quiz comes into play.
Like the Care Bear Quiz, the Bluey Test uses your MBTI type to discover which Heeler you are. But if you already know your personality type, save yourself some time, and find your perfect match with the following table.
| | |
| --- | --- |
| Character | MBTI |
| Bluey | ENFP |
| Bingo | INFP |
| Bandit | ENTP |
| Chilli | INFJ |
Which Heeler Family Member Are You?
The Heelers are lovely, funny, and relatable. But which one are you? The creative Bluey, the introverted Bingo, the supportive Bandit, or the wise Chilli? Use the following guides to find out.
Bluey
As an innovative young girl, Bluey is imaginative, optimistic, and bold. Unlike many of her friends, Bluey is not afraid of growing up and, instead, looks forward to it. People who match Bluey are often adventurer ENFPs who enjoy living in the moment.
Bingo
A slightly introverted Heeler, Bingo is calm, collected, and shy. But just like her older sister, Bluey, Bingo knows how to live in the moment and spend quality time with family and friends. Those who match Bingo are usually quiet and naïve. But they know how to blend in with others and have fun.
Bandit
As a supportive dad, Bandit is always there for his family. He's a kind-hearted, honest, and innocent father with ever-lasting unconditional love for his wife and daughters. People like Bandit are trustworthy, loyal, and authentic.
Chilli
A wise, level-headed, and protective mom, Chilli is the voice of reason in Bluey. But she embraces the silliness of her kids' games and plays with them for the sake of fun. Chilli counterparts in real life are reliable role models that many people look up to.
This Bluey Quiz Is 100% Kid- and Adult-Friendly
No matter your age, the Bluey Character Quiz has got you covered. The questions are relatable for adults and safe for kids. Just the lovely show itself, the test is family-friendly as well.
In fact, the best way to take the Bluey Quiz is by gathering everyone around and turning it into a family activity. Kids will love the results, and adults will enjoy the nostalgia.
By the way, if you're into Bluey-like shows, try our Winx Club Character Quiz next. It won't disappoint you.
Ready to Meet Your Bluey Self?
Okay, it's time to meet your Bluey soulmate, counterpart, comfort character—or whatever you call it. The following questions reveal if you are one of the Heelers or Bluey's friends with unbelievable accuracy.
Tap the start button, and let's expose the Bluey in you. 🐶💙
How to Play?
Playing personality quizzes is straightforward: Choose the option that's true about you—or you relate to—and select "Next." Unlike trivia quizzes, personality tests have no right or wrong answers. But the questions are in forced-choice format. The point is to push you to choose an option that makes the most sense, not the one that's 100% true. For the most accurate results, don't overthink your responses. Go with options that you "feel" are the best.
Questions of the quiz
1

What's your favorite time of the day?

Morning

Afternoon

Noon

Night

Midnight

All of them

2

How do you feel right after waking up?

Excited or energetic

Slightly tired but fine

Calm and peaceful

Incredibly tired

It depends on the day before.

Nervous or sad

3

What do you love about Bluey?

I love the jokes.

I love the characters.

I like the story.

I can relate to it. That's what I like.

I like that it's educational.

I love everything about Bluey.

4

What kind of games is your favorite?

Adventurous (like hide and seek)

Mysterious (like puzzles)

Strategic (like boardgames)

Team-oriented (like tag)

Family games (like Uno)

I prefer games like truth or dare.

5

Which word best describes your parents?

Awesome

Perfect

Protective

Supportive

Wise

Cool

6

How would you spend the weekends if you were a Bluey character?

I'd play a sport.

I'd learn a new skill.

I'd read or watch my favorite show.

I'd hang out with my family.

I'd go shopping or do chores.

I'd invite my best friend over.

7

What do you (or used to) like about school?

I like hanging out with my friends.

I love everything about school.

I like my teachers.

I can't say I like school.

I like learning new stuff.

I like school drama.

8

Describe your best friend in one word.

Super-cool

Super-smart

Super-cute

Loyal

Reliable

Patient

9

Which one is more difficult?

Studying for exams.

Quitting TikTok.

Making new friends.

Getting up early.

Managing your time.

Dealing with toxic people.

10

What's your favorite snack?

Ice cream

Sweets

Potato chips

Cookies

Frozen yogurt

None of them

11

What do you do in your free time?

I work out

I try new things

I read

I watch TV or play video games

I cook or shop

I spend most of it on social media

12

What kind of books do you enjoy reading?

Epic

Fantasy

Scientific

Nostalgic

Educational

Trending (popular)

13

What kind of Bluey characters are your favorite?

Funny

Adventurous

Intelligent

Kind

Cute

Relatable

14

What part of Christmas do you love the most?

Having lots of free time

Receiving gifts

Snowy weather

Giving gifts to loved ones.

Cooking or eating delicious meals.

Visiting relatives.

15

What do you think of growing up?

I'm a bit scared of it.

I love it.

I'm not sure how I feel.

It's not easy. But I like it.

I think it's a beautiful experience.

I can't say I like it.

16

What kind of dreams or nightmares do you usually have?

Action

Cute

Scary

Funny

Sad

Weird

17

What is your favorite activity with your best friend?

Doing crazy stuff

Trying out new experiences

Chilling and relaxing together.

Grabbing a drink.

Going for a walk.

None. They all sound boring.

18

Which one is true about you and your siblings?

We mess with each other all the time.

We help each other out all the time.

We don't talk that much. But we love each other.

We are always there for each other.

We are like best friends and give each other life advice.

I don't have siblings.

19

What do you do when you're feeling sad?

I keep myself busy.

I talk to my parents or siblings.

I spend some time alone.

I just laugh it off.

I talk to a trustable friend and ask for advice.

I call all my besties and ask them to hang out with me.

20

Final question: How old are you?

14 or younger

15-16

17-18

21 or older

19-20

I'd rather not say