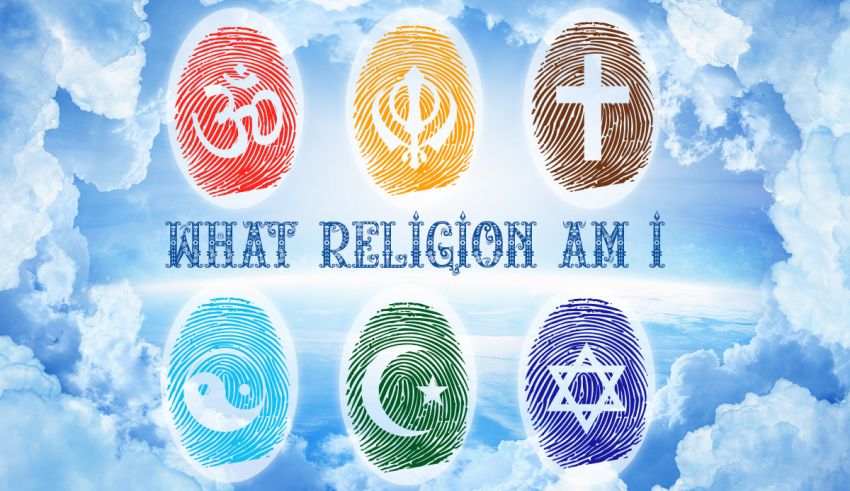 This "What Religion Am I" quiz will help you find out your proper religion based on your personality and beliefs. It is honest with you.
What Religion Am I?
You may have asked yourself, "What Religion Am I?" Finding the answer to this question requires a little thought. Many people never give a lot of thinking about their religious identity, but our opinions on religion say a lot about us.
Sometimes finding the answer to the question "What Religion Am I?" can be challenging. Faith is a fascinating and mysterious story; not all search and learn these secrets. There are many different religions in the world. Each of these religions has its supporters. We can list Christianity (2.1 billion), Islam (1.3 billion), Nonreligious (Secular/Agnostic/Atheist) (1.1 billion), Hinduism (900 million), traditional Chinese religion (394 million), Buddhism 376 million, among the religions with many adherents in the world. If you're one of those people who hesitate to choose your faith, follow this article. It will help you to find your answers.
Which Religion Is Right For Me?
Until you consider different religions seriously, you can take a careful look at yourself and see where you could best suit. The most crucial aspect of your quest for faith is your beliefs, and no one or authority can impact what you want. And this situation occurs in people who have religiously different thoughts and ideas from their family and society.
Your lifestyle and actions may often be similar to one of the faith that is different from your beliefs. To find the answer to this question, "Which Religion Is Right For Me?" there are some ways. The use of flowcharts or playing quizzes is one of these methods.
What Religion Am I Flowchart
Flowcharts are a perfect way to make sense of complicated situations, and there's no more complicated case than trying to find out what religion you should obey. Flowcharts usually have a starting point that leads to different results depending on the questions they ask you. Those who have designed religion selection flowcharts are well aware of your mental problems. So carefully go through their process. If you want to access these flowcharts, search this phrase "What Religion Am I Flowchart."
Religious Compatibility Test
The purpose of this test is to find out Which ideas do you agree with the most? What religion is your mind ready to accept? A religious compatibility test is based on your mental and spiritual situation. In this way, by answering a few tests, you can determine which religion you are most compatible with.
Religious Quiz
Suppose you claim to have done a lot of research on religions and are accustomed to most beliefs. In that case, it is recommended that you play "Religious Quiz" to get new information and maybe guide you in choosing the right religion. Here are some examples of questions :
Aside from weddings and similar social activities, how many times have you attended religious services over the last year?
How many books does the protestant Christian Bible contain?
Where is Mecca, the holy city of Islam?
When do you usually worship?
How did humanity and the world begin?
By answering these questions, you may see one of the following results at the end of the quiz:
Christian
You believe in the Holy Spirit and Jesus Christ as the Son of God. The holiness of the Church, death, resurrection, and ascension of Christ is your firm beliefs. You always want to be among your loved ones. Even if they pass, you believe that you will meet them in heaven and wait for you there.
Buddhist
You have a strong belief in change, and you believe that nothing is fixed or permanent. In your opinion, the development of morality, wisdom, and meditation is the path to enlightenment. You think people should not be upset when their families or parents leave because you are pursuing a Zen life.
Islam
You have a strong belief in the day of judgment and the holy book. In Your opinion, God is the Creator of the world and humanity. You believe in the prophets and follow them. Sometimes your belief in Predestination changes your life, and you believe it.
Jewish
You believe in an eternal and unique God that holds all power in your faith. Of course, you consider Christ to be very holy and respect him, but you do not see him as Messiah or the Son of God. Monotheism, covenant, and identity are the three values that make up your beliefs.
In choosing a religion, This is difficult to escape the conditioning that we have had over the years of being born in religious communities. Still, we do have the capacity to think objectively and to make choices for ourselves. So feel free to choose a religion that is in line with your spirit.
How to Play?
Playing personality quizzes is straightforward: Choose the option that's true about you—or you relate to—and select "Next." Unlike trivia quizzes, personality tests have no right or wrong answers. But the questions are in forced-choice format. The point is to push you to choose an option that makes the most sense, not the one that's 100% true. For the most accurate results, don't overthink your responses. Go with options that you "feel" are the best.
Questions of the quiz
1

What do you do on Friday night?

Going to the Church

Thinking about religion

I pray

Going to worship

None of them

2

What is your opinion about God?

There is only one God and we call him Father.

I do not believe in God

There is only one God and we call him Allah

For me, God is not only cosmic but also personal.

3

When do you usually worship?

Three times a day

Every month

Five times a day

Occasionally

4

What is your view of heaven?

It's an eternity in the presence of God.

There is a form of life after death and there are several heavens.

Heaven or Jannah is "gardens of pleasure."

It is Shamayim

I have no idea

5

Which of the following countries would you like to travel to?

Italy

Japan

Turkey

Israel

India

6

Which feature would you prefer the most

Peace

Wisdom

Honesty

Faithfulness

7

You go to a party and they have pork for dinner, what do you do?

I eat because God has made it

I do not eat, I am a vegetarian

I do not eat because it is forbidden.

I do not eat and I can not even touch it

8

How did humanity and the world begin?

God created humans at one time

I believe that the moon, tides, and seasons played a role

Allah created everything in six days

I don't know

9

How do you prefer to spend your time?

Smoking pot

Yoga

Praying

Making money

10

What is your favorite dish?

Everything doesn't include ostrich

Veggie anything

Everything except pork

All are depending on our mood

11

How often do you attend religious services?

Every week or more often

Once or twice a month

Once a week

Selodom

12

What makes you happier than anything?

Family

Internal peace

Religion

Large saving account

13

What do you think is the worst thing in the world?

Women's suffrage

Selfish craving

Sex Outside Marriage

Unemployment and laziness

14

What do you think is the responsibility of the government?

To manage the constitution

To keep order

To control us

To keep us safe

15

What is your favorite holiday?

Christmas

Vesak holiday

Eid al-Fitr

Hanukkah

16

I believe I can choose any kind of religion.

Somewhat agree

Completely agree

Completely disagree

Somewhat disagree

17

Where is the origin of your ancestors?

Europe

Asia

Africa and Asia

I don't know

18

I think most people are wrong about their religious beliefs.

Somewhat agree

Completely agree

Completely disagree

Somewhat disagree

19

How many kids do you want to have?

No kids for me

Two children

More than two

At least three

20

Which holy book writings are acceptable to you?

Bible

Tripitaka

Quran

Torah

None of them