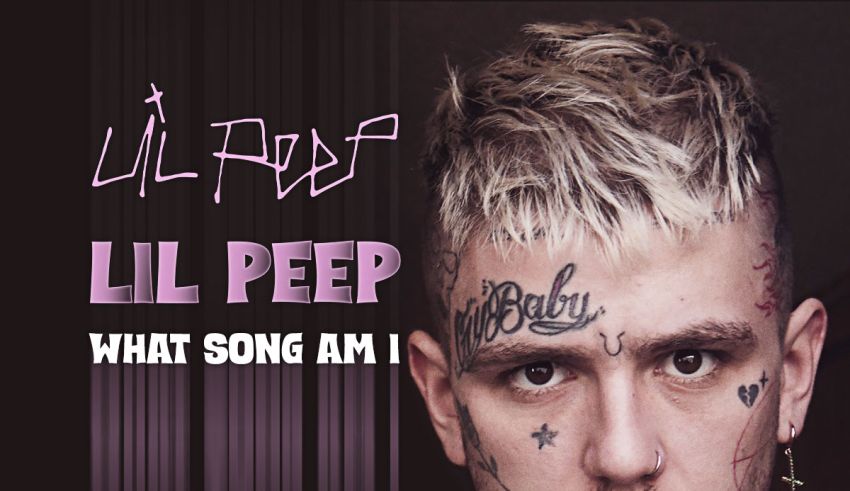 Hey, do you ask yourself, "What Lil Peep song am I?" Take this emo rap quiz to find out if you are Star Shopping, Benz Truck, Falling Down, or another Peep song.
Lil Peep Song Quiz Explained
It's a 20-question personality test inspired by Gustav Elijah's (Lil Peep) songs with the goal of matching your character to his lyrics.
The quiz follows the same theme as the late SoundCloud rapper's music: Depression, anxiety, loneliness, and even relationship struggles.
You are matched with a song that describes the type of person you are deep inside.
| | |
| --- | --- |
| Lil Peep Songs | Listeners |
| Star Shopping | 339,991 |
| Falling Down | 326,014 |
| Save That Shit | 294,450 |
| Beamerboy | 218,680 |
| Benz Truck | 212,148 |
| Awful Things | 192,512 |
| Witchblades | 179,070 |
Which Lil Peep Hit Carries Your Soul?
Fans want to know which song they are because Peep left a piece of his soul in every single one of them.
Gustav, the late Swedish-American rapper, singer, and songwriter, was known for his emotion-driven, relatable music and lyrics. So, fans asking things like, "Which Lil Peep song am I?" is more of a dive into the darker parts of their soul than anything solely done for fun.
Taking the quiz on this page gets you one step closer to rediscovering your emotional wounds, facing your sadness, and appreciating who you are through Lil Peep's music.
Know You're Song; Join the Cult
To know which Peep song you are is to join the cult.
The quiz is designed and curated by actual Lil Peep Cult members and fans from all around the world, continuing his legacy. So, the results are accurate, relatable, and, more importantly, respectful.
What Is the "What Lil Peep Song Am I Challenge" on TikTok?
In 2022, TikTok users posted videos with hashtags like #LilPeepSong, #PeepTok, and #PeepCult, sharing what song they are out of all the late rapper/singer's hits.
The hashtags have millions of views, and fans still post their quiz results as a tribute to the beloved musician.
To join the challenge, first, you need to take the 'Which Lil Peep Song Are You Quiz,' then share a screenshot of the result with the song playing in the background.
Before the Lil Peep song challenge, another trend called "Which Lana Del Rey song are you?" was on every music lover's For You Page.
Featured Albums in the Quiz
This Lil Peep song personality test features the best tracks from his studio albums, mixtapes, and EPs. Come Over When You're Sober (1 & 2), Everybody's Everything, Crybaby, and Hellboy, just to name a few.
Disclaimer 
If you're dealing with depression or have suicidal thoughts, please call National Suicide Prevention Lifeline at 988. And remember, Lil Peep said he makes music to save people's lives.
QuizExpo does not own any of the images used in the Lil Peep Song Quiz, and no copyright infringement is intended.
How to Play?
Playing personality quizzes is straightforward: Choose the option that's true about you—or you relate to—and select "Next." Unlike trivia quizzes, personality tests have no right or wrong answers. But the questions are in forced-choice format. The point is to push you to choose an option that makes the most sense, not the one that's 100% true. For the most accurate results, don't overthink your responses. Go with options that you "feel" are the best.
Questions of the quiz
1

When do you listen to Lil Peep songs?

All the time.

When I'm alone.

When I'm having a bad day.

When I'm mad.

When I'm sad for no reason.

When I'm happy.

2

How would you describe his music in one word?

Deep

Inspiring

Relatable

Cool

Sad

Energizing

3

Lil Peep talks a lot about love in his songs. But what's love to you?

Something I can never have.

Something I could have if I wanted to.

Something I wish I had.

Something I don't want anymore.

Something I'm not good at.

Just a big f-ing lie.

4

When do you feel like getting high/drunk?

When I feel inadequate.

When I want to have fun.

When I can't take it anymore.

When I have nothing else to do.

When people hurt my feelings.

All the time.

5

What's your guilty pleasure?

Pointlessly scrolling on TikTok.

Playing video games

Procrastinating

Binge-watching TV shows

Sleeping in late

Smoking or drinking.

6

What's something you've done that you'd never confess to your parents?

Dated someone I shouldn't

Skipped school

Did something horrible for money

Watched lots of adult movies

Hurt myself

Tried some drugs

7

What does Lil Peep's music make you feel?

Calm

Inspired

Hopeful

Happy

Sad

Reckless

8

How did you react to Lil Peep's death?

I couldn't believe it.

I felt numb because it was predictable.

I was sad, but it wasn't a big deal.

I cried alone.

I was feeling depressed for days/weeks.

I laughed it off because we're all gonna die.

9

Which one is of your struggles in romantic relationships?

Insecurity

Commitment issues

Communication issues

Lack of intimacy

Trust issues

Cheating

10

What would you say to Lil Peep if you could talk to him for a few seconds?

I love you

I miss you

Thank you

I wish you were here

You saved my life

See you soon

11

What's a unique thing about Peep?

His voice

His music videos

His lyrics

His style

His personal life

His depression

12

What do you do when you're super-sad?

I listen to Lil Peep's songs

I hang out with friends to forget it

I just hang in there and do my job.

I lock myself in my room and avoid people.

I cry.

I get high or drink till I pass out.

13

Do you often feel motivated? Why?

Yes, I believe everything is going to be okay.

Yes, life's too short to be sad and lonely.

Yes, I believe in myself.

No, life is pointless.

No, I'm a useless piece of sh**

No, motivation is bullsh**

14

Which one describes you in a relationship?

Insecure

Anxious

Compromising

Distant

Scared

Irritable

15

In your opinion, what's another word for depression?

Unlikableness

Being realistic

Lack of faith

Loneliness

Ugliness

All of them

16

How anxious are you in social situations on a scale of 0 to 5? (5 means you're overly anxious).

17

Peep aside, which other emo rappers do like?

XXXTENTACION

Lil Uzi Vert

Lil Skies

Juice World

Nothing,Nowhere

Trippie Redd

18

How old are you?

16 or younger

17-18

19-24

25-27

28-29

30 or older

19

How would you rate your self-love? (5 means you really love yourself).

20

Final question; what would it be if you had to pick one of the following Lil Peep albums to listen to for the rest of your life?

Come Over When You're Sober 1

California Girls

Goth Angel Sinner

Come Over When You're Sober 2

Crybaby

Hellboy