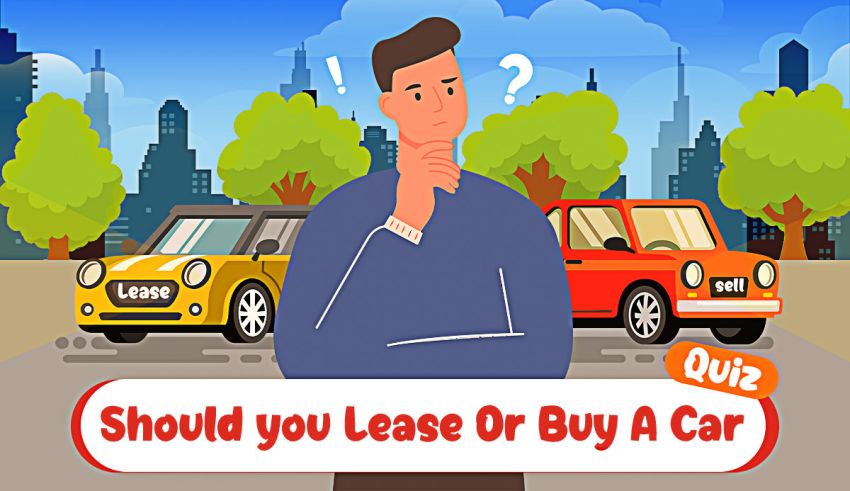 Do you ask yourself, "Should I lease or buy a car?" This financial quiz analyzes your budget, credit score, and interests to reveal the answer. Compare financing and leasing cars in the US.
A Quiz to Decide Whether to Buy or Lease a Car
Getting a new vehicle can be confusing. You have several options that might make you ask things like, "Should I lease, buy, or finance?" That's why we created an expert-level quiz to help you evaluate your needs before making any decisions.
The questionnaire examines 20 crucial factors you should consider when purchasing a vehicle in the US. The goal is to determine the best acquisition method. So, if you're question is more like, "What car should I buy?" you're better off without taking it. (We have dedicated quizzes to help with that, too).
Compare your options based on your needs.
The 'Should I Lease or Buy a Car Quiz' allows you to evaluate all the choices. For example, you might end up realizing that buying a certified used car suits your situation better. Or you may even conclude that paying the total price of a vehicle upfront makes more sense. So, in other words, the test doesn't limit you to two options.
| | |
| --- | --- |
| Car purchase method | Percentage |
| Finance | 85% |
| Lease | 30% |
Understand the upsides and downsides of each.
One of the perks of taking the quiz is benefiting from the lease vs. buy analysis. The questionnaire explains the advantages and disadvantages of each choice in detail. So, you can make up your mind with a clear vision and the least possible risk.
Find out why leasing or financing a car is your best bet.
We use your responses to answer the big question, "Should I lease or buy a car?" But to make it easier for you, we also explain why we think a particular acquisition method is good for you. Most other online tools leave you with an unexplained result, confusing you even more. But here, you understand the reason behind the outcomes to make a better financial decision.
How the 'Should I Lease or Buy a Car Quiz' Works
The questionnaire is more than casual leasing vs. buying a car thing. It delivers customized answers to buyers who cannot decide which option suits their situation. You go through three different phases before receiving a comprehensive analytical answer. See below.
Step 1: Analyzing your actual needs
Knowing the actual wishes and wants of the person is crucial when they ask, "Should I lease or buy a car?" Both methods have their upsides and downsides that can play a significant role in your final decision. The initial goal of the quiz is to extract your true needs before suggesting anything specific.
Step 2: Considering your budget
The money you spend on getting a new car affects your decision significantly. That's why the 'Should I lease or by a car quiz' inspects your budget and financial status. You don't have to provide us with exact numbers since that's private information. But we need to have a rough idea of how much you are willing to pay for your vehicle regardless of the payment methods.
Step 3: Finding the best option for you
The final phase of the quiz is all about determining the best acquisition technique for you. We compare your responses to our database to reveal the ultimate option. It takes less than a few seconds, and you don't need to provide your email address or any other personal info to see the results.
Things that the Buy or Lease a Car Quiz Considers
Finetuning the results is the test's priority. To do so, we consider the most important aspects of financing, buying, or leasing a vehicle in the US. Here are some examples of the said factors that affect your results.
Monthly payments
Unless you buy a car, you have to pay a specific amount of money to own or lease it. When financing a car, you usually have to pay a higher monthly fee than leasing it. However, you will become the vehicle owner by the end of the contract. That's while you have to pay the buy-out amount after the lease contract ends—otherwise, you have to return the car to the retailer.
Extra fees and taxes
Your contract might include other expenses you haven't included in your budget. So, the 'Should I Lease or Buy a Car Quiz' does its best to acknowledge them. For example, when buying a car, you have to pay the taxes for the full price of the vehicle upfront. That's while leasing doesn't require an upfront tax payment, and it's divided into small monthly payments instead.
Mileage limits
Retailers include a mileage limit in the lease contracts to reduce the tear and wear costs. So, you should be mindful that you cannot drive your leased vehicle however you want to. In almost all cases, surpassing the limits results in penalties and extra expenses. That's why the quiz considers such factors to determine the best option for you.
Wear & tear costs
You should be aware of retailers' policies when asking, "Should I lease or buy a car?" Some might think that the retailer pays for all your maintenance expenses when you lease a vehicle. But that's not true. Lots of things are not included in your contract. Plus, you might have to pay extra fees for any abnormal wear and tear on the car by the end of the contract.
Commitment
One of the affecting factors in the 'Buy or Lease Quiz' is the type of commitment you agree to in your contract. If you lease a vehicle, you accept a full-term commitment which means you cannot return the car before the agreed date—usually 48 months. However, financing requires different commitments.
An Expert's Answer to, "Should I Lease or Buy a Car?"
Dave Ramsey of the Ramsey Show says, "There's no possible mathematical way unless the car manufacturer has made a mistake, that leasing a car is cheaper than owning it." Most experts agree that companies put higher interest rates (sometimes higher than 14%) when leasing their products. So, you won't find many gurus who'd suggest you lease instead of buying a car.
The Best Way of Making Up Your Mind
By taking the quiz, you have the opportunity to evaluate your needs. All the options you have to acquire a car have their upsides and downsides. However, choosing the method that suits YOUR current situation is the only way to guarantee satisfying results. It is also a good idea to consult a finance expert to make the most secure decision.
How to Play?
Playing personality quizzes is straightforward: Choose the option that's true about you—or you relate to—and select "Next." Unlike trivia quizzes, personality tests have no right or wrong answers. But the questions are in forced-choice format. The point is to push you to choose an option that makes the most sense, not the one that's 100% true. For the most accurate results, don't overthink your responses. Go with options that you "feel" are the best.
Questions of the quiz
1

How often would you like to change your vehicle?

Every year

Every four years or so

Every five to six years

I don't want to change it unless I have to

2

What's the main reason you want a new car?

I don't have a specific reason.

I need it for my job.

I'm tired of public transportation and walking

I think I need it for my new lifestyle

3

Do you already own a vehicle?

No

I do, but it's not functional

I recently sold it

Yes, I do

4

Do you have any debts or loans that you have to take care of?

Yes, but it's manageable

Yes, but I'm about to pay it off

Yes, I do. And it's a considerable amount

No, I don't have any loans

5

How much do you make per year?

$50,000

$60,000

$40,000

$80,000 or more

6

What's your average monthly salary?

$5,000

$6,000

$4,000

$7,000 or more

7

How much money do you have in your savings account?

Nothing

Less than $5,000

About $10,000

More than $15,000

8

What type of cars do you like the most regardless of their price tags?

Luxurious or sports cars

Family-friendly ones

Durable and reliable cars

Standard and modern ones

9

What's a fair amount to spend on your car's maintenance per month?

Less than $50

About $100

Up to $150

Anything it takes

10

Is buying a car currently your priority?

No, it's not

I'm not sure

It's certainly ONE of my priorities

Yes, it is the top priority

11

How many cars have you owned during the past ten years?

Five or more

3-4

1-2

No cars at all

12

When do you think one should opt to change their car and get a new one?

When they feel like to

When they have enough money

When the previous car is broken

When their lifestyle changes

13

How would a new vehicle improve your life?

It would make me feel better.

It would help me commute better.

It could help me make some extra cash

All of the above

14

What do you think is the most important feature of a car?

It's look

It's functionality

It's durability

Its brand and manufacturer

15

What's a reasonable monthly payment for a car?

About $300

About $500

Less than $100

I don't know

16

What's a reasonable price for a new vehicle?

About $80,000 or more

About $60,000

About $20,000 or less

About $40,000

17

When will you replace the car you buy with a new one?

When I'm tired of it

When it stops working

When I have saved enough money

When I make more money than now

18

How many miles do you think you'd drive with your car per year?

10,000 miles or less

About 15,000 miles

About 20,000 miles

25,000 miles or more

19

Which one sounds like a reasonable interest rate on a car?

20

Final question; how old are you?

18-20

21-25

26-30

31 or older