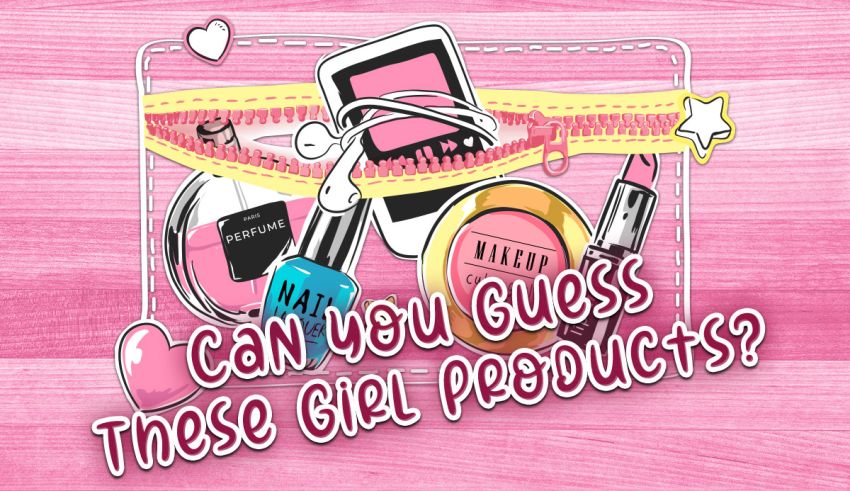 We got a list of 20 hilariously hard girl products for guys to guess. Beating this girly products' quiz makes you a boss-level boyfriend of all time. But you're guaranteed to fail.
The Ultimate Girl Products for Guys to Guess
Here's a challenge for all boyfriends who claim to know their girl better than anyone else. Hey, how much do you know about the products that your girl uses almost every day? Here's a quiz that exposes how ignorant you have been this whole time. And if you fail, your girlfriend might be like, "Should I break up with him?" (Just kidding; it's a silly test. That's it).
The Female Products Quiz Explained
It's a set of twenty pictures that show different girly stuff—mainly cosmetics. The goal is to see how many of these products a boy can guess correctly. So, it's basically a trivia quiz about weird girl products.
Get scored
Each correct answer on the female products quiz gives you a point. There are twenty points for you to collect in the game. Your score indicates your level of expertise when it comes to the mysterious world of women. And any score below ten means you're a virgin—at least mentally.
Learn something new
The good thing about girl products for guys to guess is that it's an educational process. Yes, it's fun and cool to see all these weird cosmetics and tools. But you should know about them when you're in a relationship with a woman. Things like tampons or pads are products your girl needs during her periods. And you don't want to be the guy who hands his partner a towel when she asks for a pad.
Share the results for added fun.
If you're confident in your score, show it to others on social media. Let people decide how respectable of a women's product expert you are.
When Did This Whole Girly Products Thing Started?
The entire idea of girly or boyish stuff is classic. But thankfully, it's fading away. Girl products for guys to guess went viral on TikTok during early 2020, though. Boyfriends were challenged to figure out what the tools and products on the screen were—and their girlfriends got to laugh their asses off while men were questioning their reality. But similar to things like the Purity Test, there's no clear evidence of when, why, or how it all started in the first place.
Girl Products Guys Don't Know Can Help Your Relationship.
Psychologists suggest that being silly is actually good for your relationship. Dr. Susan Krauss Whitbourne writes, "Couples can increase their playfulness by using silly words, reminiscing about enjoyable experiences, and improvising more often.
The fact that Multiple versions of the couple challenge have gone viral is a sign. Most people like being playful or watching others being so. Think videos like "Girlfriend guesses NFL teams," "boyfriend guesses styles," and all that.
The female products quiz on this page is your chance to try being silly on your own. No need to find a funny TikToker couple to enjoy the challenge. The arena is already calling you. Plus, you're guaranteed that laughing at these ridiculous questions would affect your relationship positively.
The Best Way to Take the Test
You should definitely take it as a couple. Yes, it's much easier to hide your failure when you're alone. But the whole point of girl products for guys to guess is to laugh at your ridiculous answers. So, yeah, have your girlfriend next to you and let her enjoy the whole process as you struggle to distinguish between a toe separator and a comb.
Read Before Taking the Quiz: The Dark Side of Girly Products
Um, we hate to make it philosophical. But take a moment to think about why there are so many cosmetic products for girls? You can't even keep up with the names. There's an unbelievable pressure on women to look pretty, have perfect bodies and skins, and be as attractive as a Hollywood star. And the cosmetic companies are using it against them.
We want you to enjoy the quiz and the whole list of girl products for guys to guess. But we also want you to know that no one needs all this weird stuff to look good. Maybe it's time to unload the pressure and be more body-positive as a nation.
Disclaimer
QuizExpo is against sexism and overgeneralizations. We are well aware that most of the products mentioned on the quiz are not (and should not be) gender-exclusive. Calling them "girl products" is not a proper way to put but we did so for the sake of the test. Please, contact us if you find any of the questions inappropriate or disrespectful. We'll get in touch and resolve the problem as soon as possible.
Questions of the quiz
Question 1

Yes, it's a roller. But what do girls use it for?

To remove dead skin cells

It decreases dark circles of skin

It helps spread wax evenly

It's not a girl product; trick question

Question 2

What is this brush used for? Take your time and think. Girls have so many brushes…

It cleans your face

It's a hair collector

It is used for applying hair conditioner

It's definitely a trick question

Question 3

These little things are an important part of some girls' routines. What do you think they're used for?

It's a comb that curls your hair

It separates your hair while dying it

It separates your toes

It's a comb for curly hairs

Question 4

Do you know what these pairs of stones are used for? Why would a girl want to have some stones?

It smoothens your nails

It smoothens your feet

It sharpens your eye pencil

It's just a random stone; trick question

Question 5

What are these sticks used for? Again, why would a girl carry a bunch of pointy sticks around?

These are used for cooking

You use it to clean your nails

You use these sticks to eat Chinese foods

Girls use it to blend liquid makeup

Question 6

Some girls love kits. But this one is a must for most of them. What do you think it is?

It's a waxing kit

It's a manicure kit

It's a makeup remover kit

It's a makeup maintenance kit

Question 7

What is this weird-looking thing with all those pills in it?

It's a manual period tracker

It's a pregnancy pill reminder

It's a birth control tracker

It's not even a thing; trick question

Question 8

What are these strange-looking things? What does your girl use them for?

Makeup blender

Makeup cleaner

Makeup applier

Dildos?

Question 9

Why would a girl carry a silicon cup like this around? What is it?

It protects their nipples when wearing a bra

They use it for menstrual blood

Question 10

What is this long, bouncy thing with all those springs?

It's a dead skin remover

It's a face skin massage tool

It removes unwanted hair

It's a trick question

Question 11

Okay, it's probably not what you think. So, shoot your shot. What would a girl use it for?

Curl hairs

Apply wax

Collect hair

None

Question 12

This thing has needles on it! So, why do you think a girl would want to use it?

I don't think anyone would use it

It's a tool to soften your feet

It reduces signs of aging

Question 13

Okay, what about this one? Why would a girl use this weird tube-like product?

To cleanse her private parts

To pee like a man

To get the blood out of the vagina

I have no idea what it is

Question 14

What is this piece of plastic used for?

It's a menstrual cup.

It enlarges your lips

It holds your liquid makeup.

Question 15

We would love to see your face when looking at this one. But anyway, what do you think it is?

It's used for watering plants

It's used to dye curly hairs

It diffuses hair dryers

It's a baking tool

Question 16

What is this alien ware? Why would a girl want to use this one?

It's a birth control thing

It lifts your skin up

It uses waves to remove dead cells of the skin

Question 17

This ring-looking thing might not be found in every girl's room. But some have it. So, what is it?

It's a ring pop

It's a finger separator

It holds your nail polishes

It's a makeup sponge

Question 18

Here's a hint, these are organic stuff. But as a girly product, you need to guess what they're used for.

Clean your eye makeup

Remove blackheads

Clean your ears with it

None

Question 19

Here's another strange female product for you to guess. Why do you think someone would use it?

It's an electrical massage tool

It's a wrinkle remover

It's an adult women toy

Question 20

Final question; can you guess what this tool is? (Hint: it's not an adult toy).

It's a hair braiding tool.

It's a hair clip

It's a massage device

It's a trick question